The Holy Grail – that's how we called Vilsandi lighthouse because it is the lighthouse from our postcard and it was important for us to take exactly the same picture with it as in our drawing. We regretted it later, though, as Vilsandi also appeared as God-only-knows-how-to-reach lighthouse.


The fourth day of our trip began in the most unusual way! We had expected everything like ice wind, cold nights in the tent, fascinating views, special places and interesting people. But we hadn't expected to spend the night at such luxury and at the same time comfortable and relaxed place as we did at Ekesparre Butiik Hotel
It was hard to sleep when sun  beams were gently waking us up calling to admire beautiful view outside!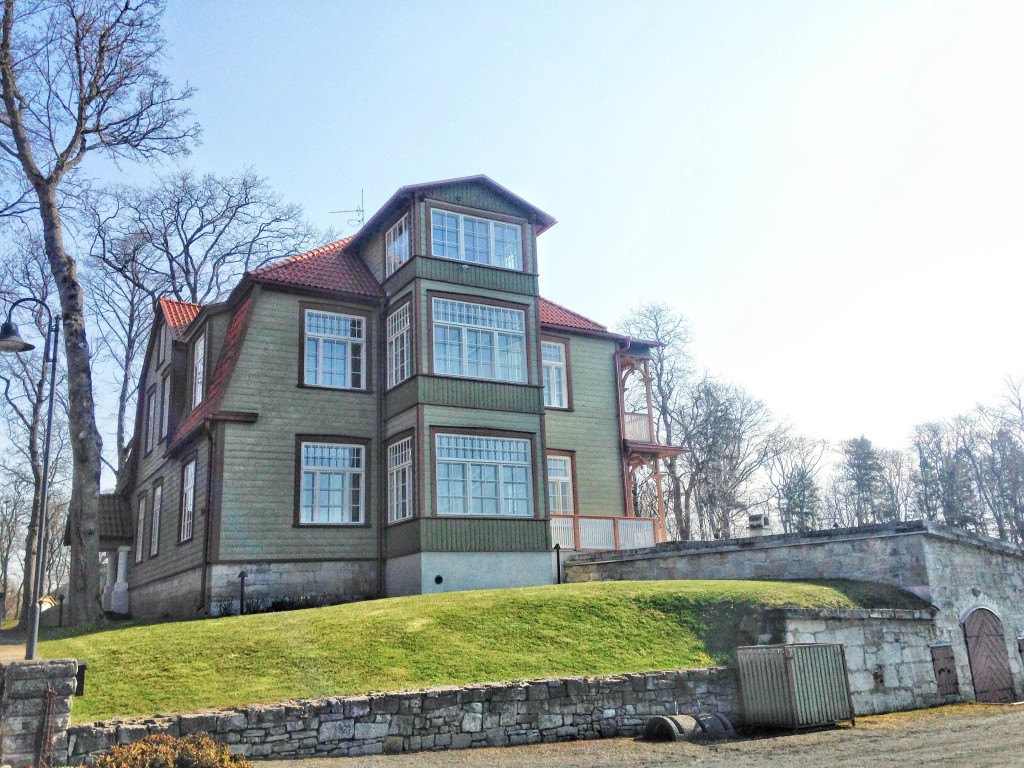 Not really legally (we are Russian, you know) Vasya and Vadim let our Phantom camera to fly around the area to enjoy the best view. Tasha and Mila couldn't resist watching the process and joined the crew in the robes. Why not? =)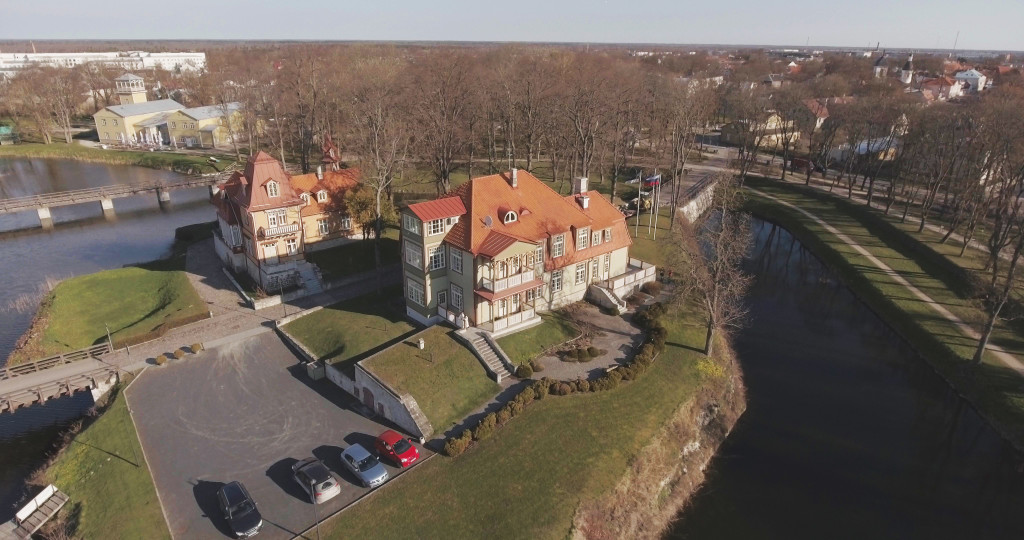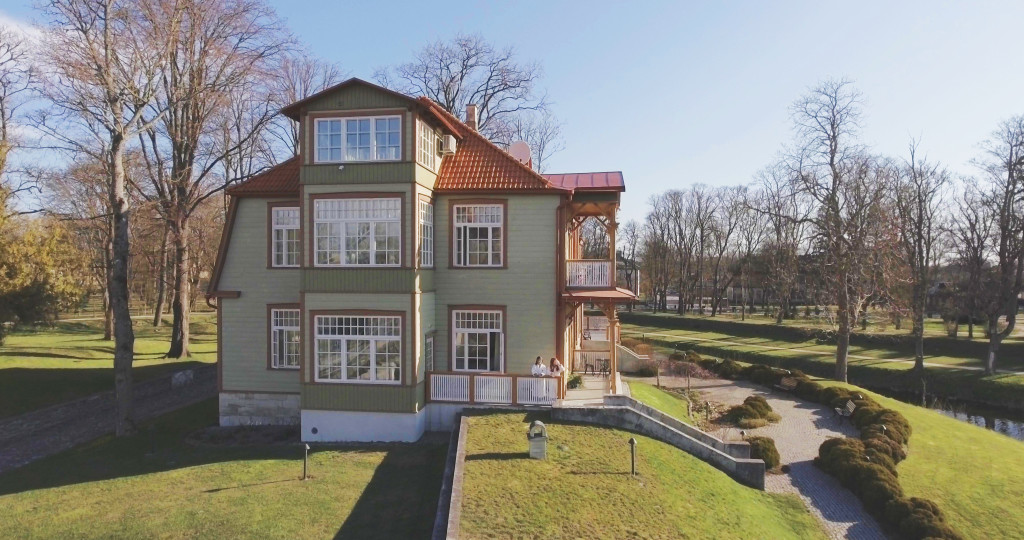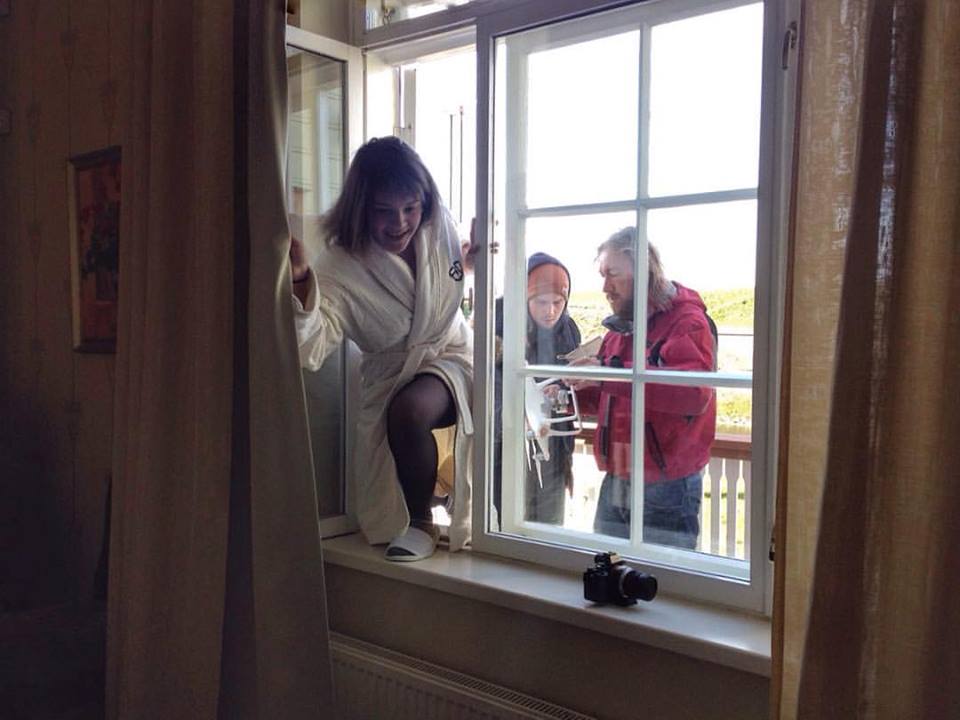 We have already told you about our breakfast with champaign. But we haven't mentioned that we spent one hour on it, because it was impossible to leave without eating every single piece of it after three days on camping food. Ekesparre Hotel provided us with certificates on free SPA in the nearby hotel BUT, unfortunately, we had to postpone it for ETERNITY. We didn't have time to go there as our Grail was waiting for us.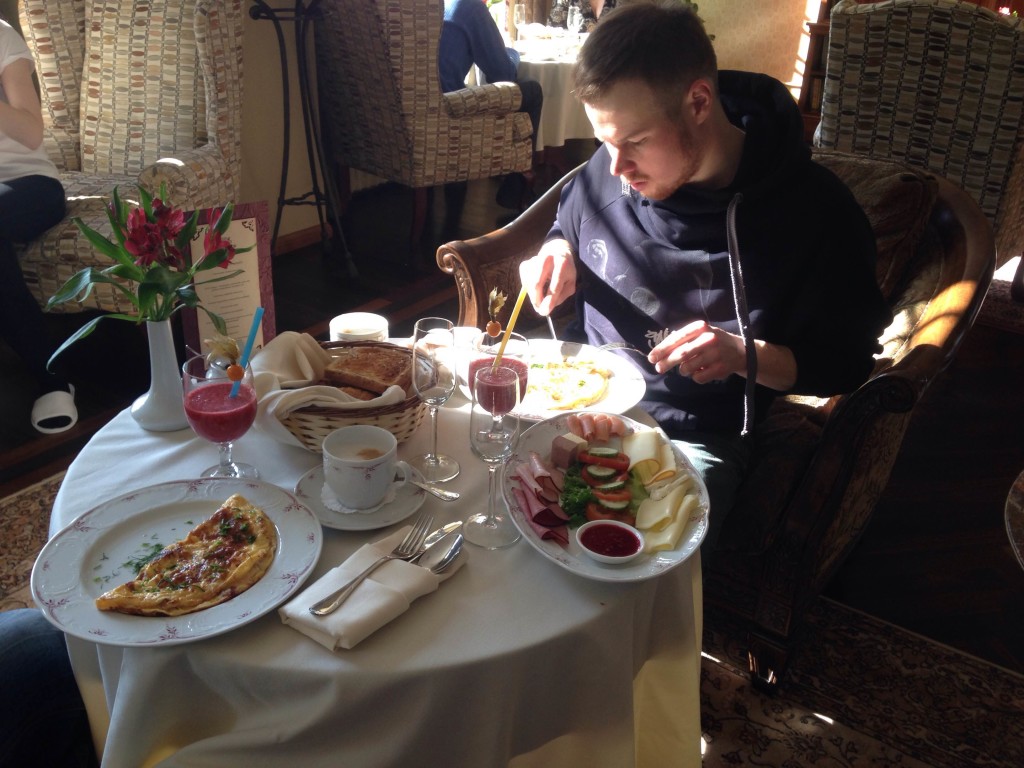 But our future would have been unclear if we hadn't met charming Anu – the manager of the hotel.
Vilsandi lighthouse in our postcards was the main goal of the day.
It is on the island.
Internet claimed that you can reach it by boat or on foot using the tourist path. But, guess what? Boats do not operate until 1 May and "on foot" means going along the path made by people in the middle of the sea which is covered with water and you literally should go in the water holding your belongings over the head. Nope. Thanks.
We didn't give up even though SPA was summoning us more than ice cold water. It was very kinf of Anu to call every captain in the area and find a private boat for us. 100 euros instead of 20, but it was OUR boat!

100 euros certainly disappointed us but we were cheered up because beautiful Anu kindly invited us to spend one more night in Ekesparre Hotel!

Before leaving the city we had posted cards for you,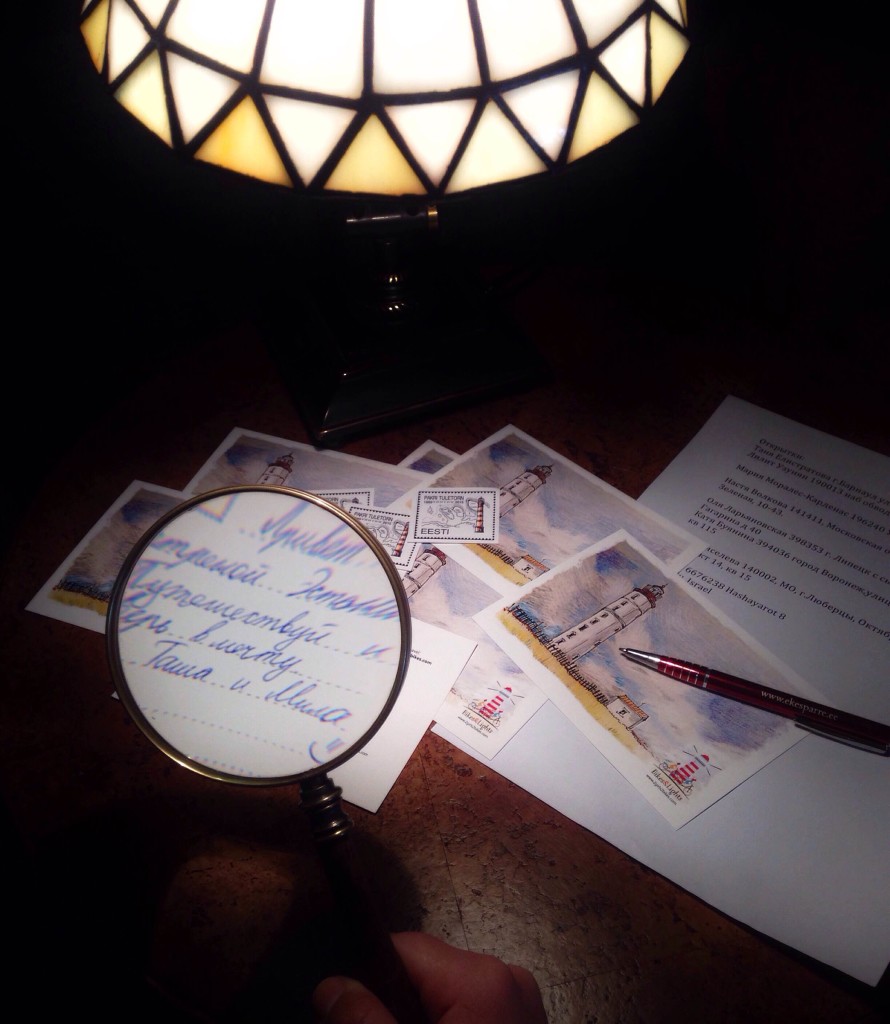 admired sunny views of Kuressaare – sweet little Europe,


and lost Mila's iPhone.
We didn't get upset. We knew that it would be found somehow!
We reached the island in a great company: our captain with wife and we. 6 in the boat (To Say Nothing of the Dog).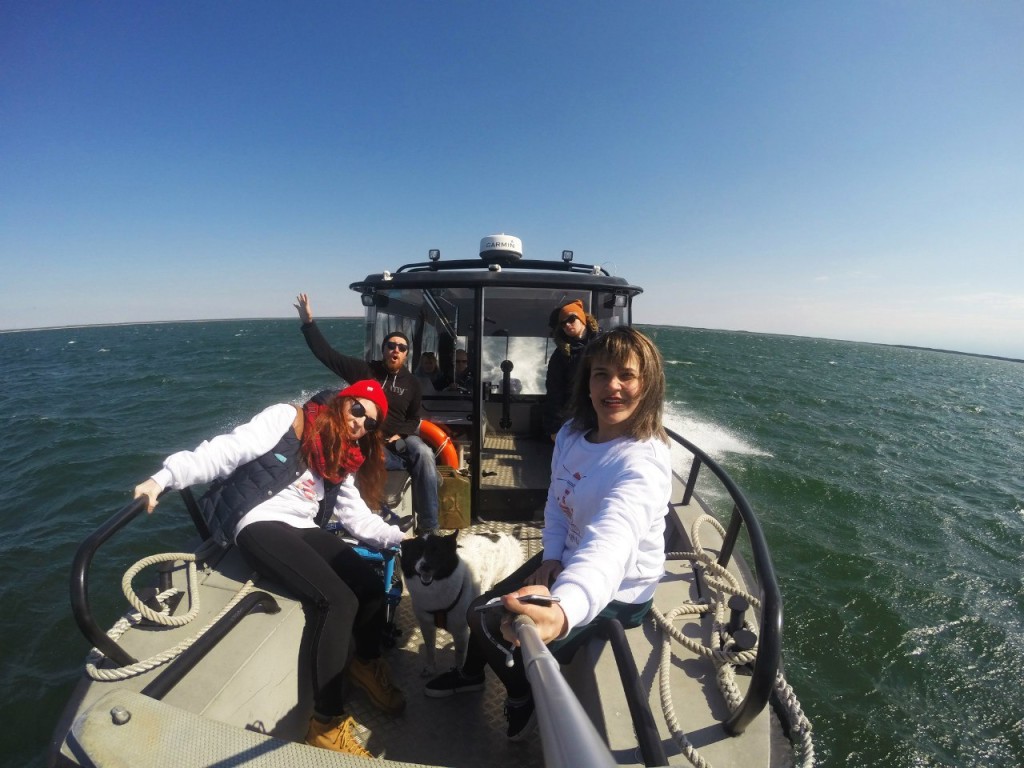 As soon as we arrived to the island the captain took the guys with equipment to the lighthouse by car and we, of course, went to explore the area by bicycles. The island is tiny – only 7 km, but it still has signs in case you got lost!

For the first time it was very hot, so we started to get rid of layers of clothes. However, it wasn't possible to enjoy the forest road as all our attention was focused on the sharp tiny stones which covered our way.
It seems like Brompton bikes have inly one technical flaw – their wheels are highly sensitive to any defects of the road. It is the feature which all small wheels have, actually. We had to cycle really slowly controlling the handlebar. But still we both almost fell in different spots. And at that moment Tasha lost her phone. She decided not to come back for it as there were low chances that squirrels would be attracted by a smashed phone.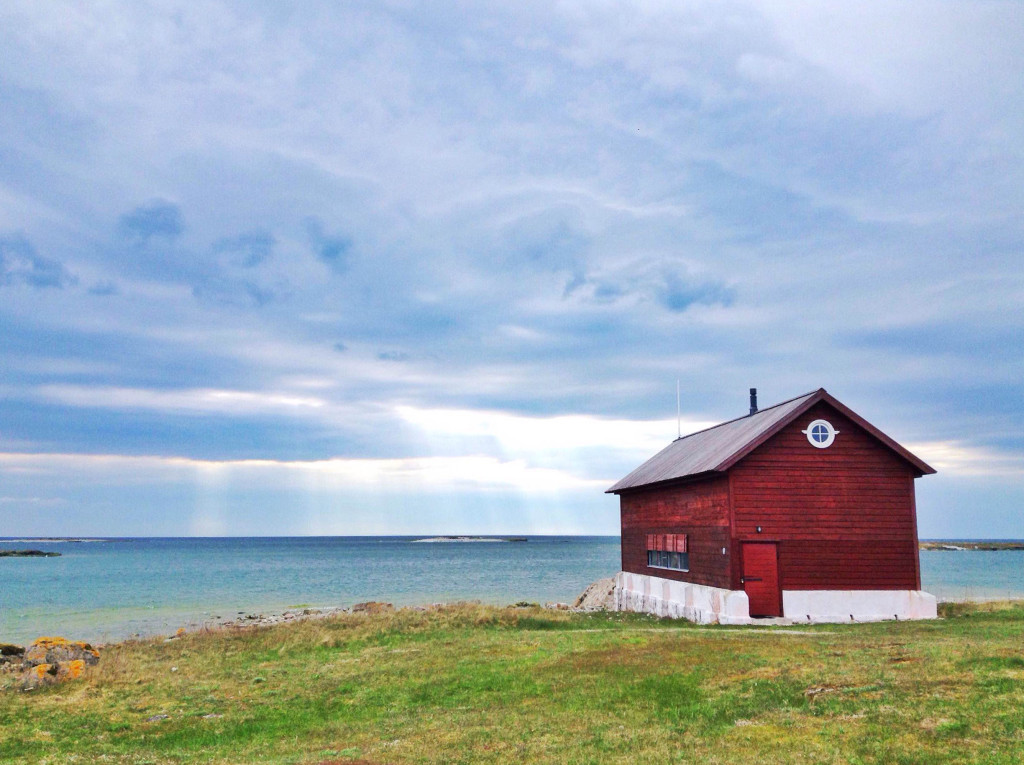 One moment! Not that lonely!
There was a house right next to the lighthouse. And at some point relaxed but shy guy holding sailor mug appeared from the house and watched for a while our shooting. We approached him and found out that it was Juhan Saat and he is lucky! Because that building was his summer cabin. And the only time he was at the top of the lighthouse was during the visit of Estonian Prime Minister. We hadn't Prime Minister with us, so Vilsandi didn't let us in.

The view, by the way. We spent some time circling around the lighthouse to find exactly the spot with the view from the postcards. Meanwhile the weather got worse, it got extremely cold in the shortest time, strong wind brought a big cloud and the big cloud brought freezing rain.
But we still were glad to reach this God-only-knows-how-to-reach lighthouse. Without phones, euros, wet, but deeply satisfied!

Tasha and Mila refused to go back to the pier by car. And again it was a challenge. Last few kilometers they cycled through the rough wind which almost kept them on the same place. "That's how cycling in Iceland looks like I assume," – wet and shivering Mila said. But finally we did it! The boat was jumping on the waves, the waves covered the boat's roof and all these only made us happier – true sailors we were indeed!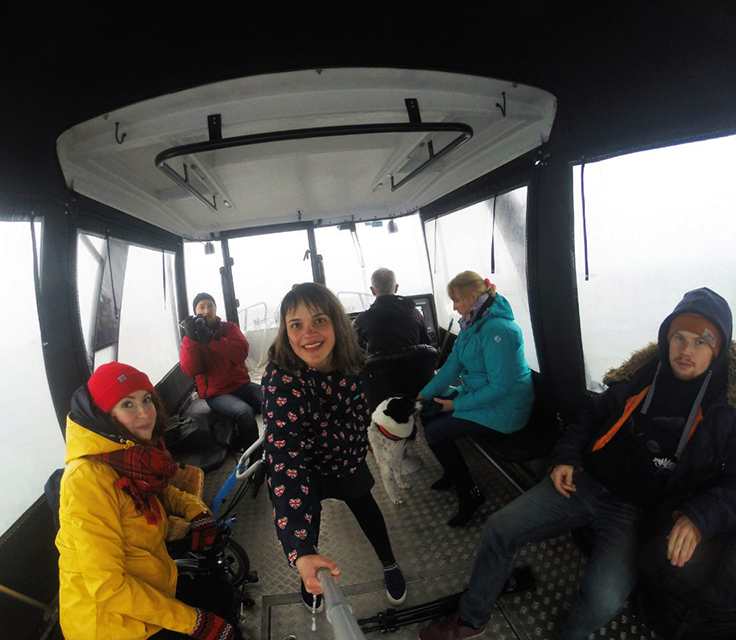 It was a great luck to get soaking wet exactly on the day we had warm saunas and swimming pools waiting for us! Certainly, setting the tent in the stormy wind with Bite bar as a dinner would be much more interesting. That's why we won't give you a lot of details about the SPA. We don't want you to consider us not to be true travellers. We'll only say that there was a little lighthouse on the roof of the SPA, which showed the way to the ships to the Kuressaare port and we were swimming right under it in the outdoors pool.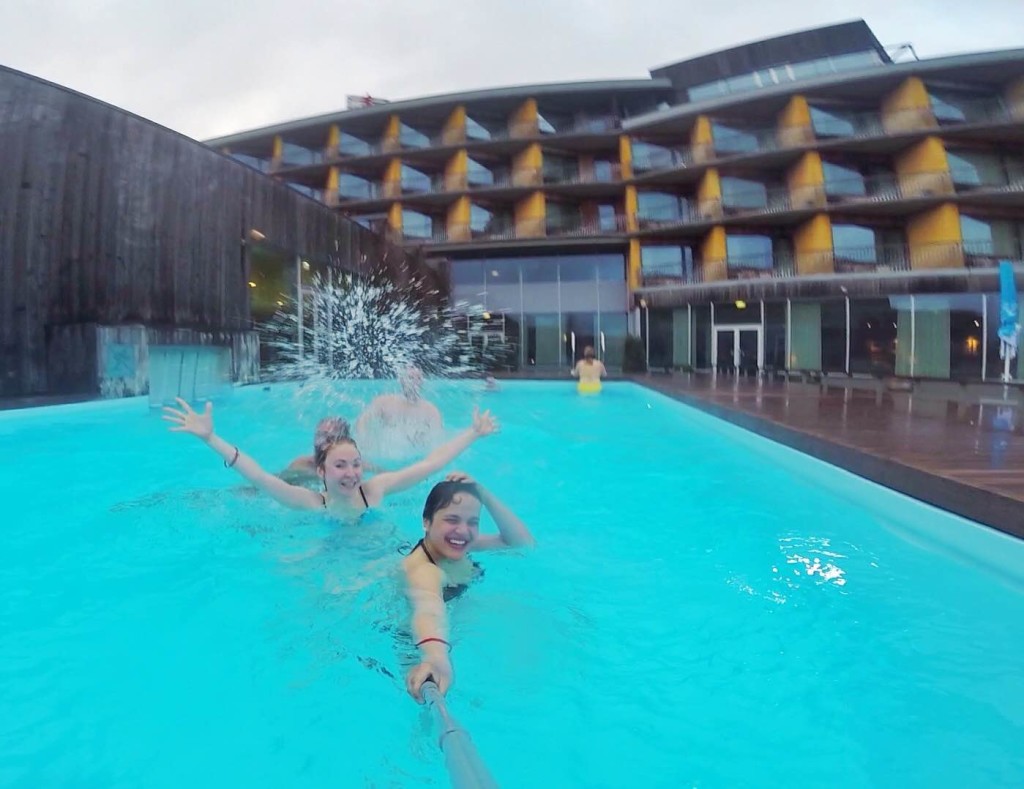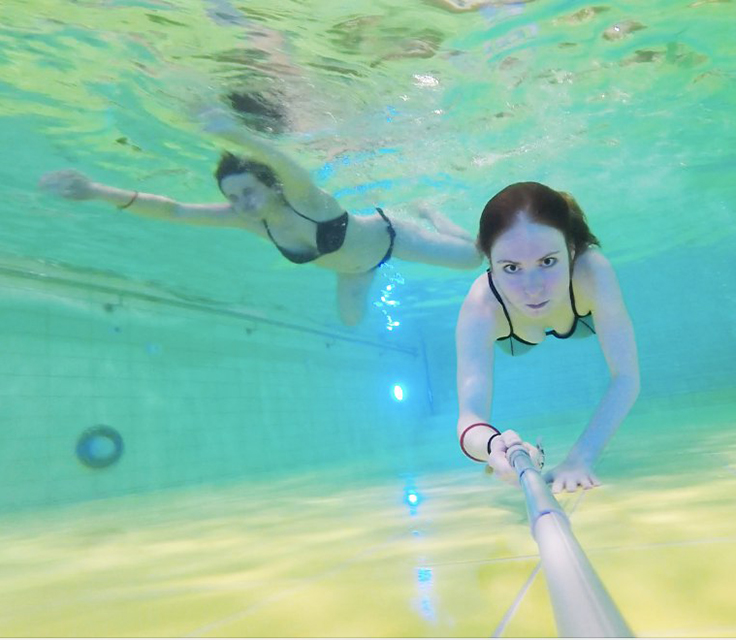 Everything can happen during travelling! In the UK we spent the night outside, then drove Porche, in Estonia – got completely wet and frozen in the rain and warmed up in the luxury SPA. Travelling is a puzzle assembling from the different impressions, moments and people you meet, so we were glad to have such relaxing and enjoyable moment in our Estonian puzzle!
P.S. We found both iPhones: Tasha's phone was waiting for her right at the spot  on the road where she had lost it, Mila's phone, though, was waiting for her, where do you think? In the hotel room. It didn't want to share all the freezing moments with her. Fair enough =)
comments powered by HyperComments