We wish we could spend more time in our empty hotel, taking shower in every room and lying on all beds, but we couldn't allow ourselves such luxury as ferry to Saaremaa island traditionally left early. We quickly packed, left money for the night on the table and continued our travelling.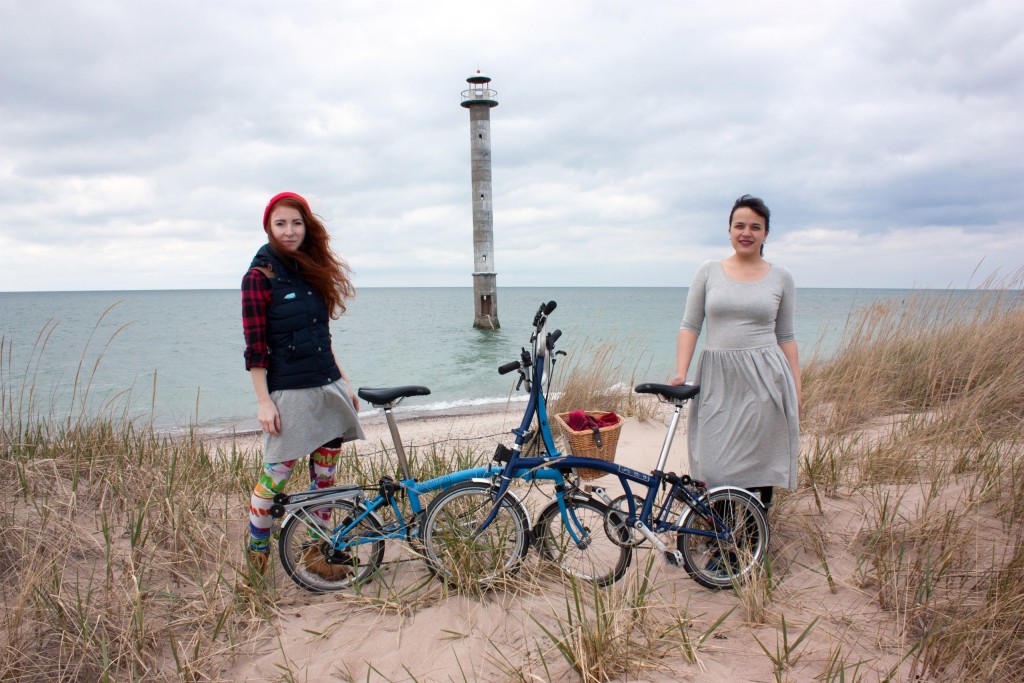 Saaremaa is the biggest island with 2673 sq km and population is less than 30 000 people. We were going to spend the night here in the biggest city Kuressaare, but stormy winds, lighthouses and sands were in our program before magic hotel-palace. And one more ferry!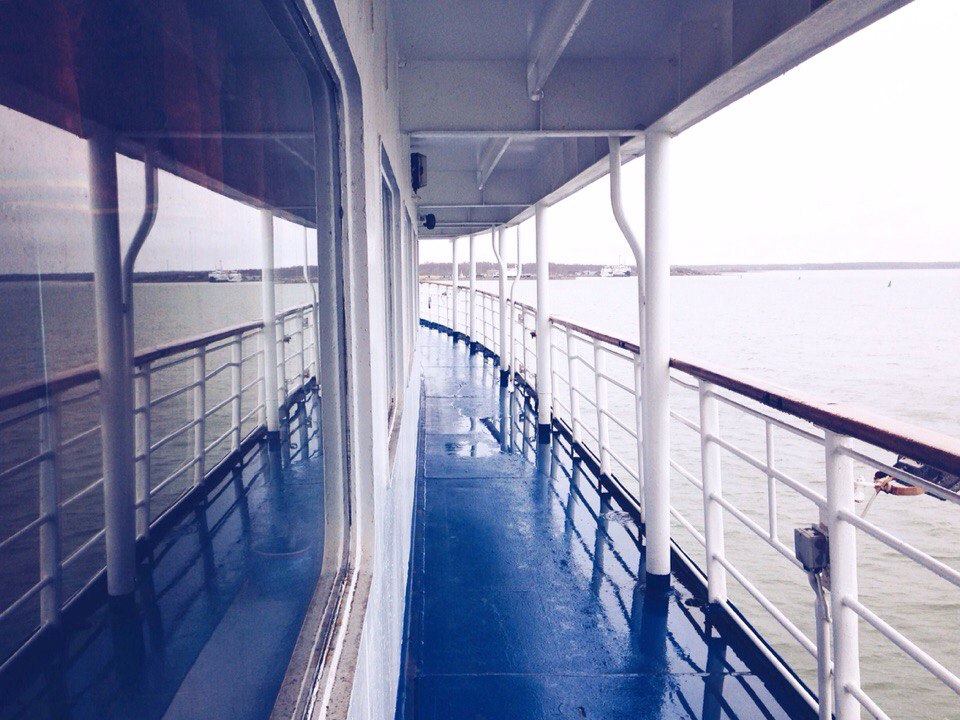 We started with retired Kiipsaare lighthouse. It is located in Vilsandi national park and can't be reached by car. Not a problem! We had bikes and big bags so we could help our guys to carry equipment to the spot. 6 km walk was waiting for Vasya and Vadim and YEY! Phantom camera to make first shots from the air. We had lunch on the traditionally empty parking space, rearranged the stuff, Tasha and Mila took some cameras and lenses, attached the tripod to Brompton and left guys behind.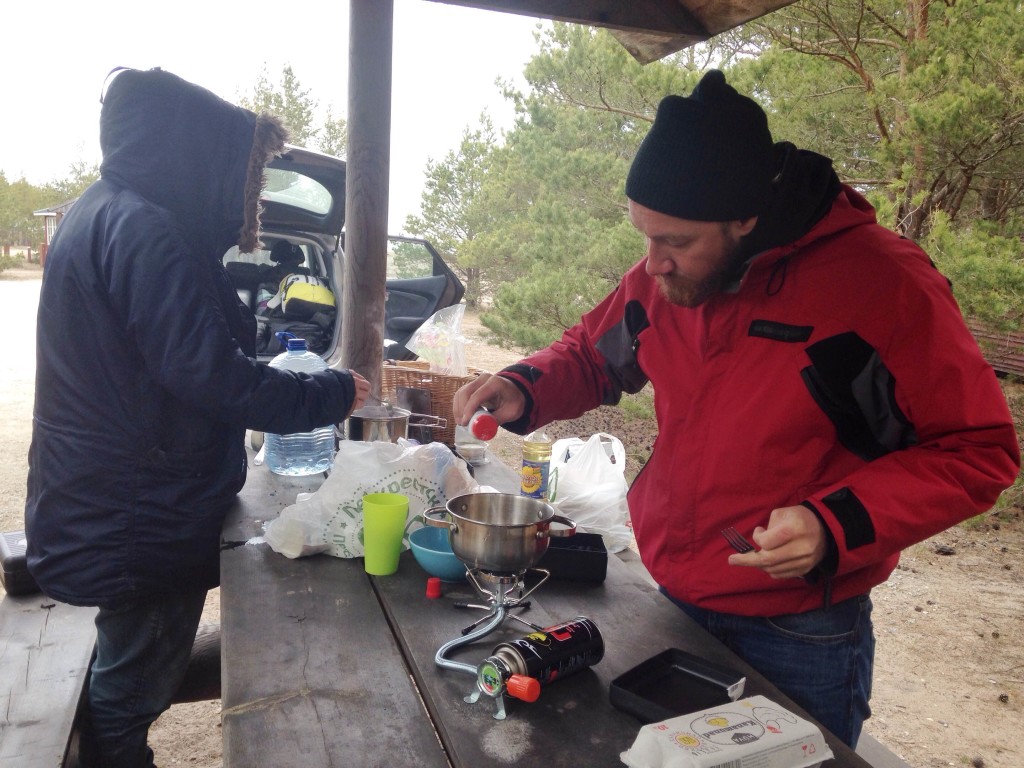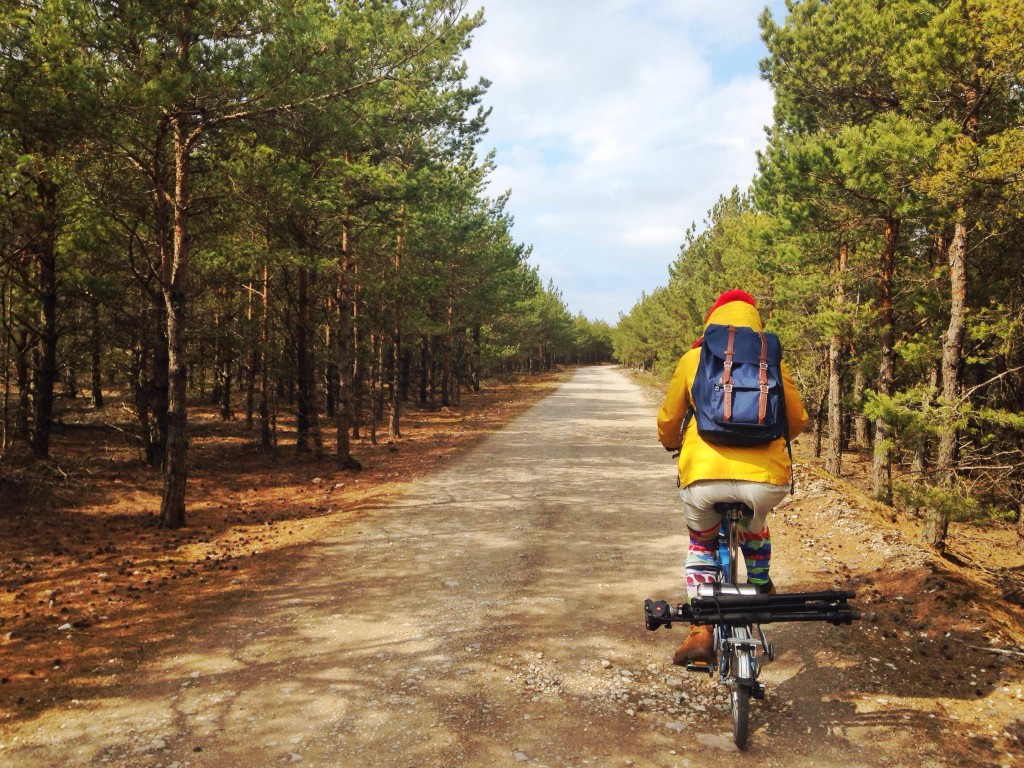 Vilsandi National park had unusual scenery: flat landscape, scorched earth with some blackthorns and traces of coloured moss.The baking sun above us. Texas. And we with our horses.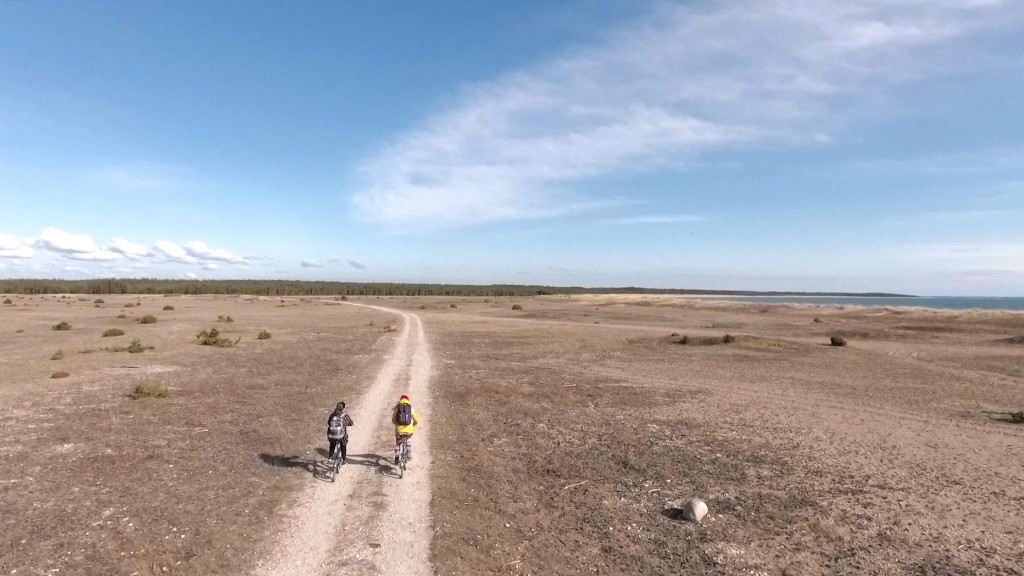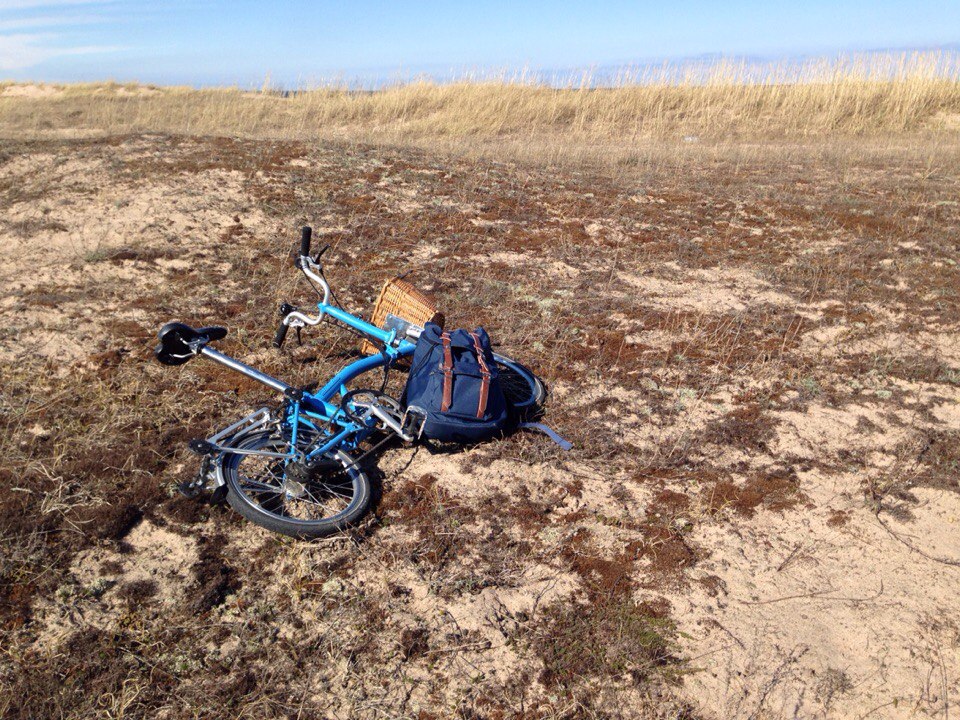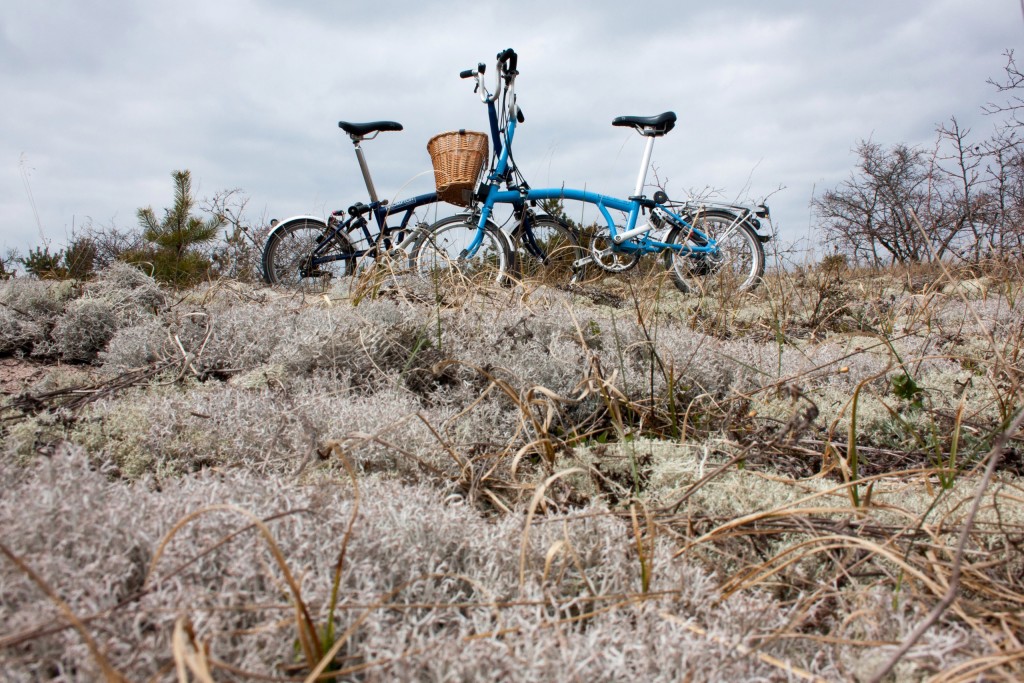 It was the first time when Mila and Tasha should have reached the lighthouse before the shooting team, but…After rushing down the prairie and short pine forest afterwards we faced TADAAAAA sandy beach! Have you ever tried riding bike along the beach? It's not easy even if you're the owner of fatbike. Our little Bros with all the heavy equipment on them were literally drowning in the sands.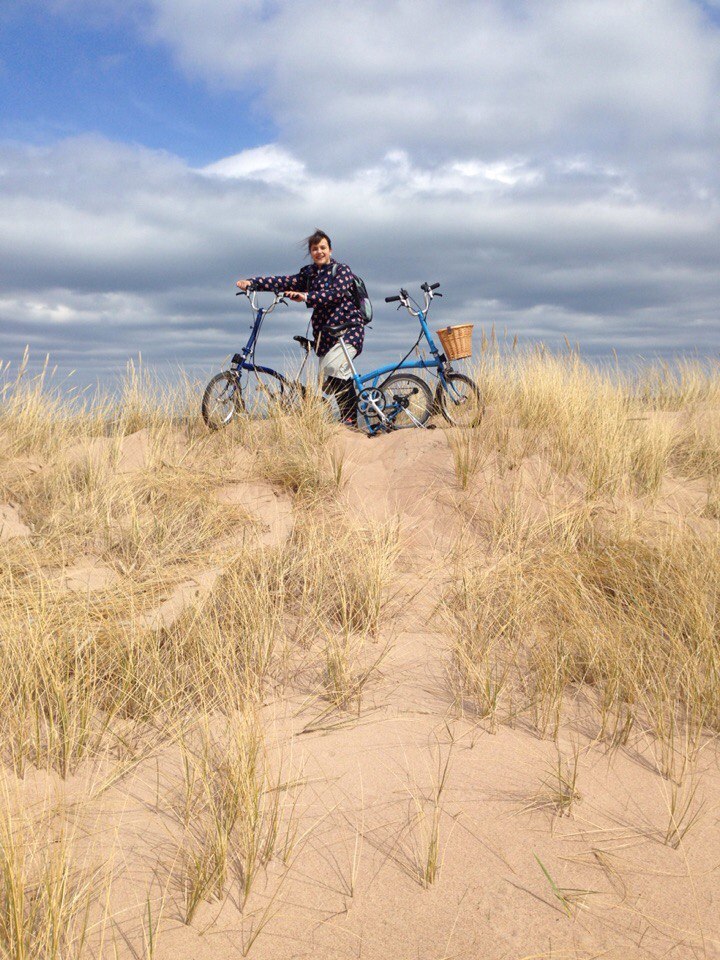 We couldn't leave them to wait for us – true Bros do not act like this. So that was the moment when we swapped the roles: bikes started their travelling by girls.
At some point joyous Vasya and Vadim caught up and beated us. Ooops.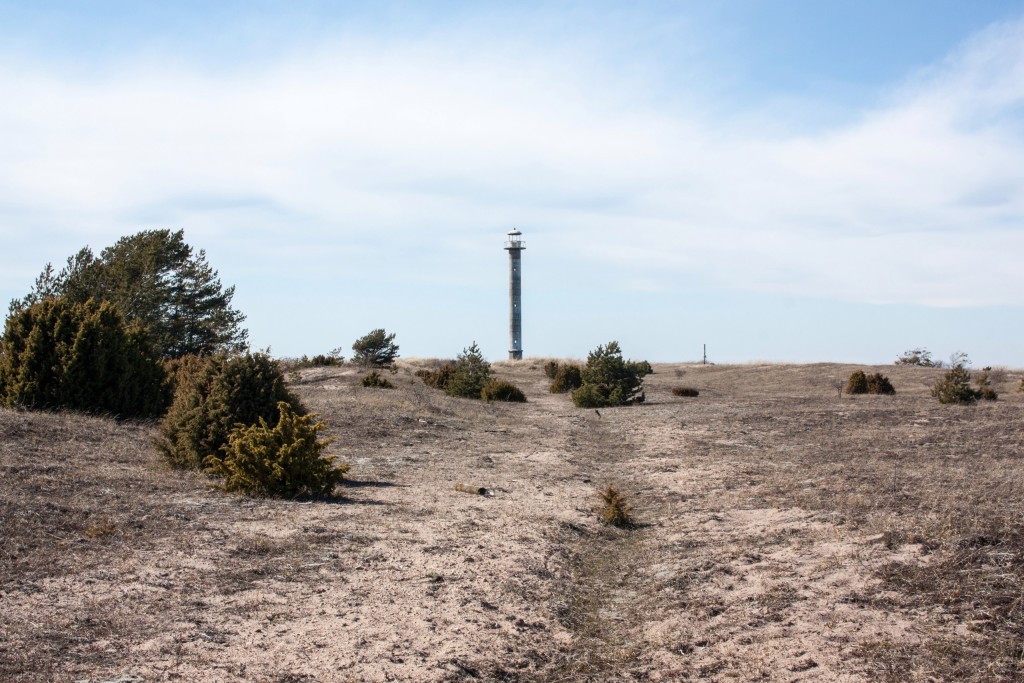 Apocalyptic scenery, sea – on the right and left, falling lighthouse showing the way – ahead. It wasn't easy but we did it.
Kiipsaare is the old man, standing in the water. Not handsome but intriguing indeed. It was built in 1933 in 25 meters from the water, but years later the coast was washed away, so that the lighthouse became being trapped in the sea. Stormy winds tilted it – we found the picture of it several years ago.
But it has straightened recently. We saw almost straight version.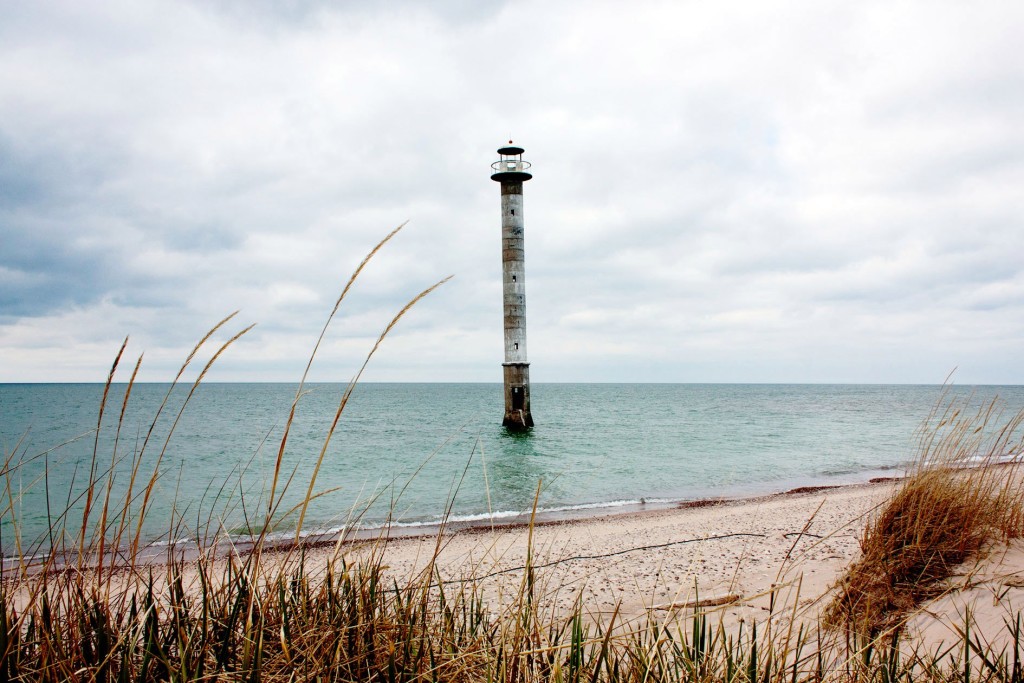 While guys were shooting, we had a rare moment of calmness: we were sitting on the coast covered by all possible apparel we had and just talking, laughing and enjoying the view which was so challenging to reach.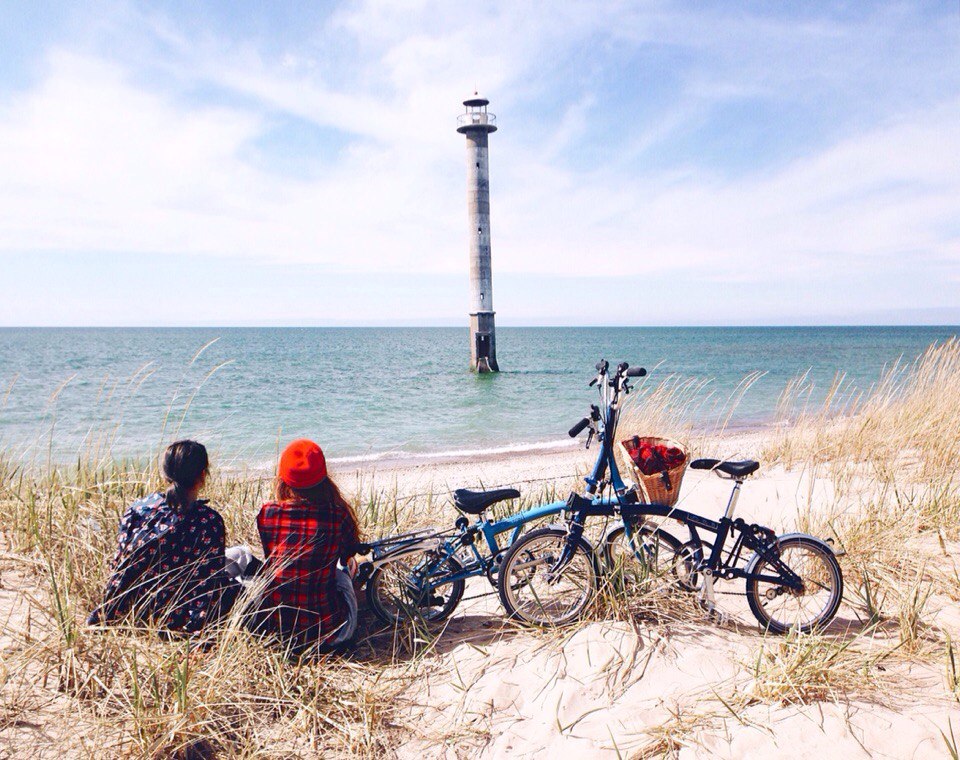 We made dozens great shots, spent some moments on jealousy to those who can swim to the lighthouse in summer, let our video-bird fly. It was time to go back. Hello, 3 more kms in sand, we missed you!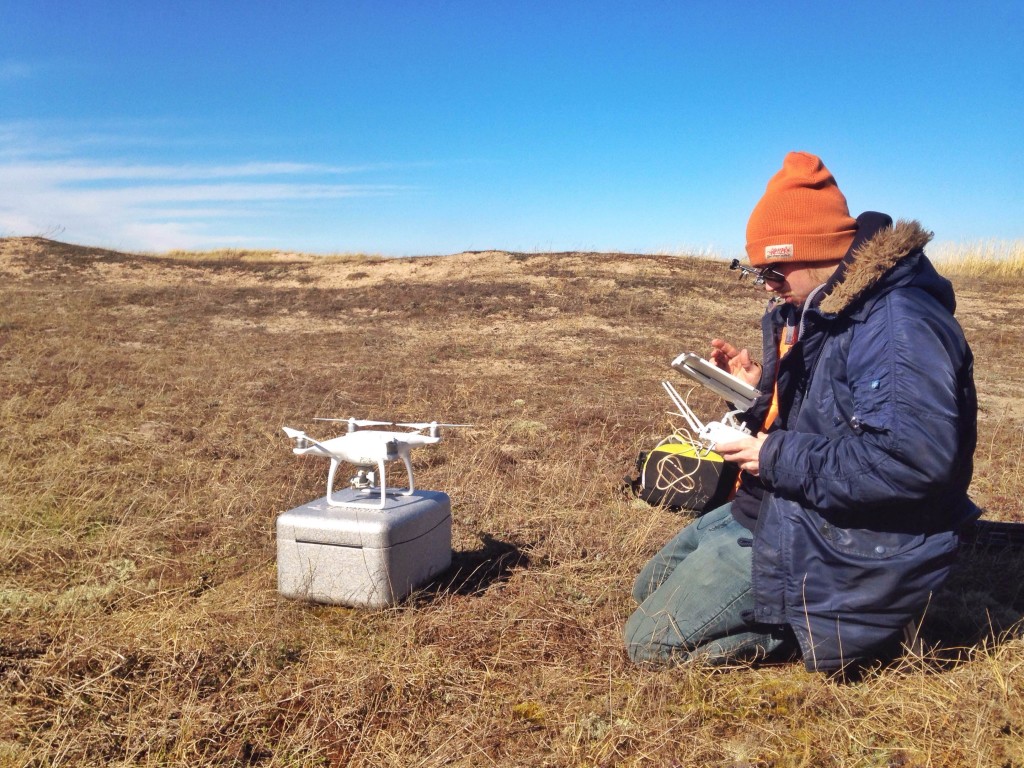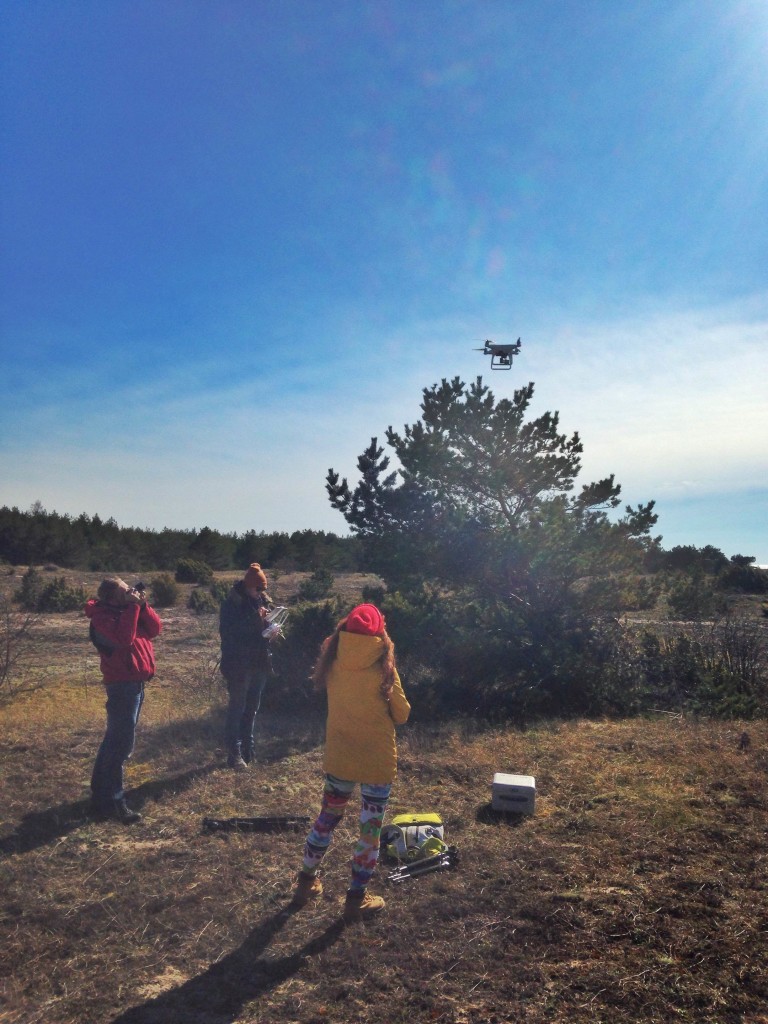 Originally, we should have visited two more lighthouses that day, but Kiipsaare and prairie had taken too much time from us, so we decided to visit Vilsandi island the next day and rushed to black and white dandy Sorve.
Lighthouse Sorve is one of the oldest in Estonia. It was found in 1646, today monochrome 48 meters tower appeared after multiple reconstructions in 1960.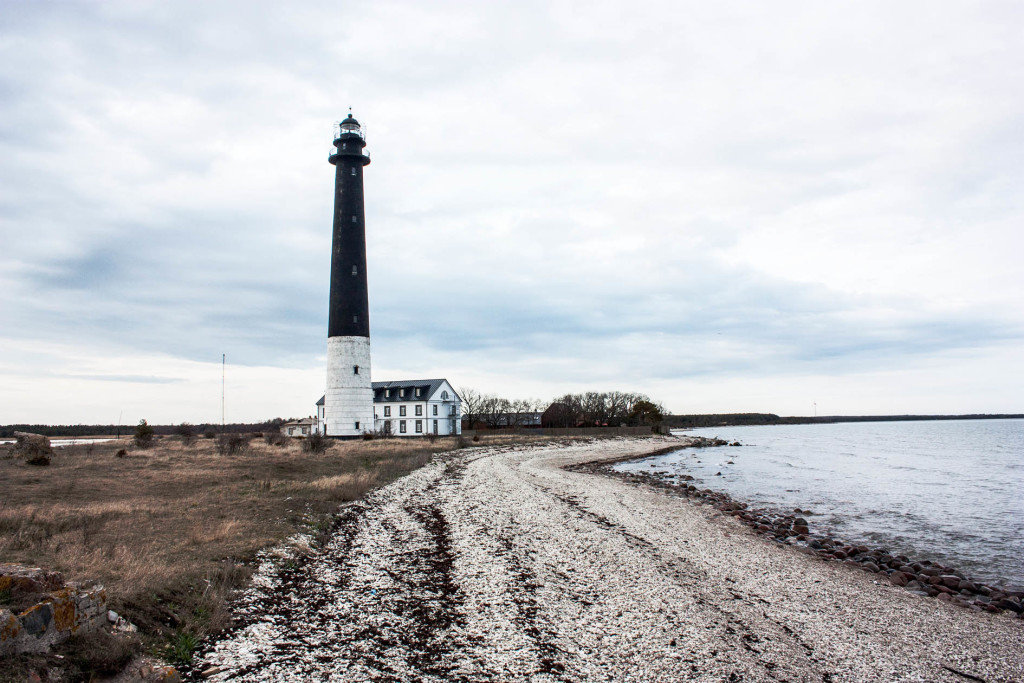 The weather changed a lot, for the first time the wind died. After exhausting road to Kiipsaare and need for speed style driving to Sorve (we worried about missing light) Estonia surprised us with calm and warm evening.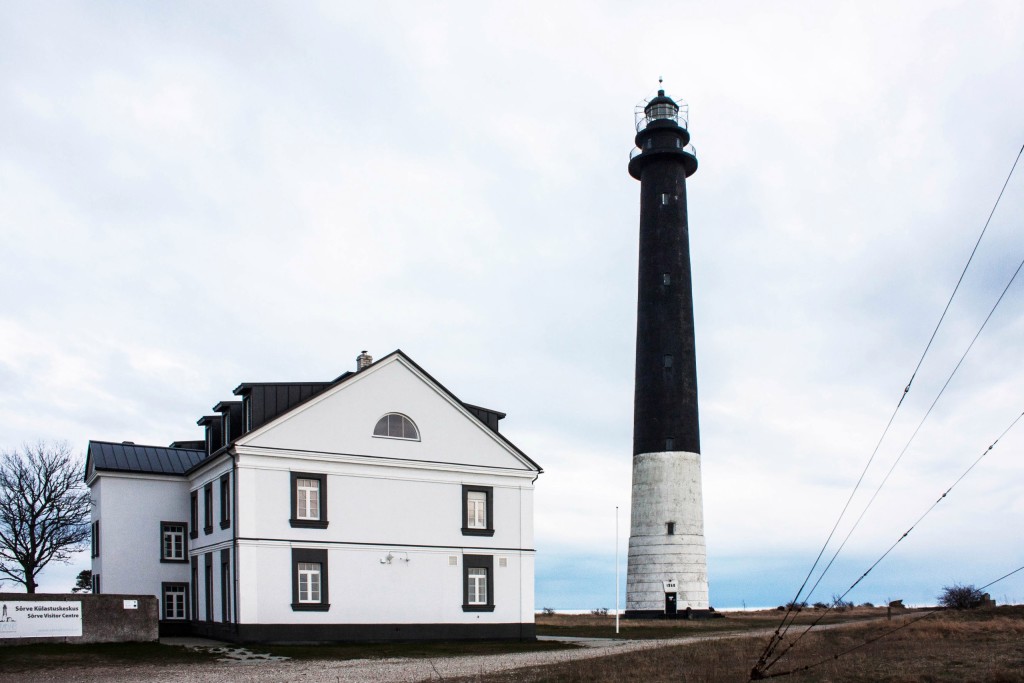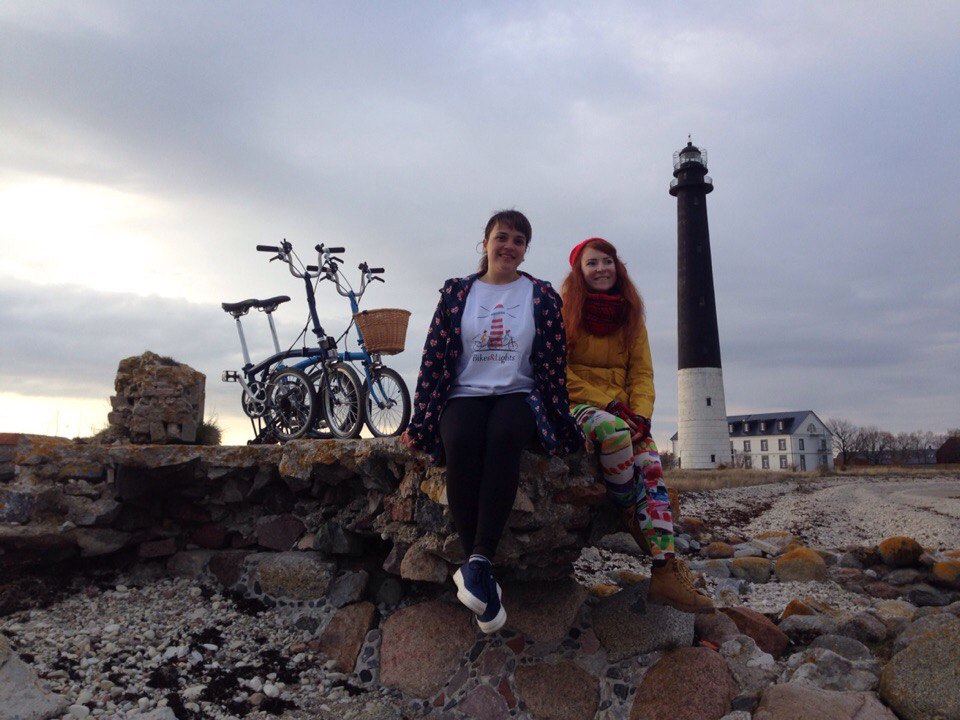 Phantom camera flew around the island, Vadim was making timelapse while arguing with Mila about right pasta condition. And Vasya seized Brompton and circled around debating pasta club – magic evening =)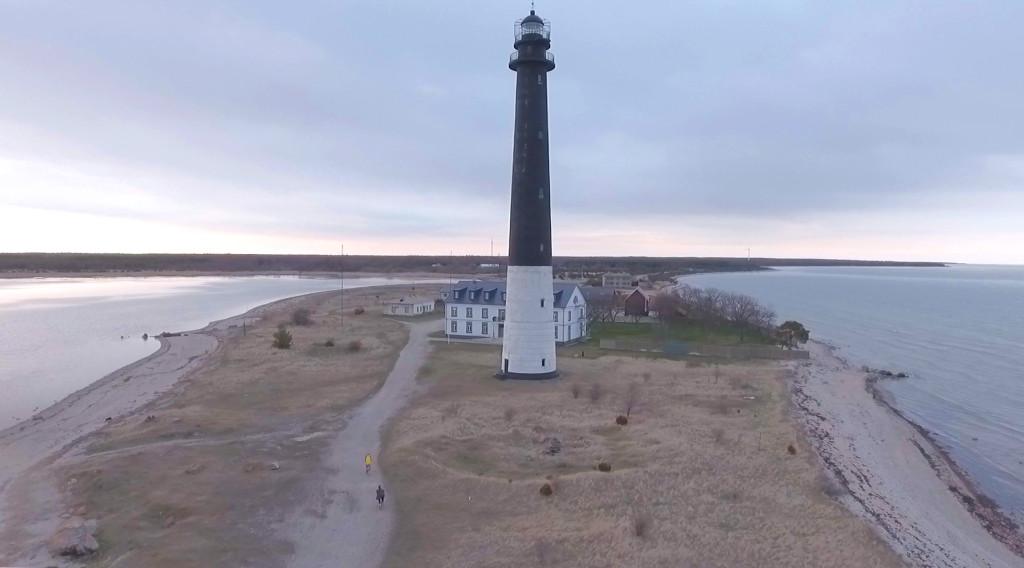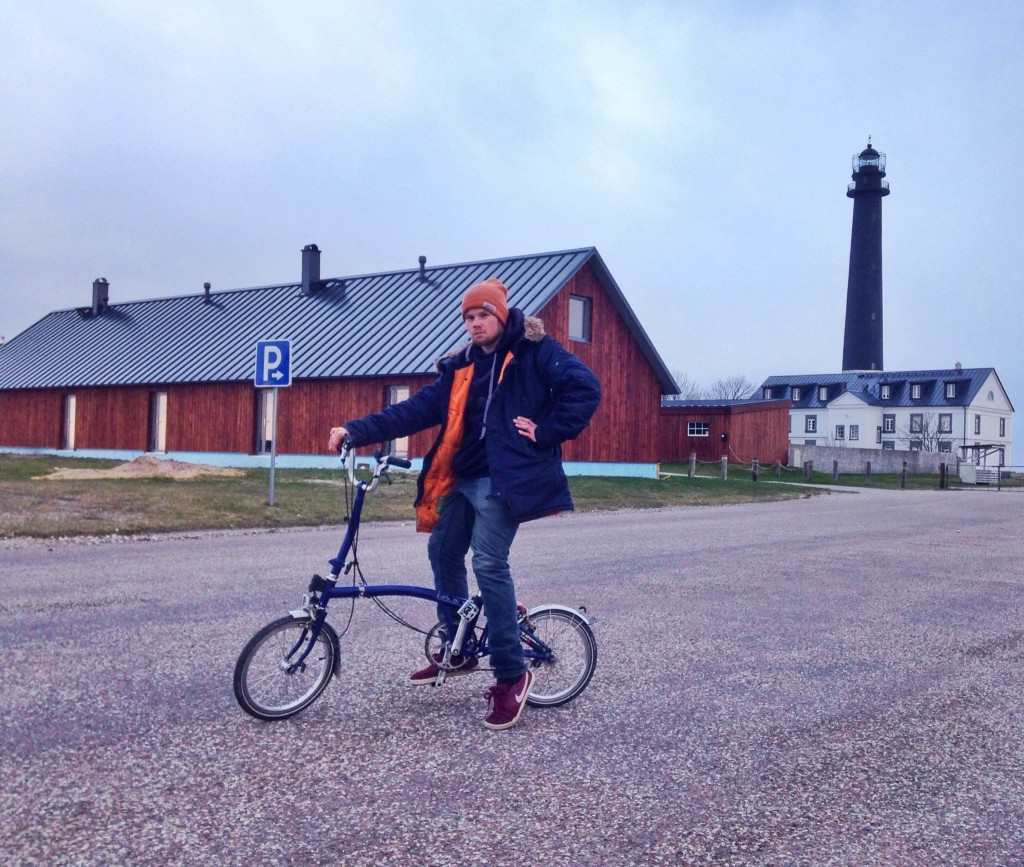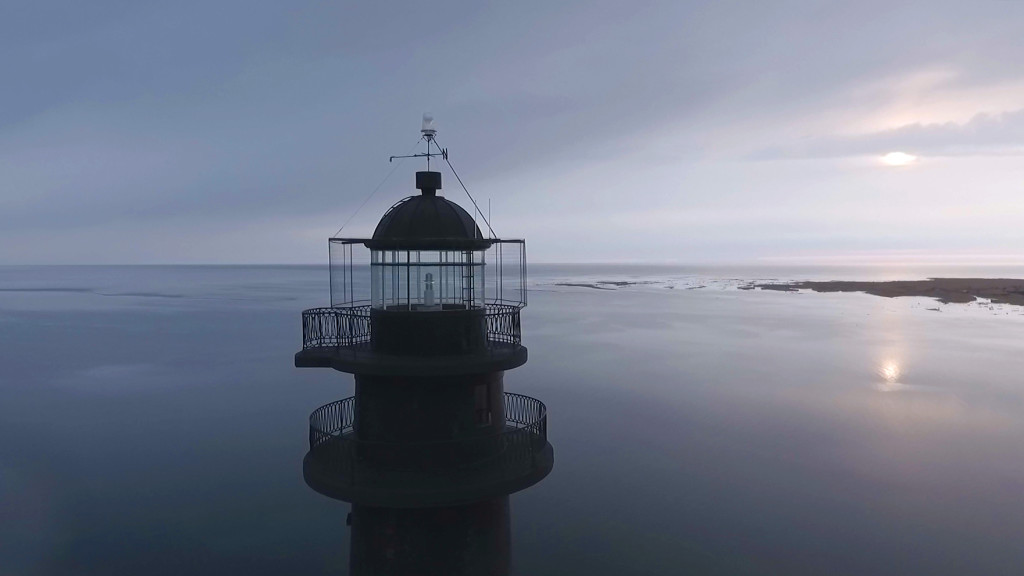 We followed the sun beyond the horizon and took off to our friends – Ekesparre Butique Hotel, who supported our project and provided us with two nights in the palace. We are not kidding! The hotel is opposite to the XIV century episcopal castle. Luxury interiors, elegant furniture, mini bar, bathrobes – we will have a chance to estimate all these tomorrow. Enormous comfortable beds were our main goals at the moment we got there. Zzz…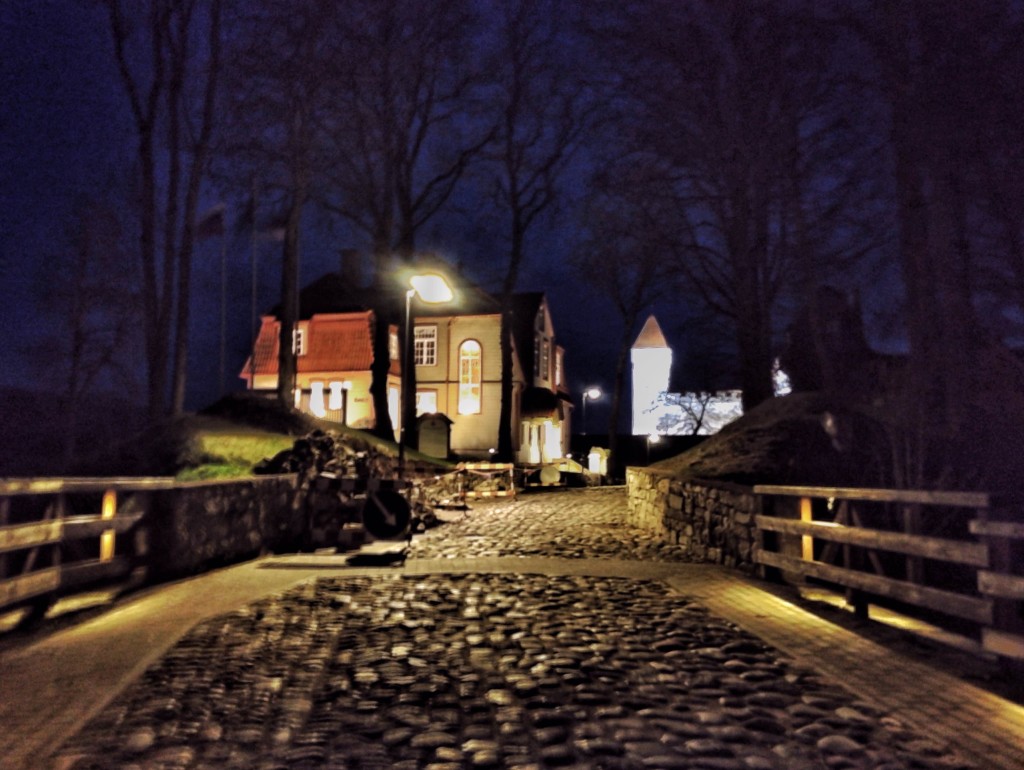 And huge hot breakfast in the morning. With champaign.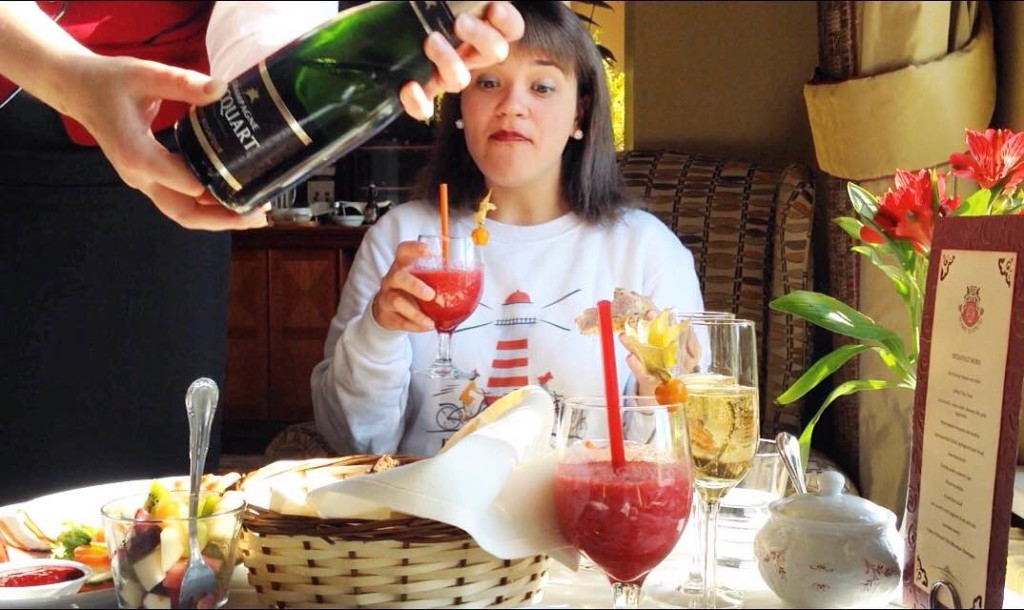 And challenging road to the Holy Grail of our journey – Vilsandi lighthouse. We had lots of reasons to fall asleep ASAP. Night-Night! (SPOCKoynoy nochi!)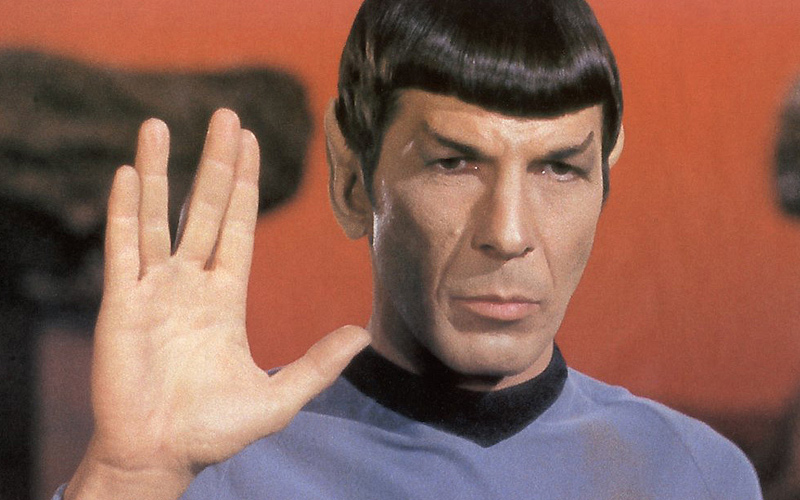 comments powered by HyperComments