June, 7th, 2014.
A warm summer night, on one hand – a curvy cycling track, on the other – a long gallery of pubs, in the middle – lots of smiling people, on the track – bicycles of all kinds… Sounds like a perfect cycling event!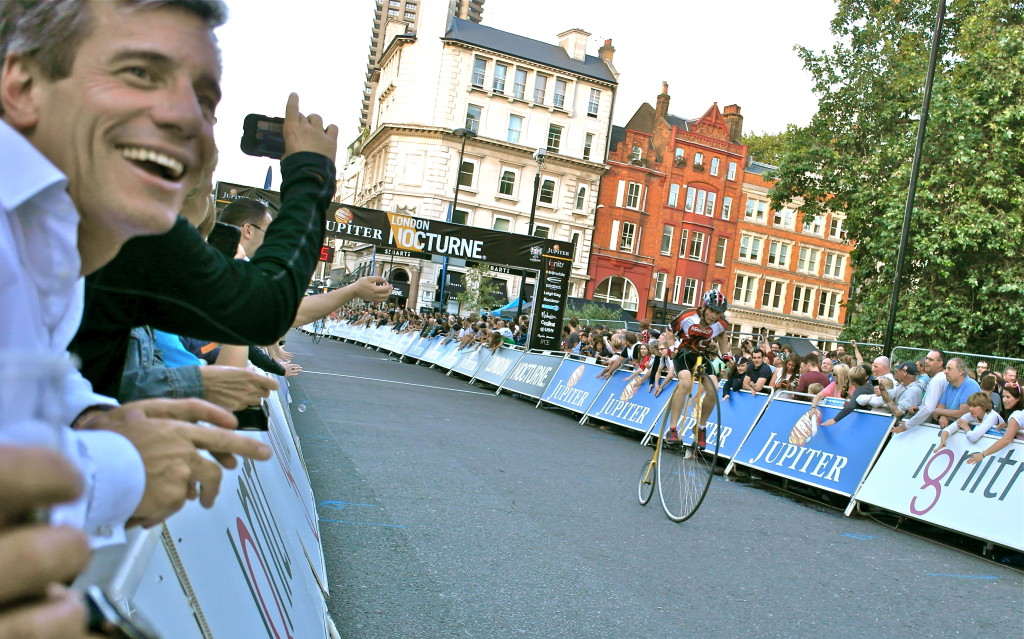 London Nocturne is definately the one! A yearly bicycle race, taking place in the very heart of London, gathers hundreds of participants and thousands of spectators. Cyclists of all kinds ride around the Smithfield Market. The event is free, but I got the "Media" pass, thanks to which you can enjoy pictures from backstage!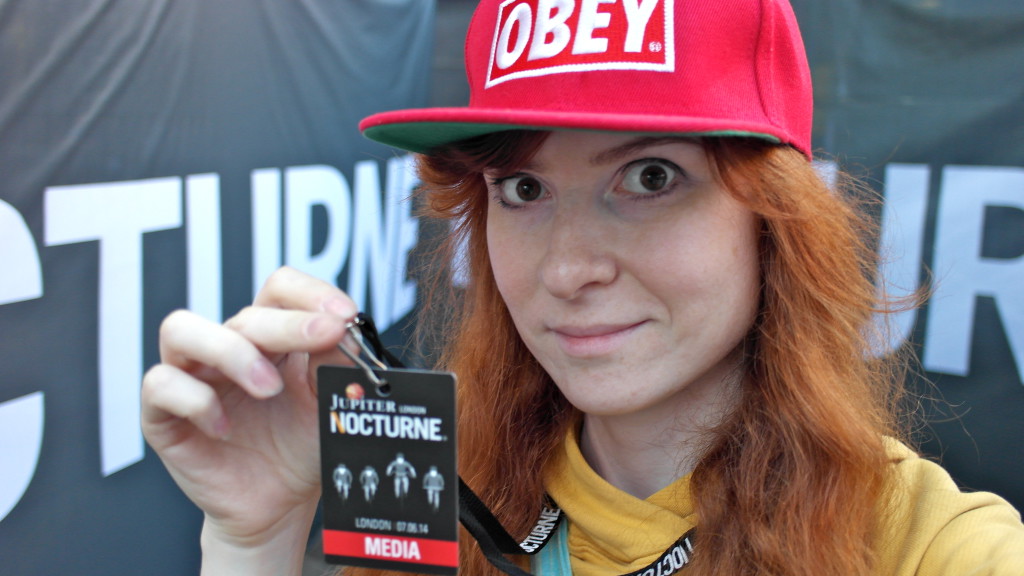 To be honest, I'm not a big fan of cycling sports – it is much more interesting to ride by myself then to watch bicycles speeding by. But I can't help but enjoying the view of these beautiful Penny-Farthings and their riders in bow-ties!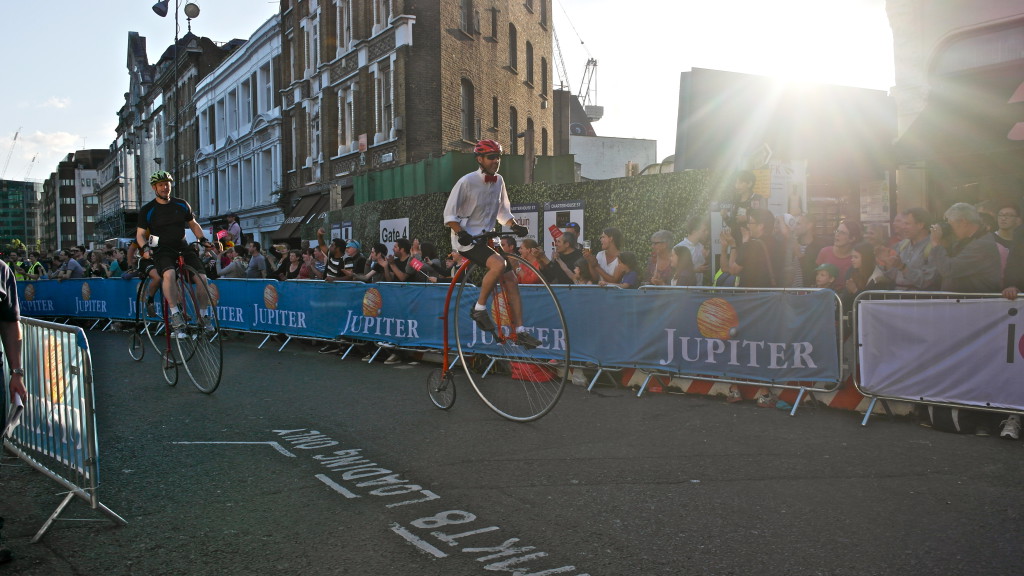 This year London Nocturne included 9 different races: except for the above-mentioned Penny-Farthing Race you could watch  several races on high-speed bikes, a separate race for girls, Retro Criterium from Brooks, London Cycle Hire race and  – particulary interesting for me! – a Folding Bike Race. The last one, of course, had many Bromptons involved.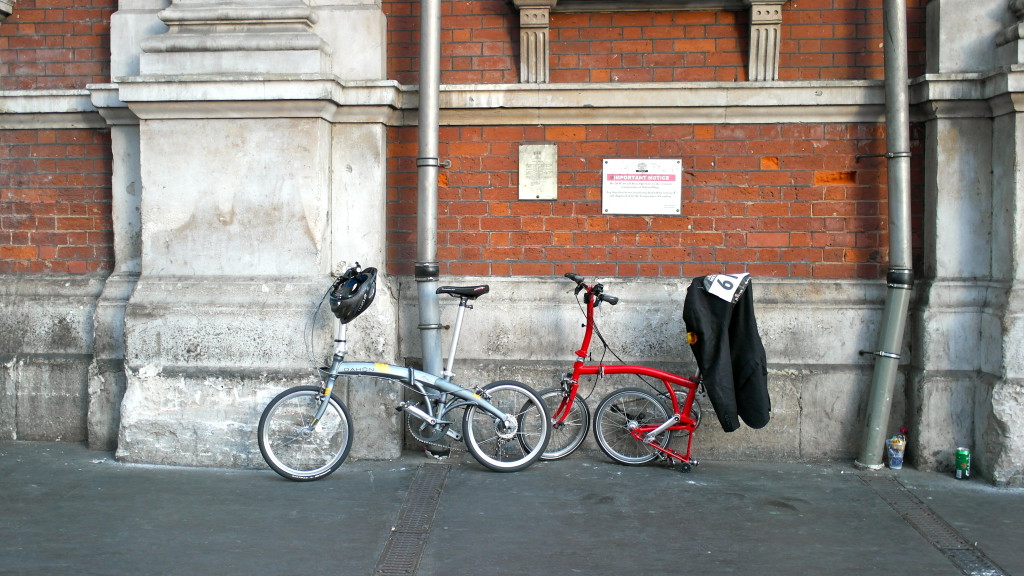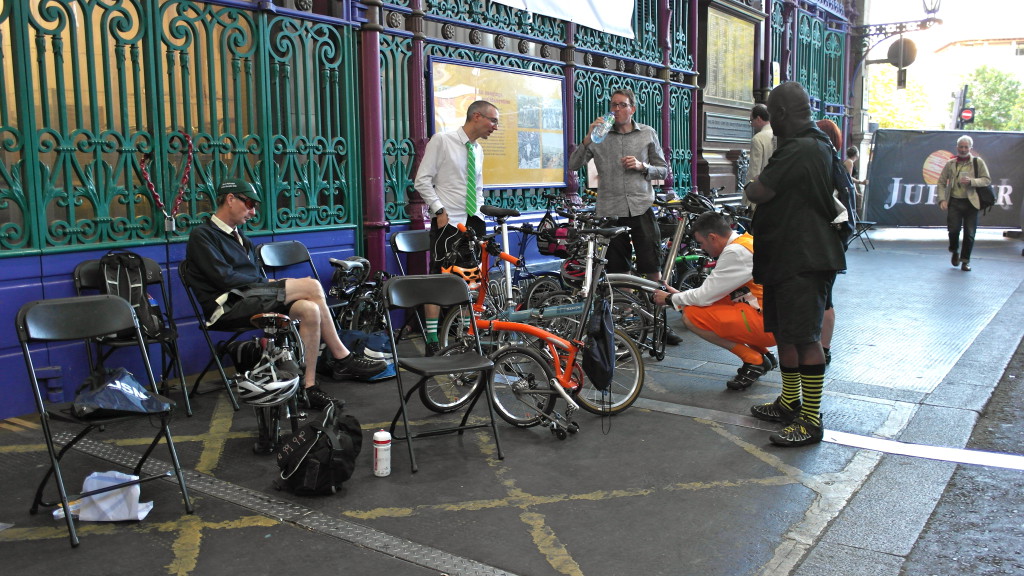 Brompton riders were among the most stylish on the race:
But not as stylish as participants of Retro Criterium: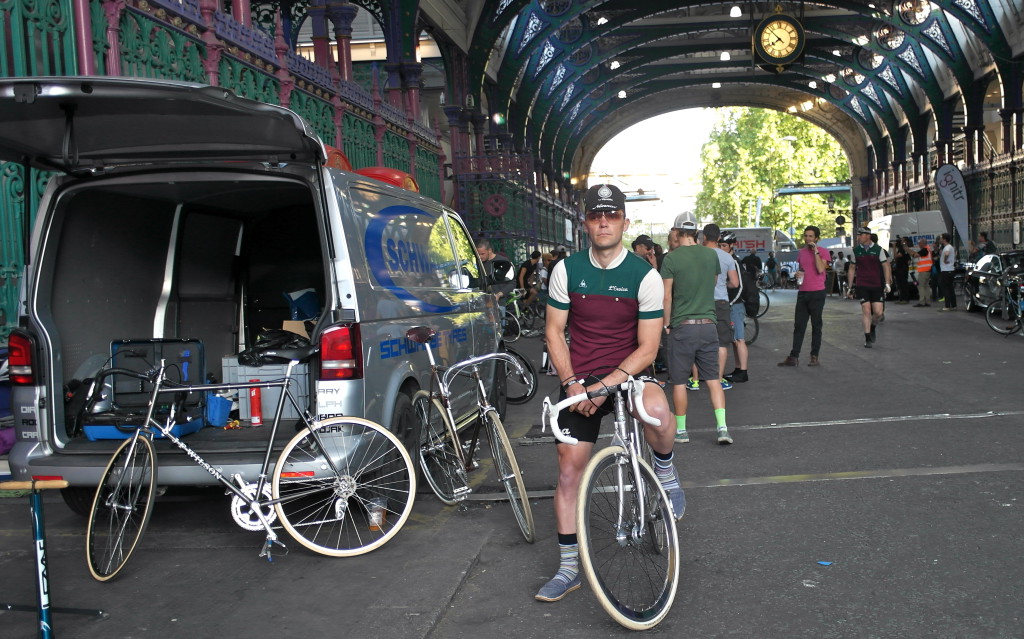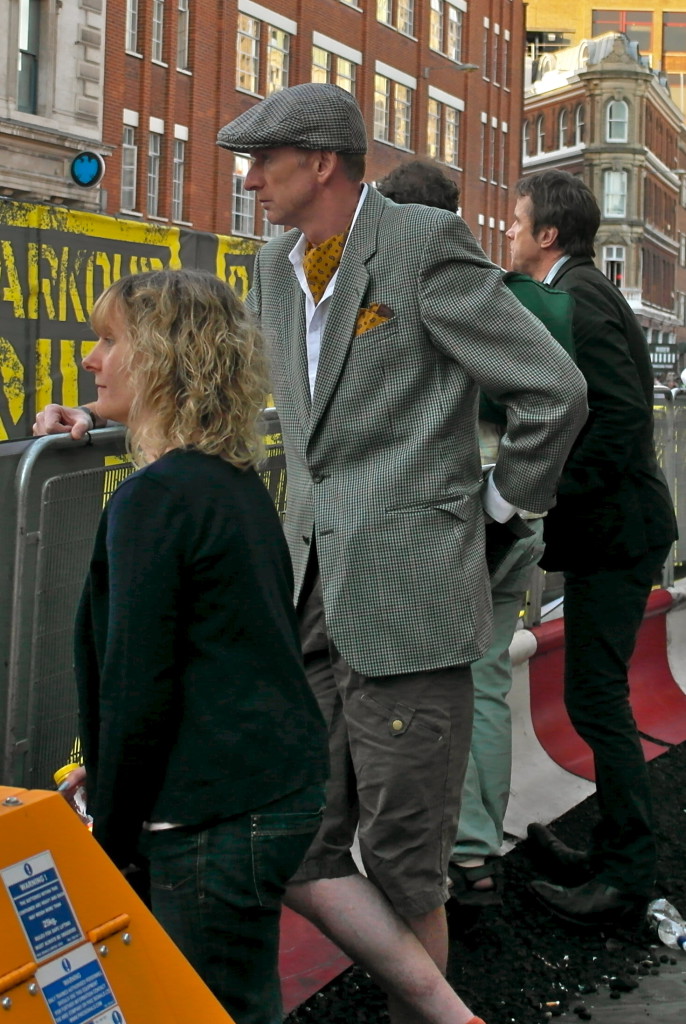 Some supporters: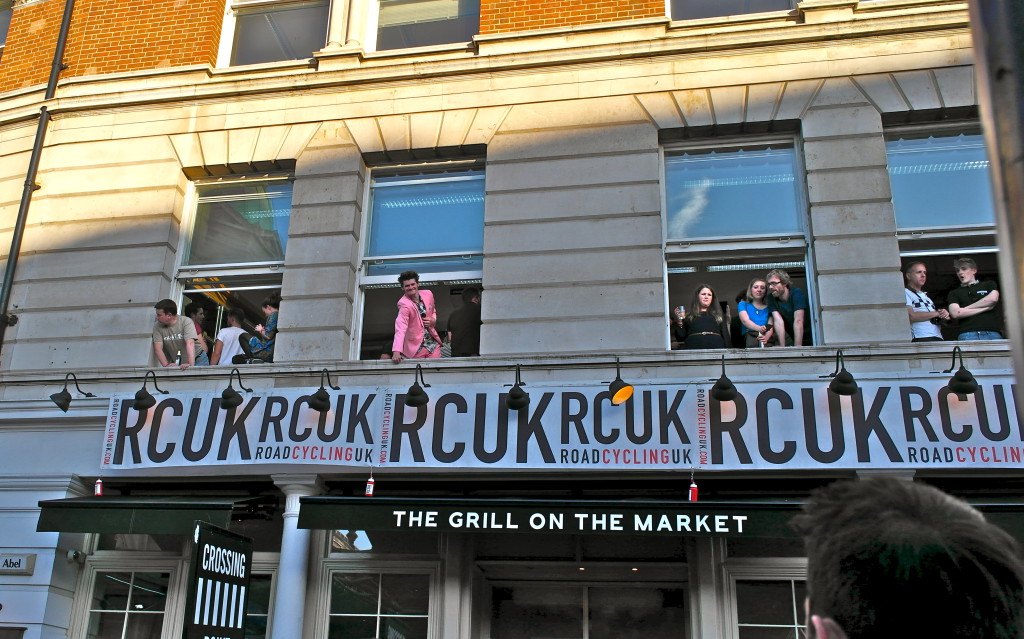 This guys in pub windows had a great view of the track!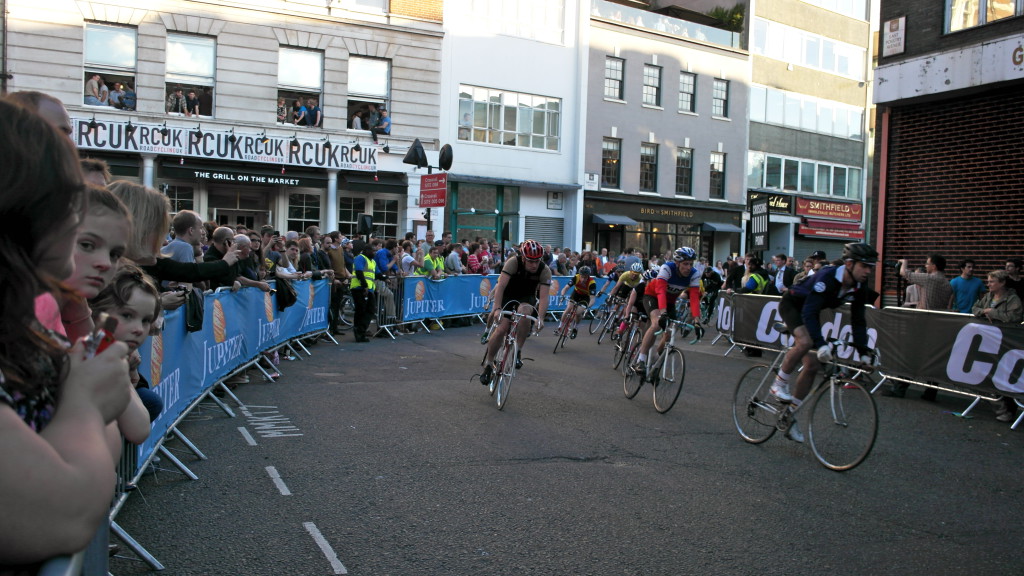 People on the outer perimeter of the track were having a great time – if not every door, then every second door, facing the track, was a door of a pub! Beer and sports are not that incompatible =)
I wasa little late and came in the middle of the event – getting through this noisy crowd with my bike was not easy, but a lot of fun! I immediately caught the spirit of the event!
This is the bell which was given for free to everyone. People made a lot of noise by ringing them and hitting the metal shields, fencing the track, to cheer the cyclists.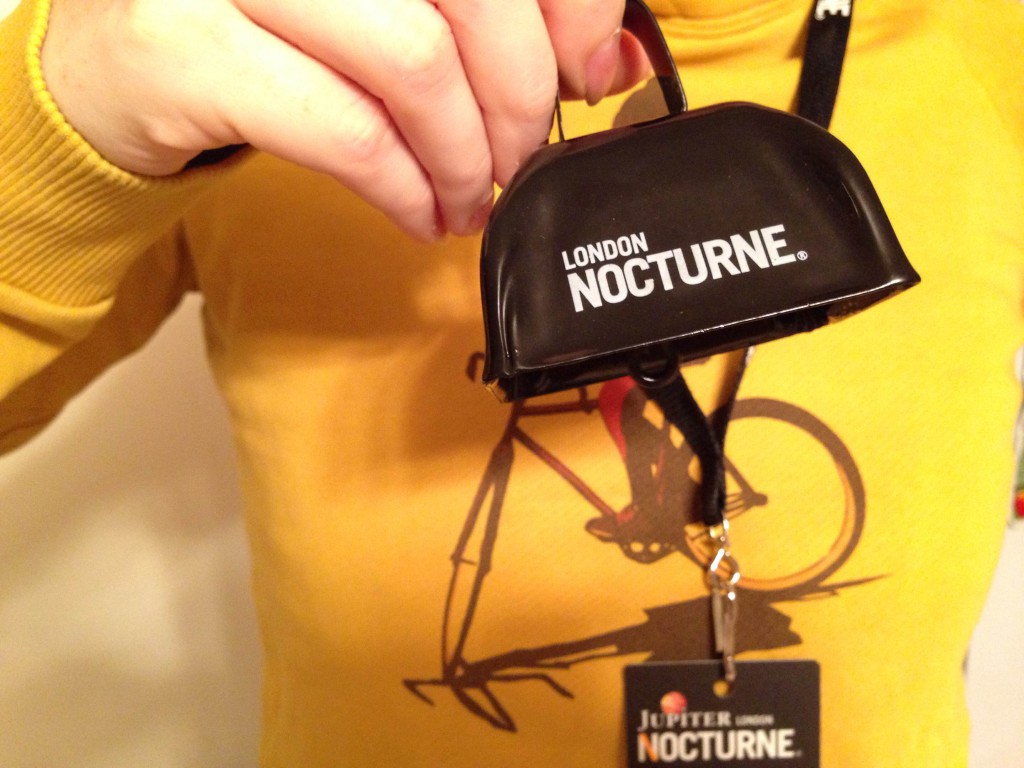 Here's a black Brompton in a black bar =)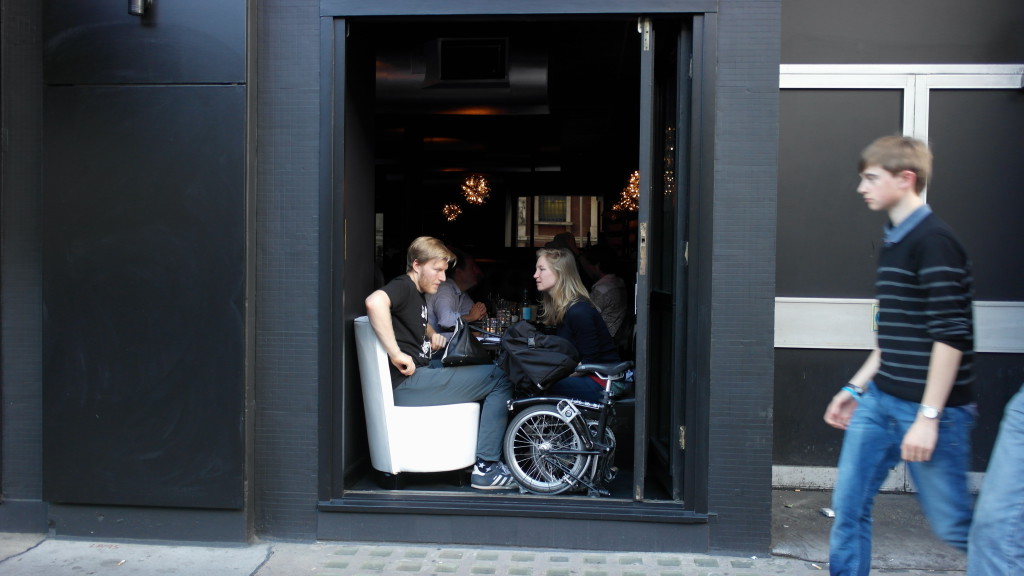 The atmosphere inside was not as relaxed – cyclists were getting ready for the race: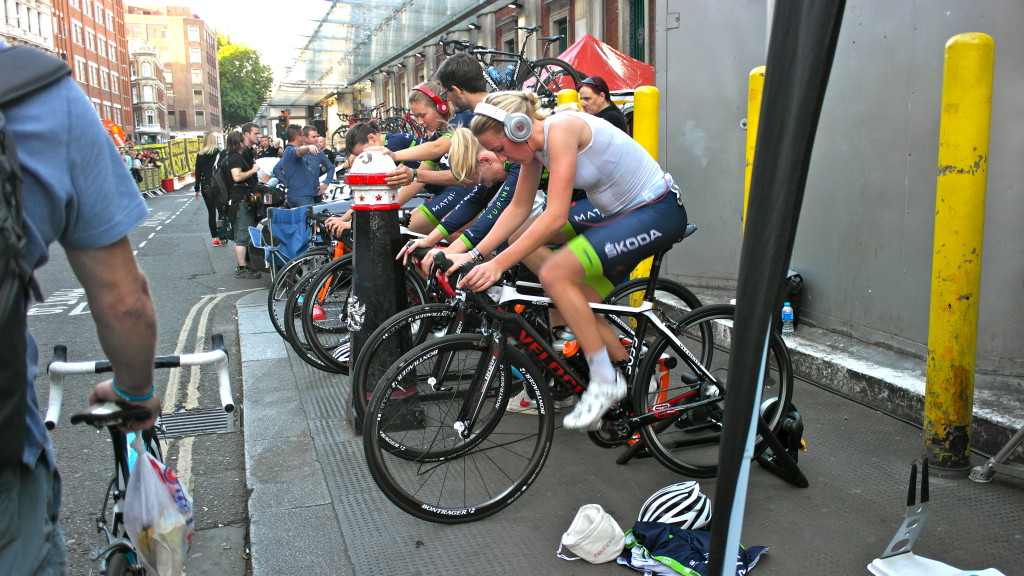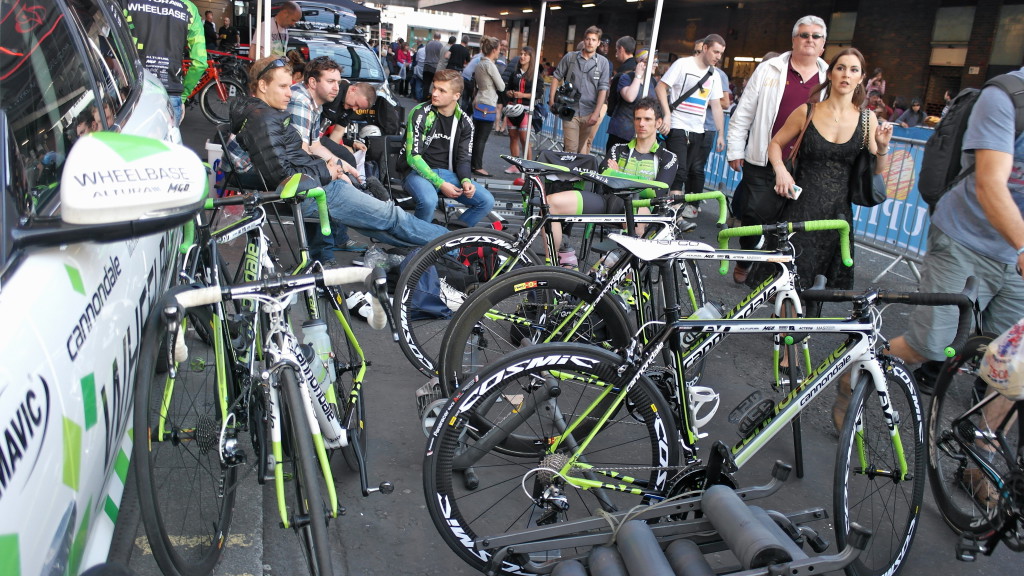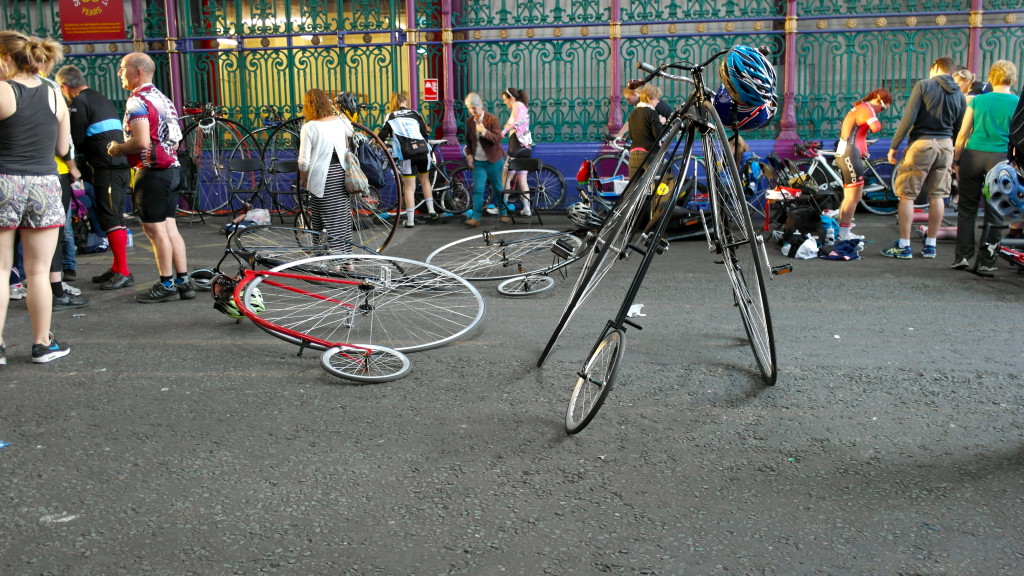 Don't worry – this is just massage. But the medical zone was fully equipped to deliver help if needed, and there were several ambulance buses around the market.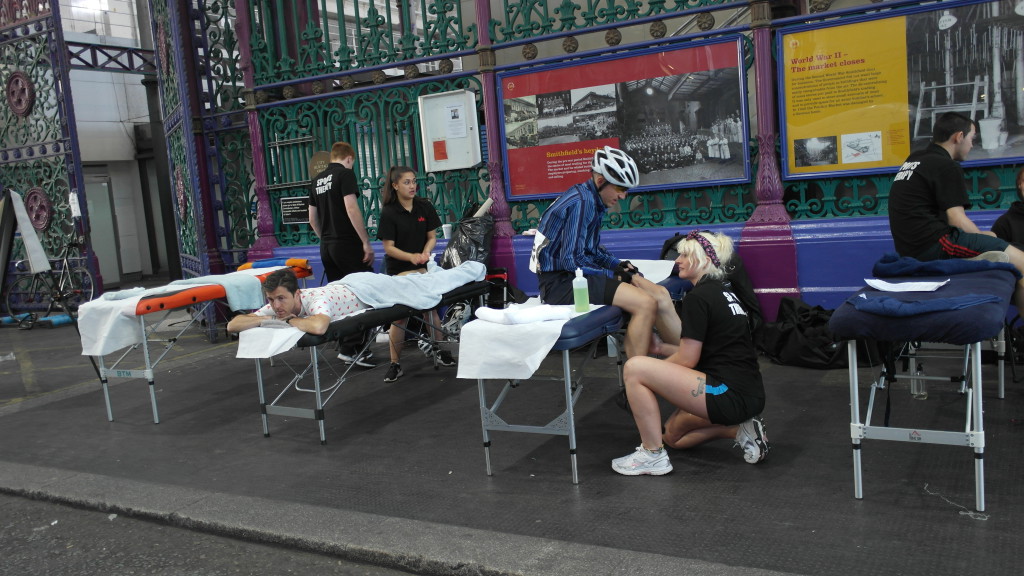 This bicycle line looks like a really big Cycle Hire station – but they all take part in tonights race, for the first time in London Nocturne's history.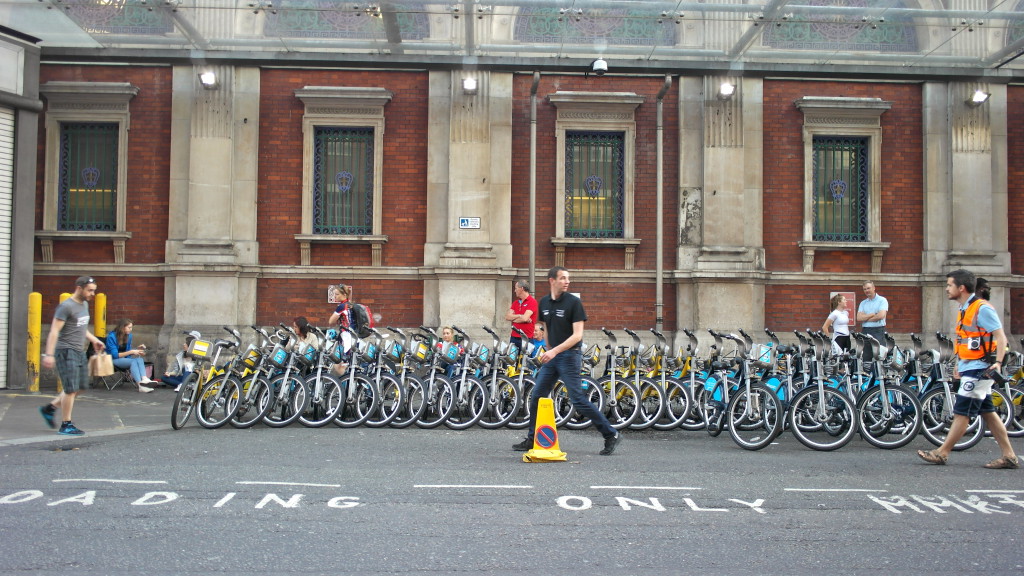 We already wrote, that these bikes are slow, so, the race on them looked funny ) But the participants looked very vivid. The tall guy in the middle is a musician from a local boy band!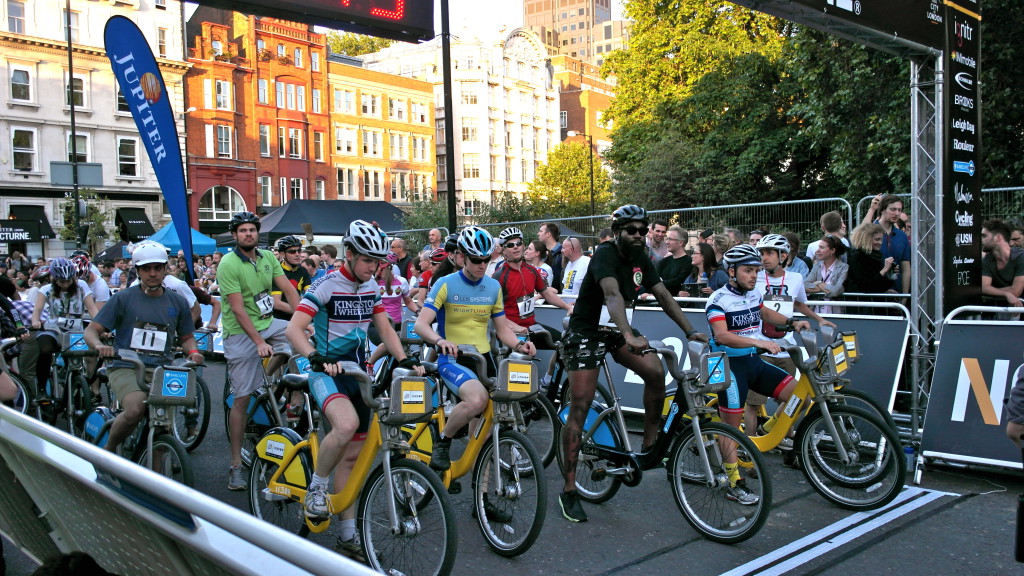 After our story about the bright-blue London Cycle Hire bikes you must be surprised to see some racers on yellow bikes? Those were the special edition yellow cycle hire bikes released to celebrate the Tour de France coming to London on July, 7th – we'll be there, too!
As the night passed by, the final Elite Criterium started! Riders speeded by so fast, that my camera wasn't able to catch them )
This is less than a half of Transport For London team, which works with Cycle Hire.
Did you recognize Nick? We've met him in St. Petersburg and shot our first video!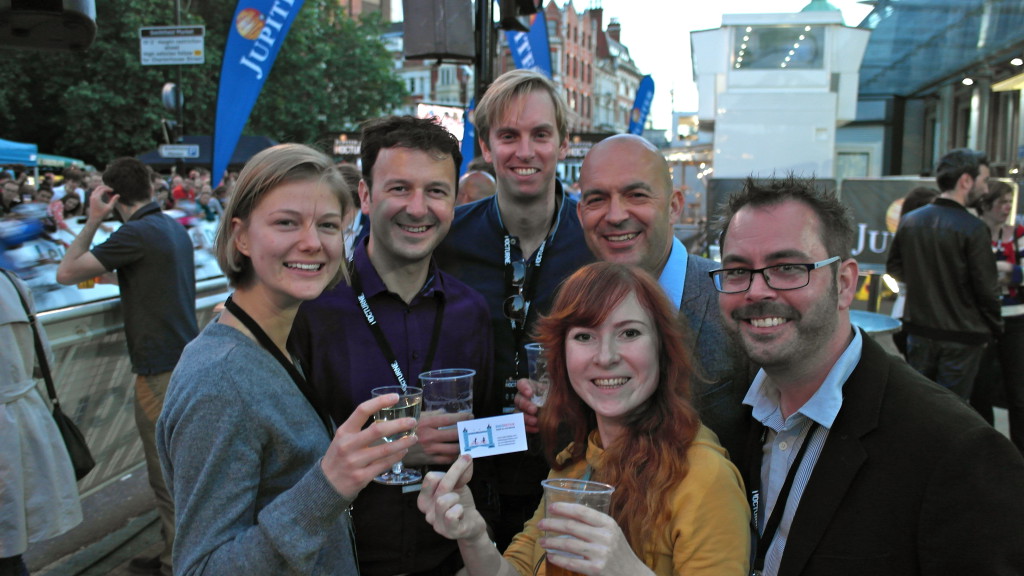 Yep, guys, we all have beers! =) Thanks to these welcoming and heartly people I got to the VIP-zone of the event, where everyone could get free drinks and food (oh, it means a lot for a hungry traveller!). I had such a great and fun night, as if I've spent it with my old friends! Thanks a lot for such a warm welcome!
London Nocturne is a free event, organized by a private company. I am used to the Russian model "If you want to do something – do it yourself!" And this race is a perfect example of cooperation of enthusiasts and city administration, which turned a cycle race into a city holiday. I have seen nothing like this in St. Peterssburg – and I am very inspired to do something similar next year!
Come on and join!
Feel free to write: hello@2girls2bikes.com
comments powered by HyperComments