We spent a night in the train going to the North of Wales. In order to get to Llandudno from Llanelli we had to change from one train to another four times. We slept for a few hours, one can say we didn't sleep at all. We arrived to Conwy County at about 10 o'clock in the morning. Our destination was Snowdonia – a huge national park in North Wales, famous for its beautiful mountains and lakes.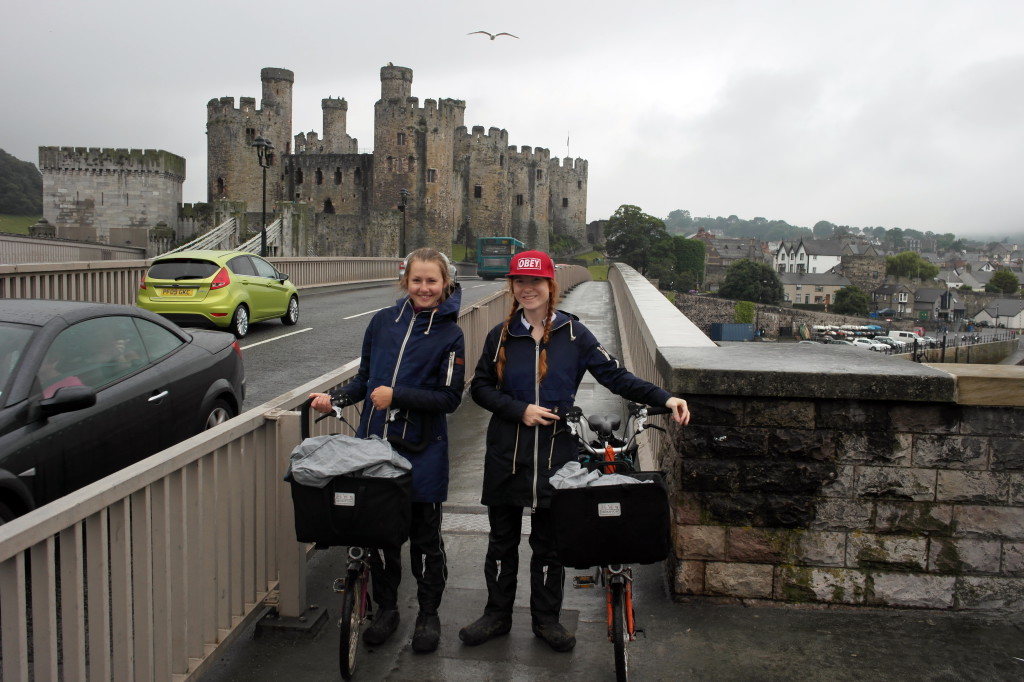 And we felt it at once: we were in the North! It was drizzling heavily in Llandudno. We followed rare groups of tourists, hiding under their colourful umbrellas and heading to the sea.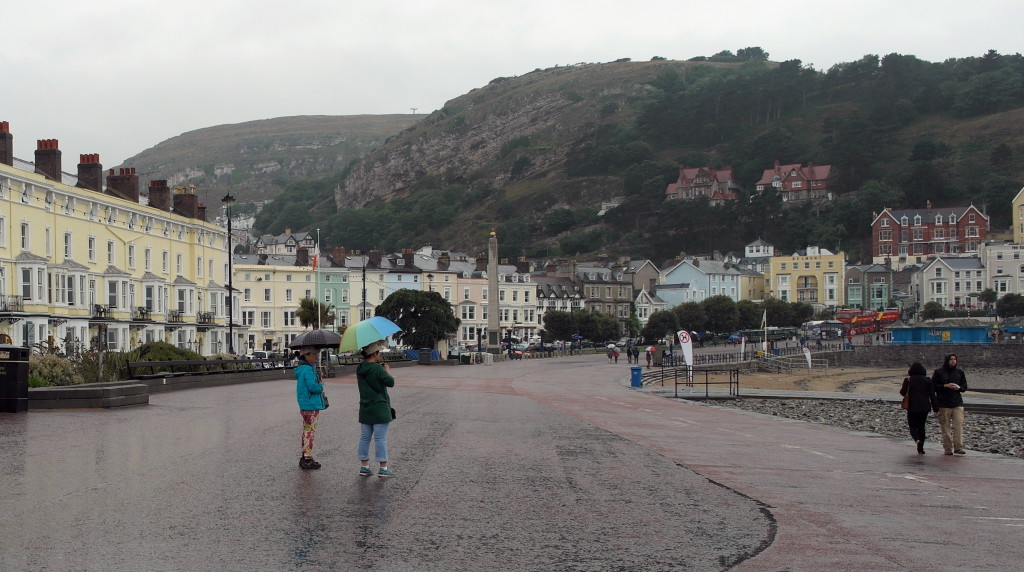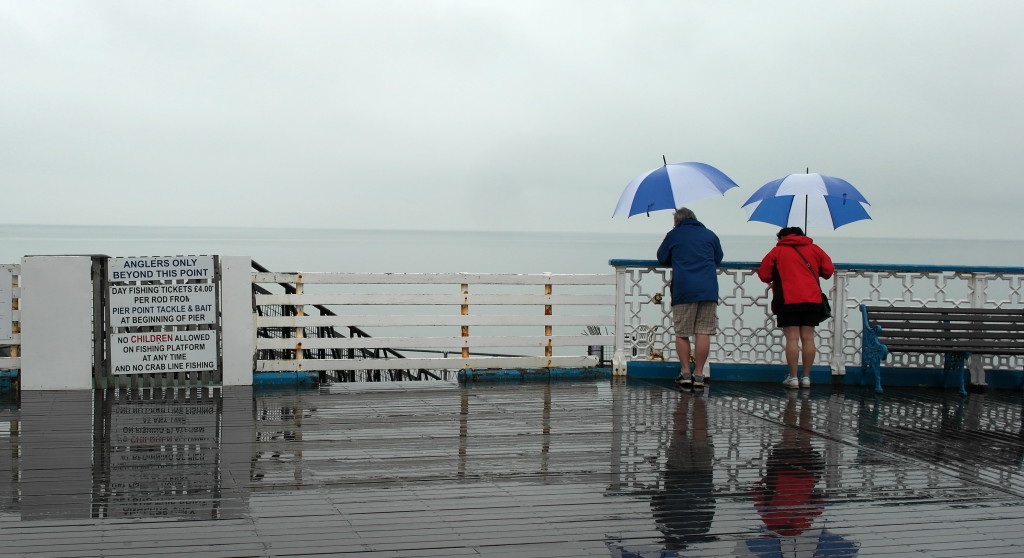 Thick veil of fog covered the beach and mountains surrounding it. After having a look at the pierce with entertaining zone we continued our way towards Conwy.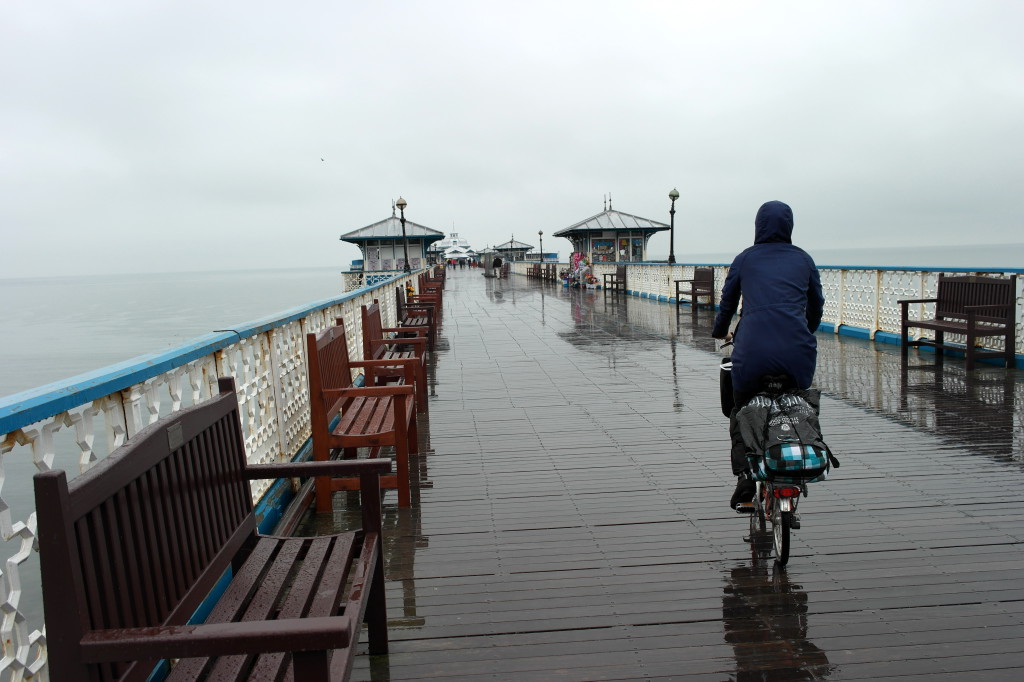 Following the sign we have found a bike lane and happily turned to the sea. But later we realized it was a mistake: the further we got the harder it was to ride our bikes, they were sinking in the sand, so the most part of the way we had to carry them.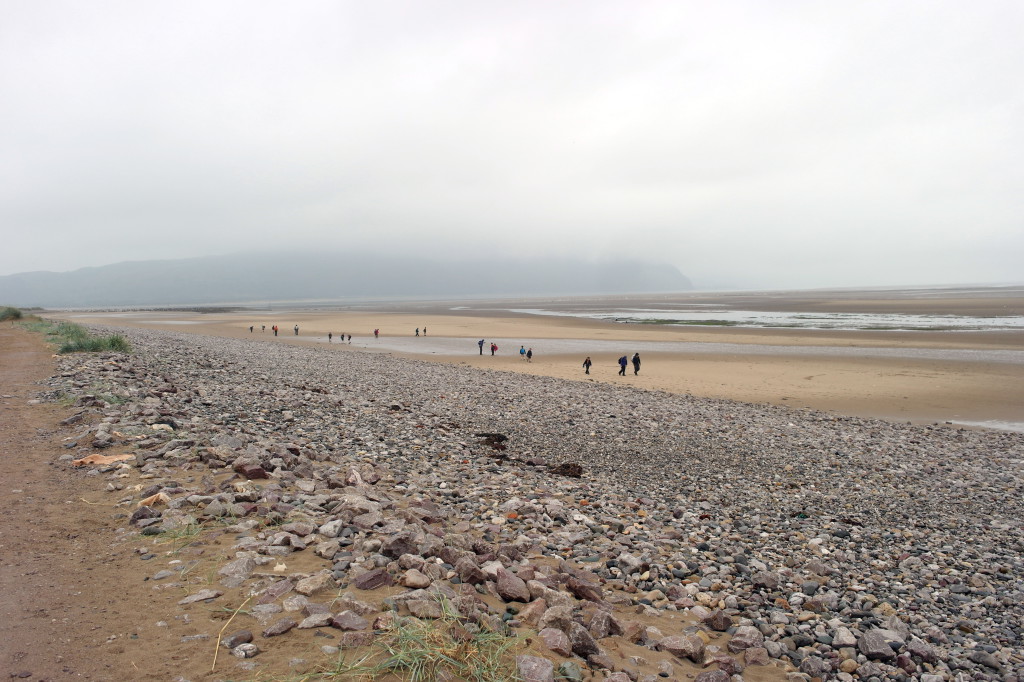 We might not have noticed a sign warning that this bikeway was under construction or it might just have been washed out with the rain. Anyway it was harder and harder to go – especially after the sleepless night. At some point the sand had been finally replaced by small pebble. We remembered how annoyed with it we had been earlier, but now were happy to feel it under the wheels. Finally we could look around.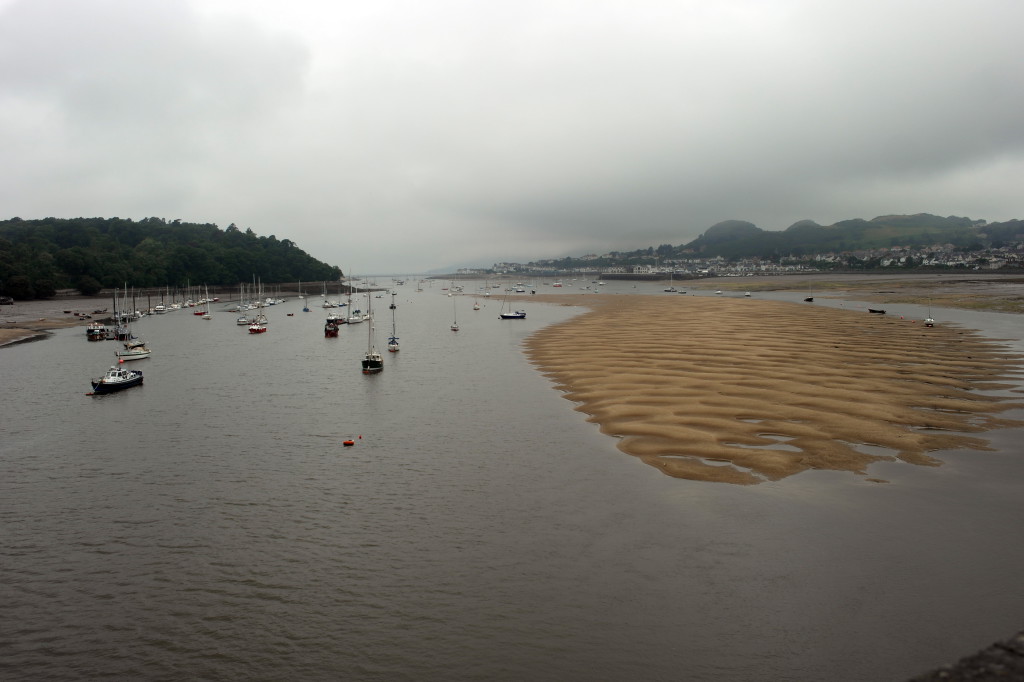 Suddenly we saw a huge castle surrounded by a large wall with high towers and loopholes. It appeared through the fog as if in a fairy tale.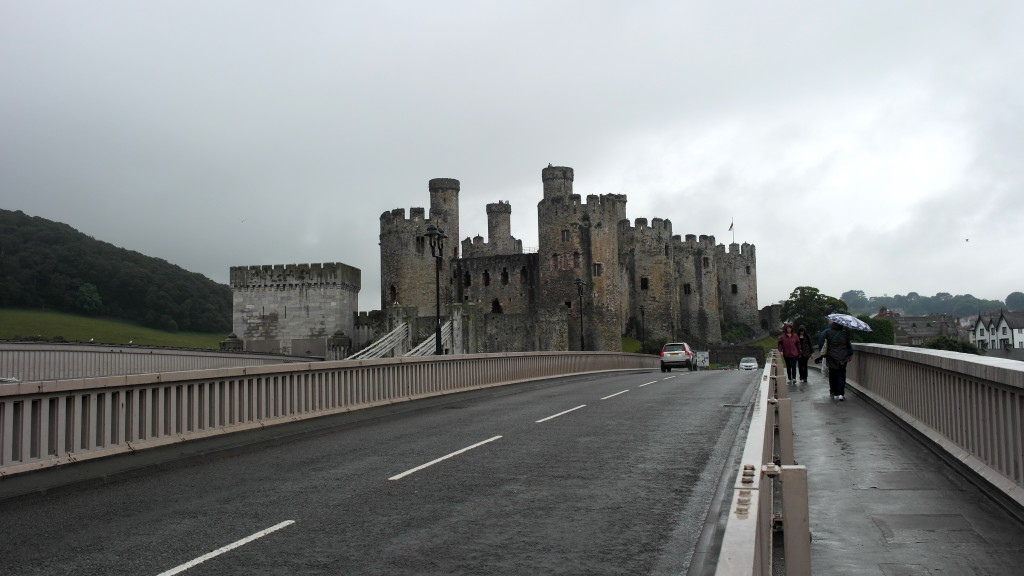 It turned out that it was a medieval castle Conwy built in XIII century by order of Edward I to protect the sea gate. To be honest we didn't have time to find any information about this area beforehand, so the castle was an unexpected – and thus, even more pleasant surprise to us. Lungful of sea scents and fascinated we continued our way through the fog. The road had led us to an embankment where our sensible noses of hungry and sleepy travellers brought us to the sign "Fish and Chips Take Away". The embankment was so attractive that we decided to eat some fresh fish right there on a bench in the rain. By the way besides chips you can also order mushy peas or pickled eggs (you can find those glass jars at any bar).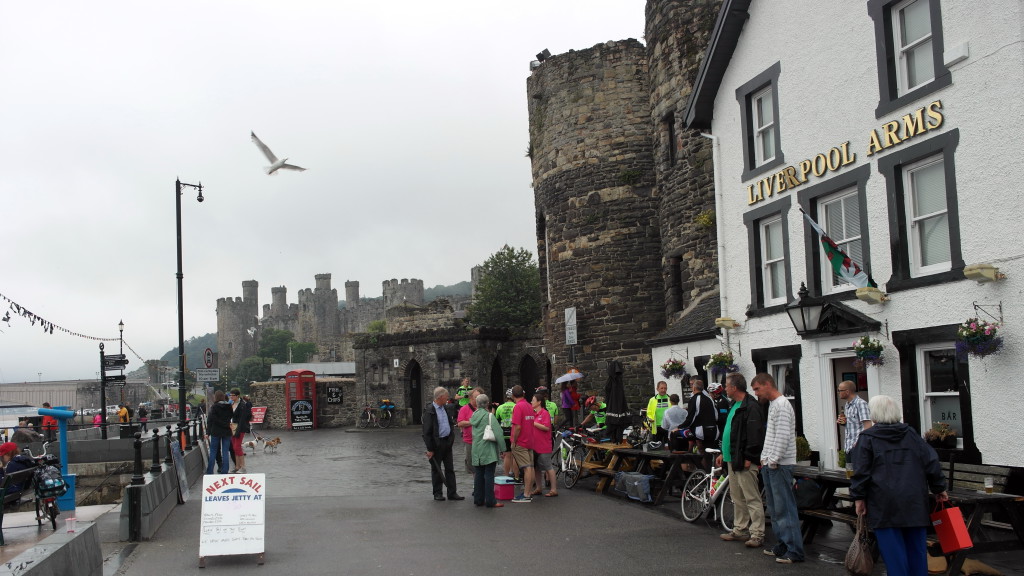 Fat gulls were trying to steal our food right out from the plates flying so low and close to us without any fear.
After finishing our meal we moved on. At last we saw the real huge mountains, their tops covered with thick clouds and green slopes – with white sheep.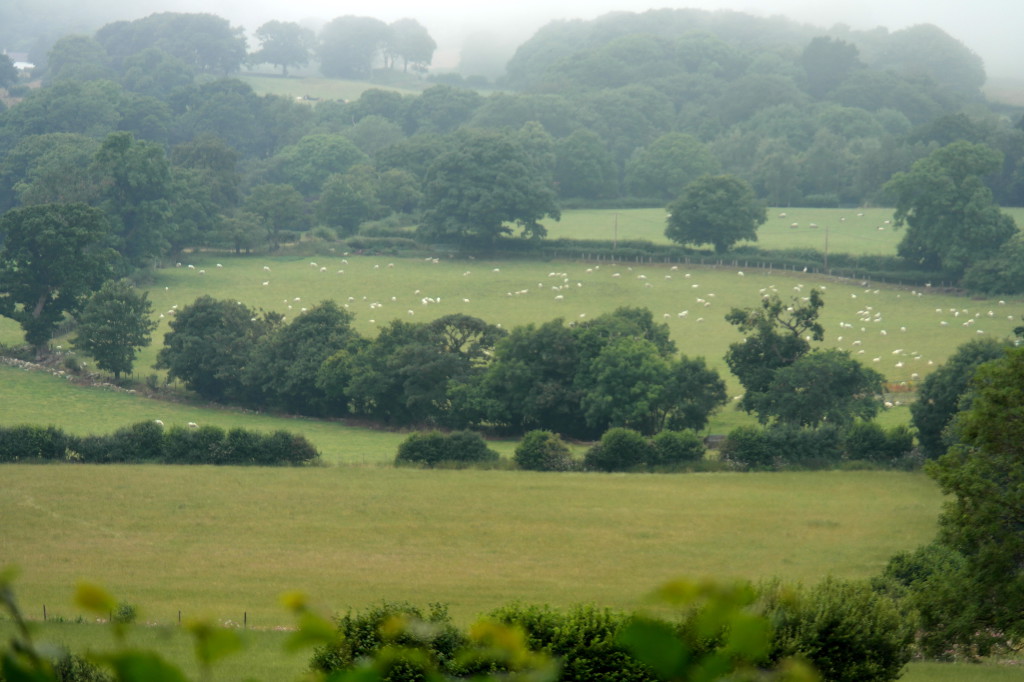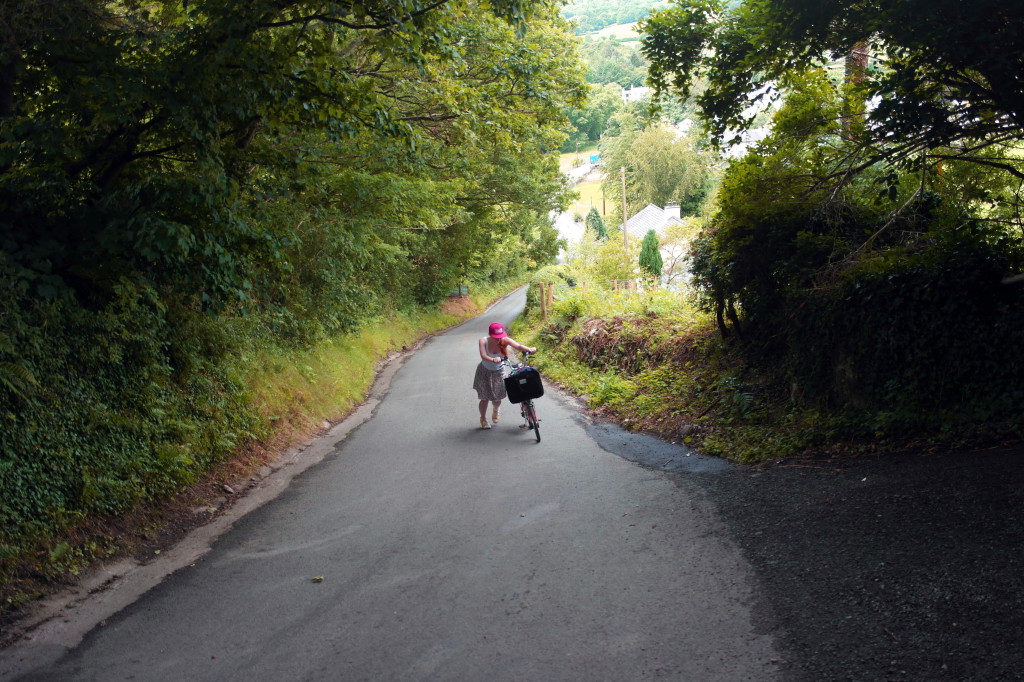 Here it is – Snowdonia, the country of  lordly peaks and chilly lakes. We couldn't help stopping to take pictures of that beauty and also to catch our breaths because riding up the slope was not that easy! Somewhere on the top of those mountains was our hostel. The road leading to it was very wet and twisty but there were not a single person around but cute sheep and magnificent peaks.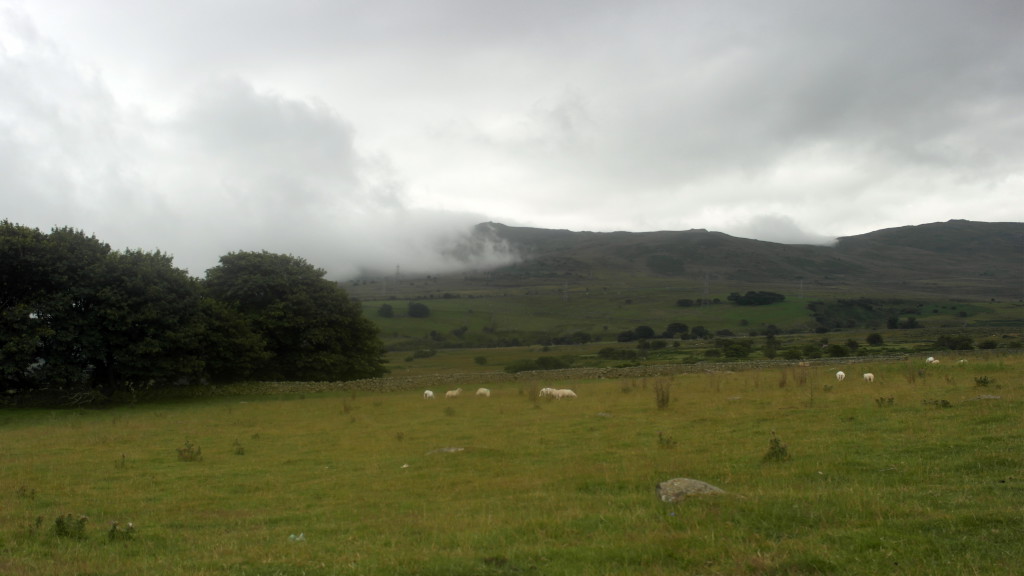 We stopped in front of the most steep hill, then got to the very top – and finally! Long-awaited way-down!
Таsha:
That way-down was really very steep but after a slow and difficult climb I really wanted to catch up with the time wasted on climbing. So we were rushing down like crazy. I was riding ahead and suddenly heard loud crash behind my back. Fortunately I managed to stop quickly because I was already at the bottom of the hill. The picture was terrifying – the bike and all the stuff from the basket was scattered around Yulya who was motionless! Seriously, while running towards her I was thinking about such things that I'm even scared to tell you about=) But when she moved her head and said something conscious – I don't remember what exactly – I understood that everything was going to be alright. Never panic when you see that someone feels bad, just compose yourself and calm him/her down. There was a lot of blood but as it turned out everything looked much worse than it was in fact.
Yulya:
I took run and at the same time couldn't take my eyes off the beauty around me. However I always look around while riding, but here I realised, that the faster I rode – the easier it would be to climb the next hill. Then I saw a turn and blockwork next to it. I tried to take that turn but couldn't. It was greasy and I felt one of my wheels had slipped off the wayside. Then I fell. Turned over a couple of times. Facedown. I felt a taste of blood and understood that one of my teeth had split off and cut my lip!
Tasha helped Yulia to sit down to the roadside and packed up all of her things. A car stopped and a driver offered his help and called an ambulance. In 20 minutes we saw the ambulance and a smiley doctor asked us where we were from and how we got here while examining Yulya's wounds. When he heard the word "Russia" he said that he had been in Yaroslavl. By the way it is Yulya's native town! As a result we assured that it's a small world and Fate makes people meet for a reason.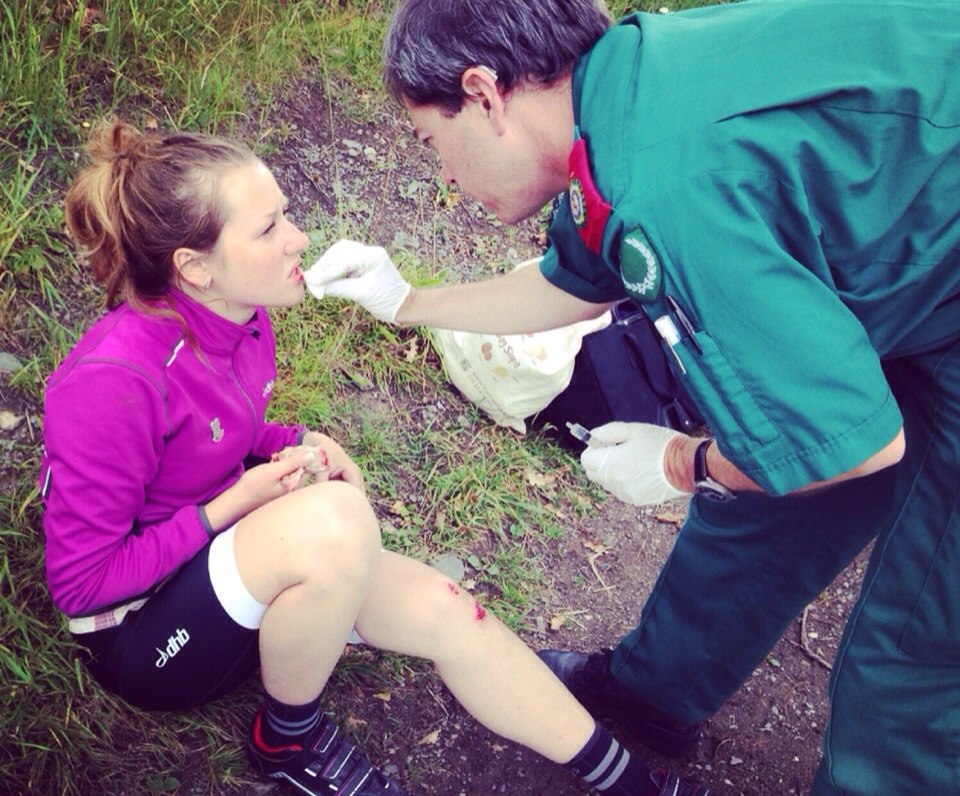 Matthew, the doctor, turned out to be a very nice guy. He said if something serious happened they would send a helicopter with a doctor and his assistant to the place of accident. In case of not severe injury a medical assistant would go by car alone. We made friends with Matthew, but there was no room for Tasha and her Bro in the car, so she had to go after it for 2 kilometers up a 25-degrees slope =)
Have a look at this amazing view which was a kind of reward!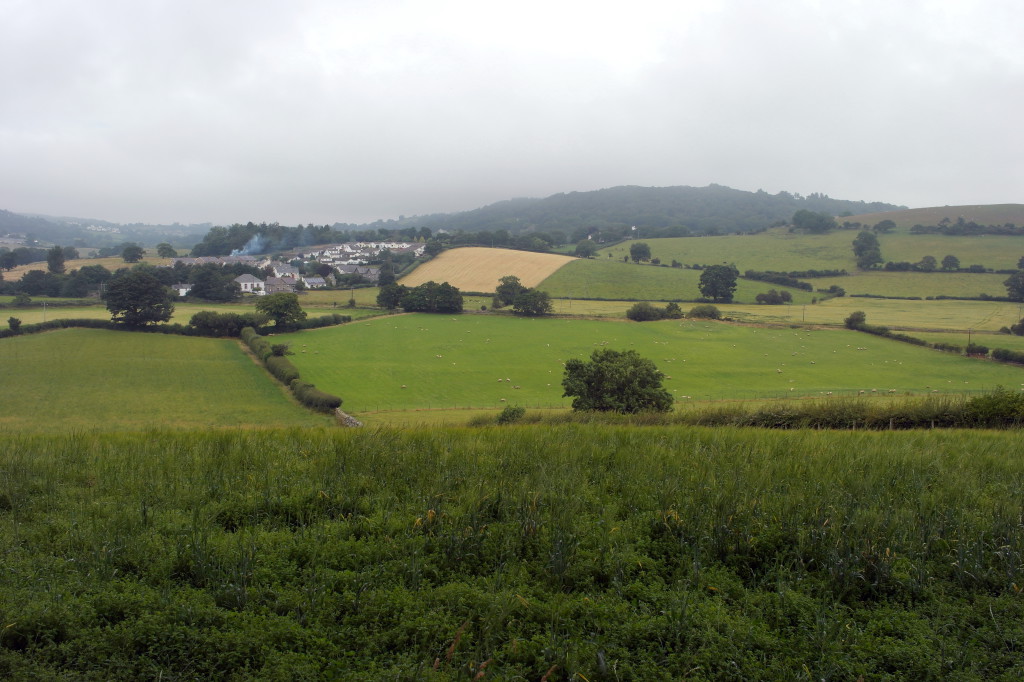 By the way, most part of this article we had written sitting in the hostel yard on the top of the mountain and gazing at cloudy hills, green fields and a small shiny river. Remember the name – YHA Rowen, a bed: 15 pounds, pleasure from riding up the mountain and seeing the view: priceless.
At the hostel we were met by an amazing Spanish family which was going to have dinner: pesto cheese pasta. They invited us to eat dinner with them, but we agreed to have just some tea. Later we found out they were not owners of the hostel, but its guests. Usually hostels offer you simplier conditions but there you can most likely meet great people!
When we arrived to the hostel Matthew took Yulya's pulse rate and read her blood preassure twice and after that we all had some tea. On the way back he gave Yulya painkillers and a couple of bandages. By the way, we didn't pay a single penny for the ambulance call out. Moreover, Yulya only had to give her name and surname in order to fill out a medical card.
Later we met another couple wearing elegant hats. They were well on into their fifties, but looked so much younger and energetic. Those were Denise and her husband – they look after the hostel and create unique atmosphere. They cooked delicious traditional Welsh cakes and even gave us a recipe.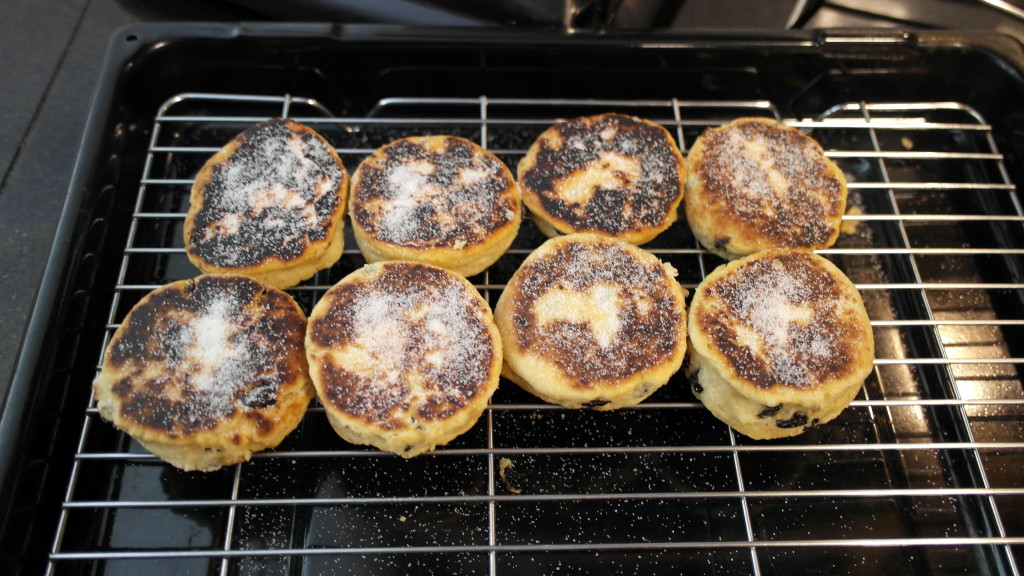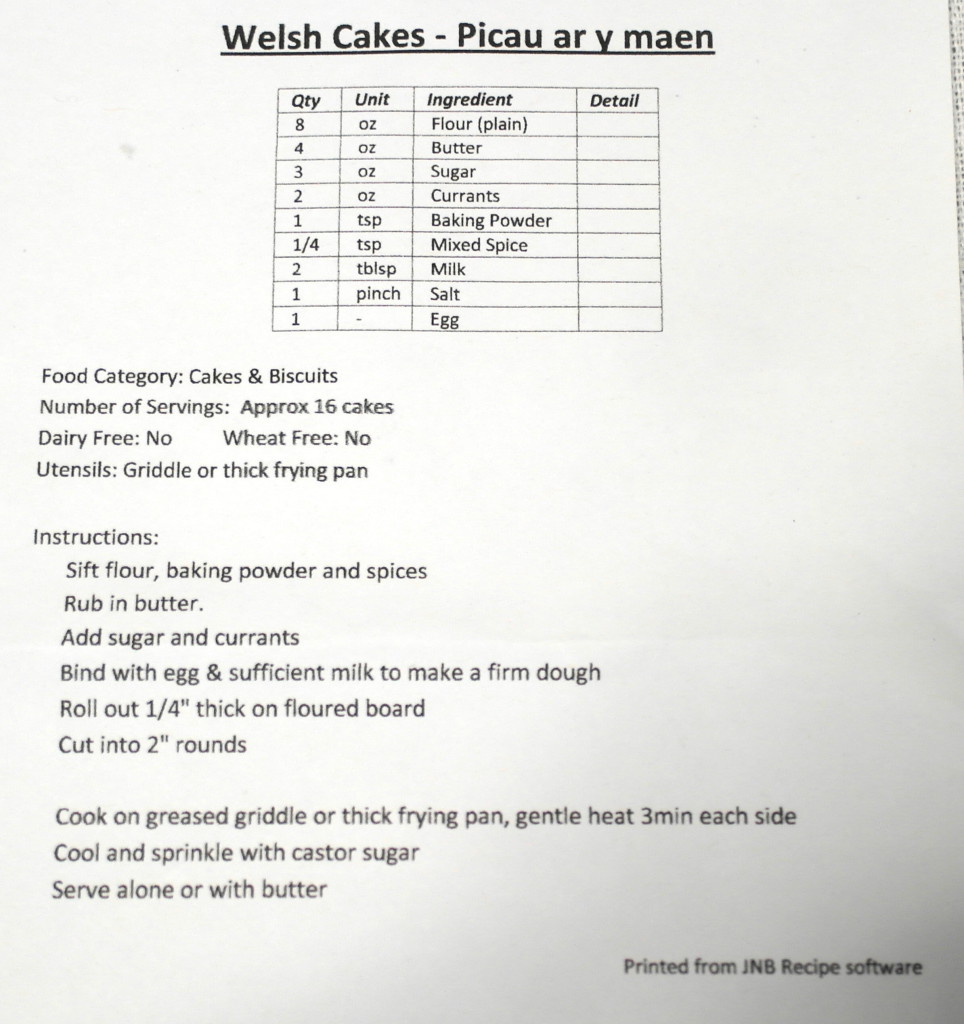 Also we met tailed inhabitants of these fantastastic places: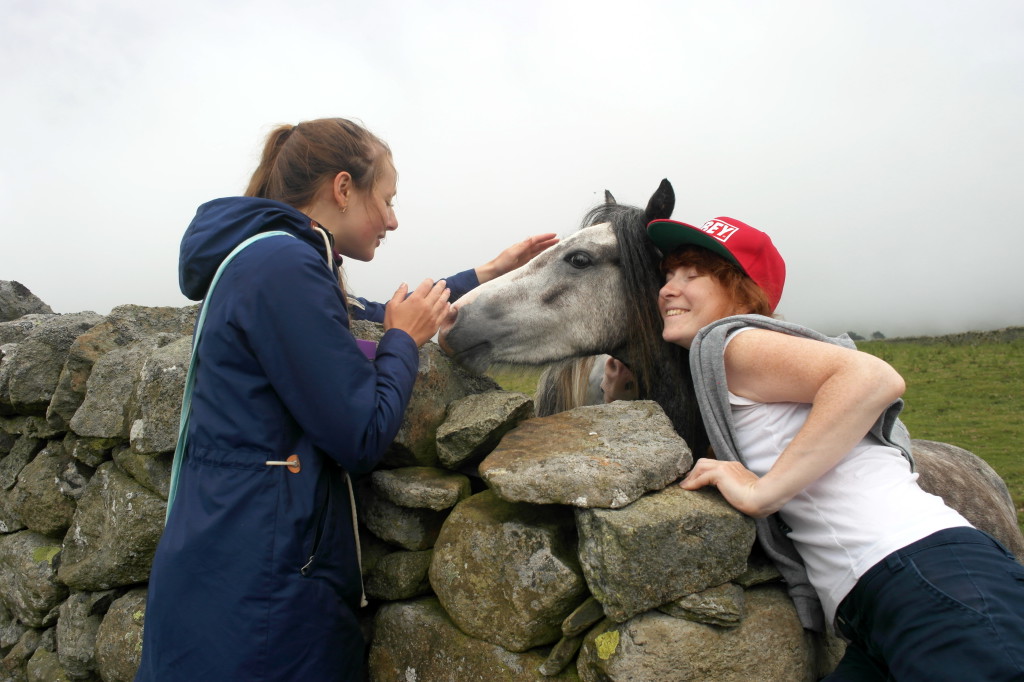 On our way back we were covered by a cloud!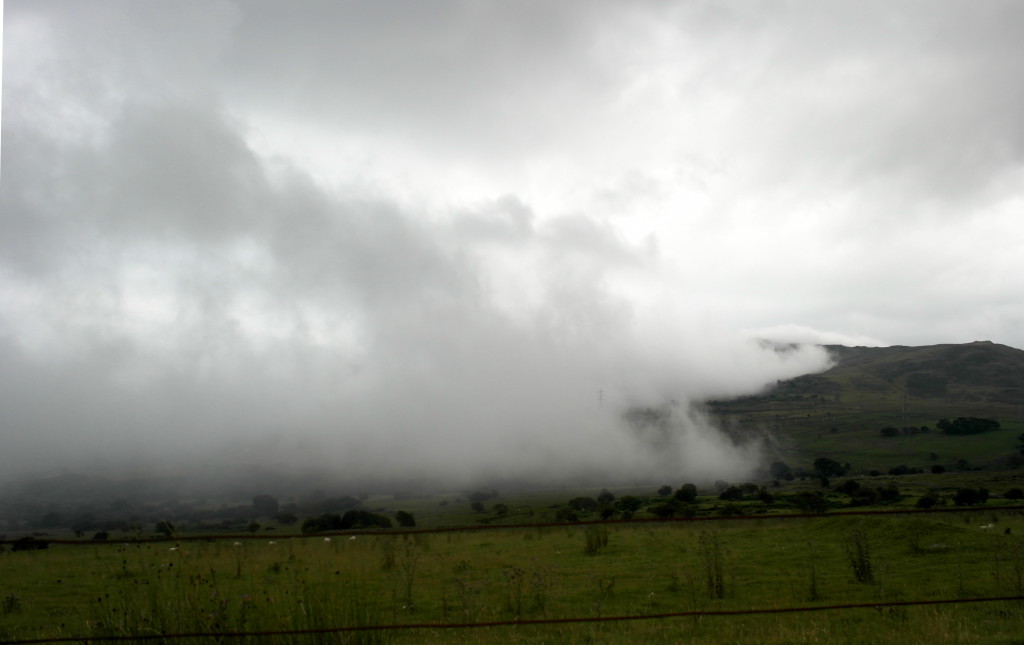 In the morning Denise and her husband treated us with cereal, juice and milk (although breakfast was not included!). Food flavoured with warm relationship of those amazing people and breathtaking views seemed the most delicious in the world!
Yulya's wounds got almost invisible and it didn't hurt anymore so she was full of energy and optimism and ready to travel further! So we, charged with fresh Snowdonian mountain air for another 80 kilometers, and moved to Chester.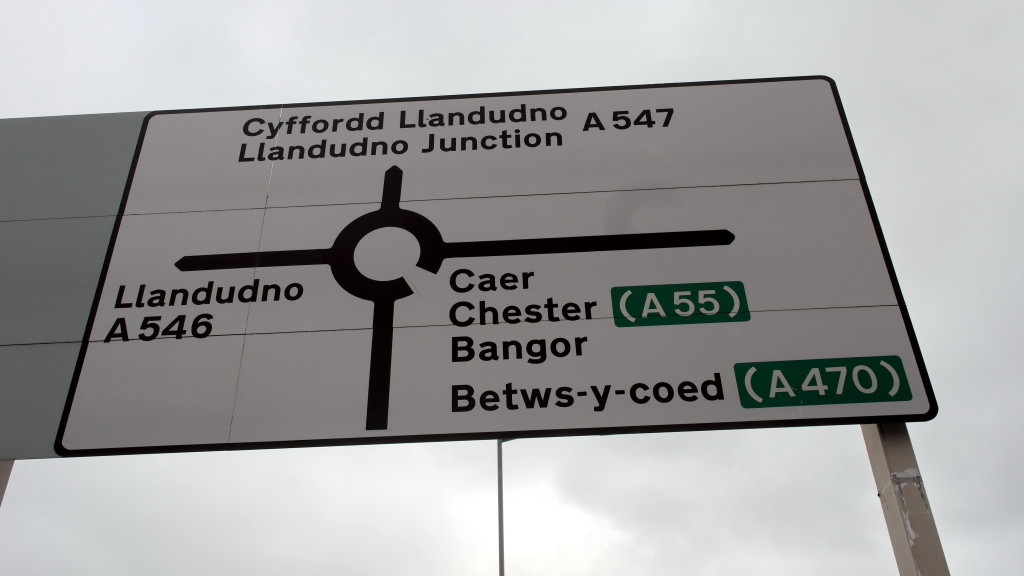 comments powered by HyperComments