We are keeping on exploring the British South coast. We woke up in Eastborne really early because our hosts Ray and Ellis had to go to work. So, all together with our new French friends we headed out to Beachy Head Cape.
Beachy Head
The sea was clamouring and the wind was gusting as if warning us to be careful. Each year about 20 people fall off these cliffs and die.
Chalk cliffs fascinate with their whiteness. If you step close to the edge, the height makes you dizzy. Your feelings get twice as strong when you realise you are absolutely alone, the tour buses haven't gotten here yet, and the locals who could have come down here for a walk are actually staying home in this kind of weather.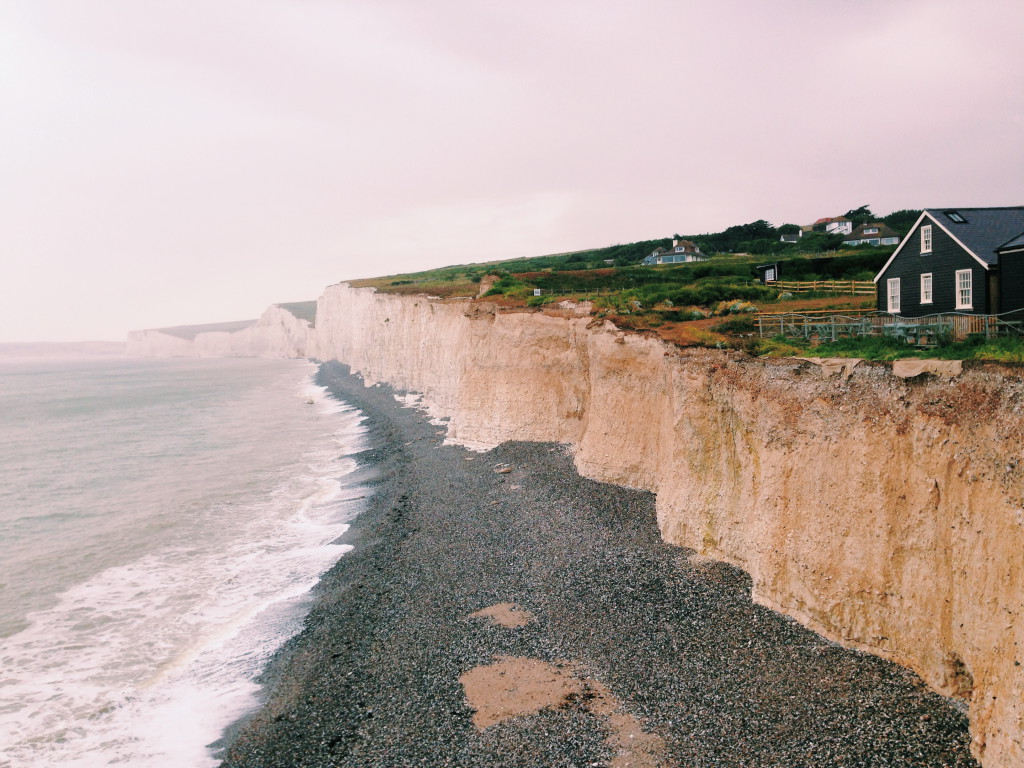 At some point, a stranger started honking to us from his car. Turned out, he wanted to warn us of the slippery and deceptive grass: the soil that grass is sitting on is simply not there and the grass is actually hanging on top of the frightening hollowness.
Our gear
Having breathed in enough sea in our lungs, having lost our minds from the amazing beauty, we unfolded our Bromptons and decided to ride down a steep and winding road. Rain was mercilessly hitting us in our faces and occasionally it felt like hail – so prickly was it! The moment we couldn't see anything for the rain, a nice little coffee shop emerged, just like an oasis. We stopped. We squeezed water out of our clothes, drank hot tea and decided to work a little while our poor clothes were drying.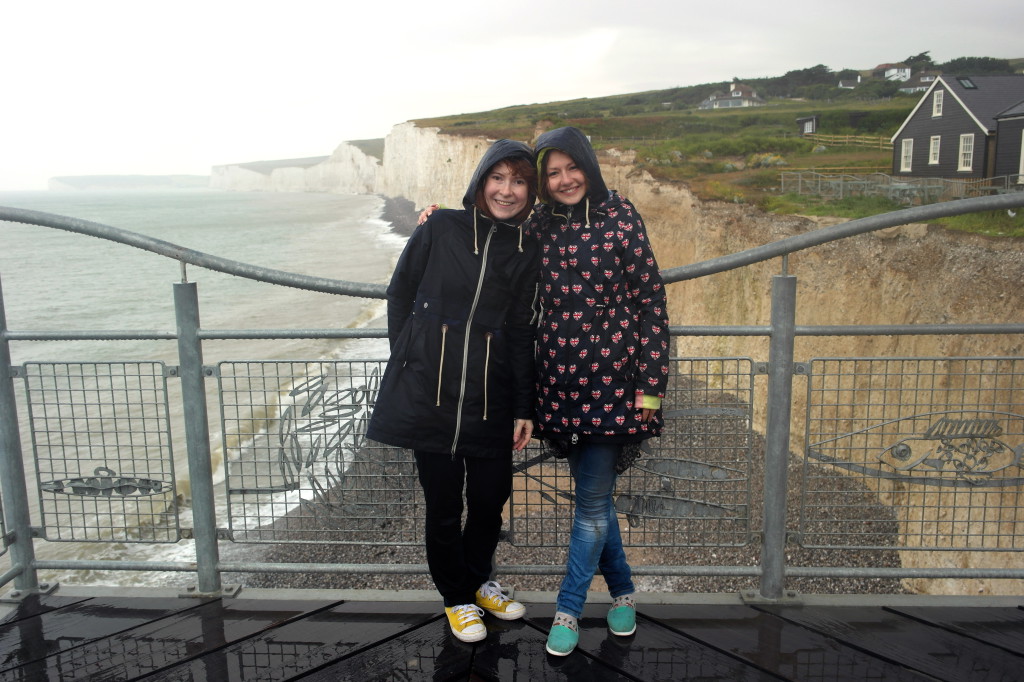 You may ask, 'why didn't you guys prepare for this, where's your special clothing for biking in rain?' Well, we thought we would be doing fine in London without it and would get from London to Portsmouth somehow, isn't it summer after all? When Portsmouth was only 80 miles away, we realised we should have picked up our gear beforehand.
In Portsmouth, we will get cycling shorts, wind-proof jerseys, rain-proof pants, and a bunch of other useful bike stuff. We'll share our experience when we try all that!
Roads
As soon as we got dry and have written a couple of blog posts (on which we have spent more than 2 precious hours), we got out of the coffee shop and headed out to Brighton. The road wasn't easy. Not only  because of  rain – for the first time ever we had to ride on a busy road with no bike lanes.
Red poppies were growing and sheep were grazing alongside the roadway, but it was really dangerous to ride on the side of the winding and hilly road. We were occasionally pulling over to let double-deckers travelling between cities pass us. When such a monster is passing four inches from you – that is super scary!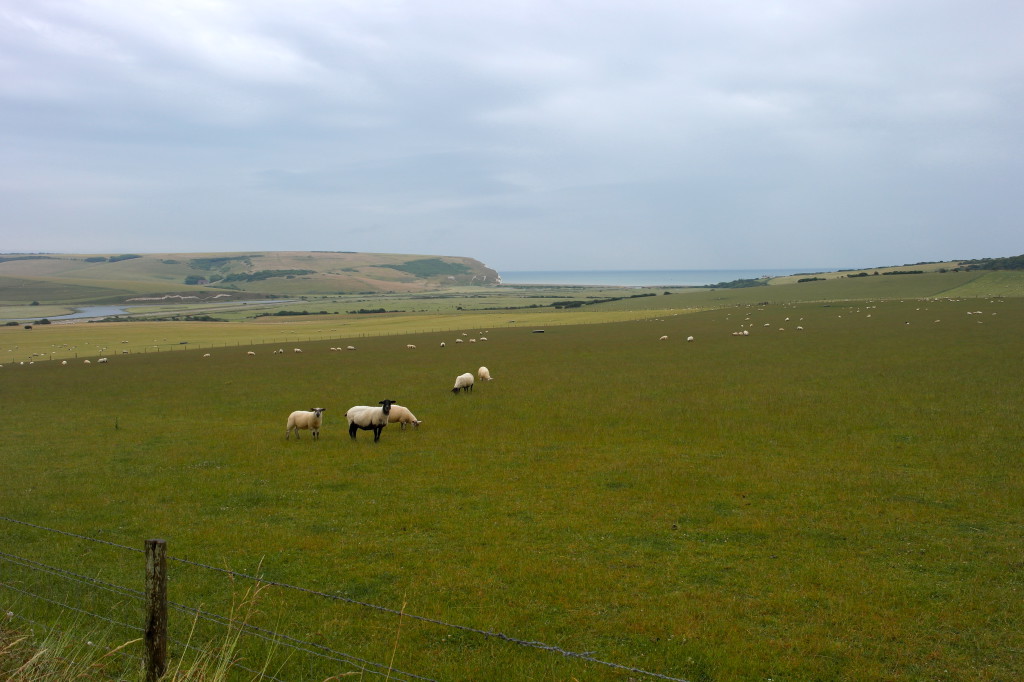 At those parts of our route that did have a bike lane, we had mixed feelings. On one hand, there were thickets of wildflowers out of which cute bunnies were jumping out, but on the other hand, those thickets were at times so close to our path and getting in our way that they were hitting our legs with their wet thorny branches thus nullifying our drying efforts.
On top of that, the roads were not always paved. At times, there was gravel. Speaking of the downsides of our Bromptons, so far we've noticed just one – they are very sensitive to any road bumps. So almost the entire ride was one vibro massage session and we had to slow down even on downhills.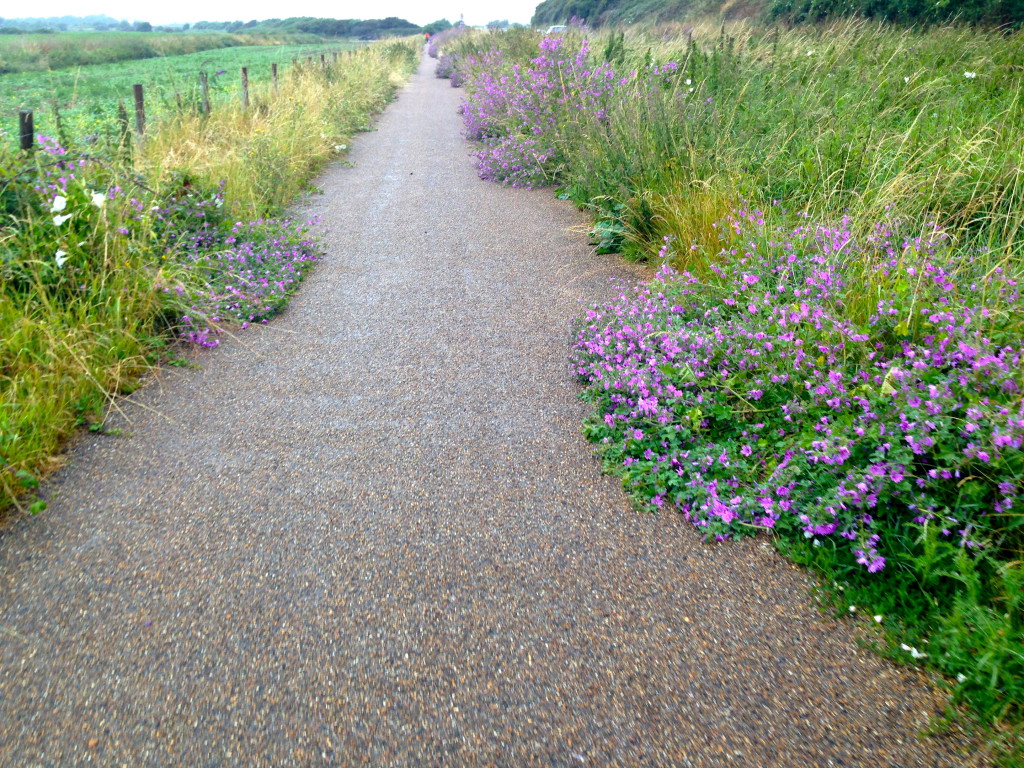 You guys keep asking how many miles a day we plan on covering. Although we used to give a definite answer to this question in the past, we've now realised that we can't really predict our mileage. When we face hills – and often times pretty steep ones – we have to slow down, sometimes to the point of walking our bikes.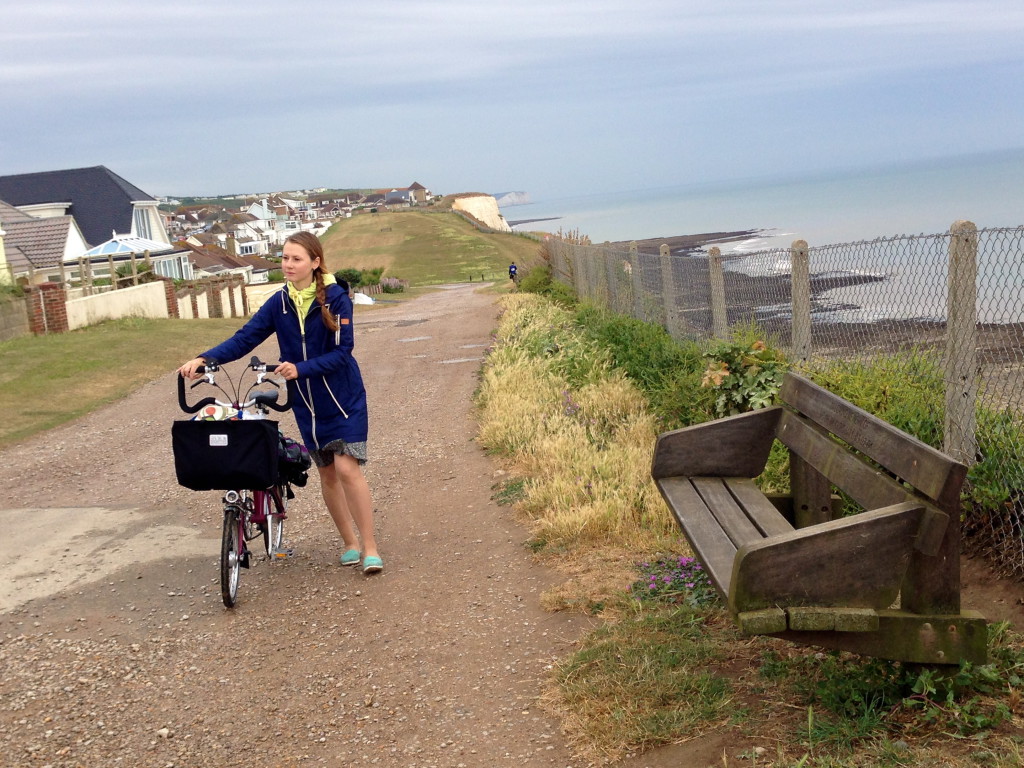 During one of those climbs on a highway, a nice English lady, who had seen us from a bus, came up to us to warn of the danger of walking on that road. When we told her about our trip, she was amazed and even invited us to her place for tea and an overnight stay. But since we were in a hurry to get to Portsmouth, we had to turn down her kindest invitation. The lady promised to follow us on social media and read our blog.
From Seaford to Brighton
The bike lane from Seaford to Newhaven kept winding up and down. Most of the time we had to ride on city streets. That said, from Peacehaven onward, we were blessed with a true paradise for those who appreciate breathtaking views: we were riding on the very edge of pretty high cliffs.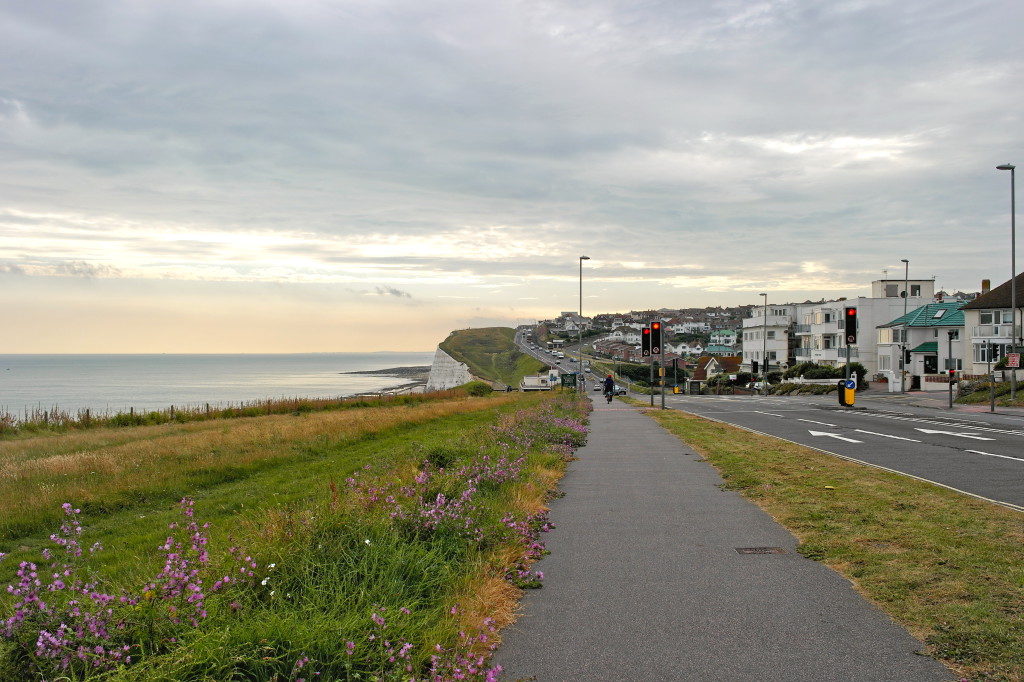 Near Brighton, the bike lane bends down towards the sea. Over there the road was flat and we were enjoying spectacular views. Huge black rocks covered up with ooze and acid green moss were sticking out of the water. When you are walking on those, you feel as if you're on a different planet or in a parallel world. Over there, we held on for some time, it wasn't that easy to turn our eyes away from those out-of-this-world landscapes.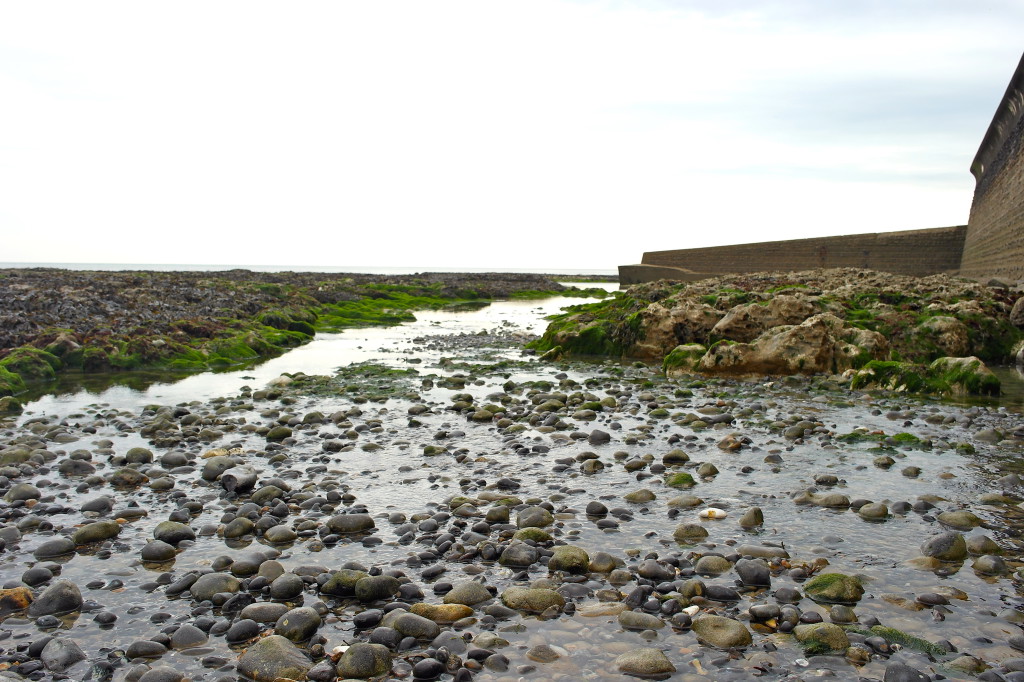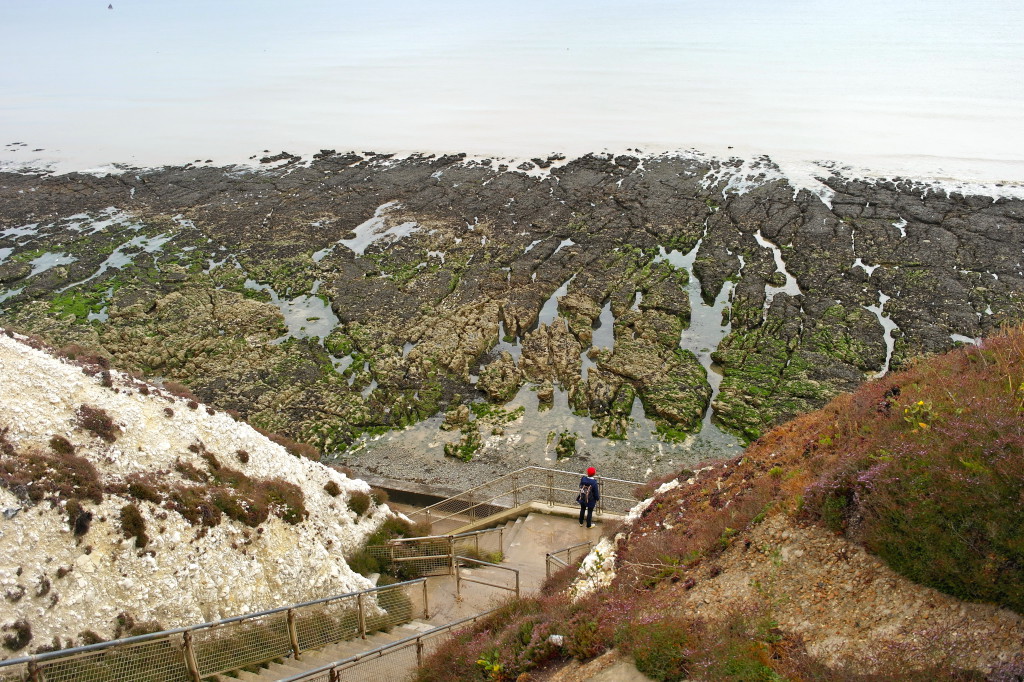 Brighton-Portsmouth
When we got to Brighton, it was already 8 o'clock in the evening and we didn't have much time to get to Portsmouth as our friends from Wiggle were waiting for us to come. We decided to take a train and that's when we realised that we should have planned our train trips beforehand: a ticket from Brighton to Portsmouth costed us £14.9 (a 48 mile trip), whereas the trip from London to Dover (80 miles) was only 5 pounds because we booked our tickets beforehand.
So, all in all, our deaf friends, that day we covered 27 miles, or about 44 kilometres: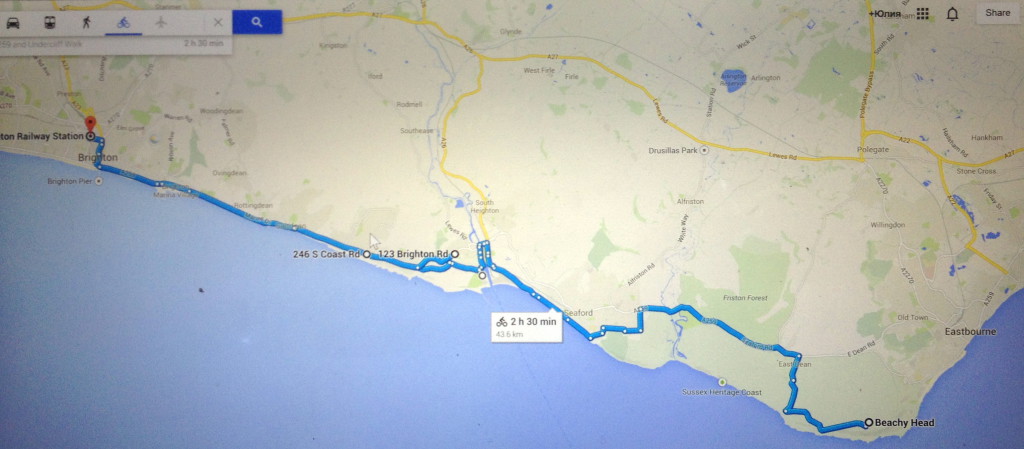 comments powered by HyperComments