25 April started early at the edge of the city. We were sleepy but excited. It was the first day of adventure!
Weeks of preparations, dozens emails to partners and lighthouse administration, several interviews and lectures, live of Life78 channel were left behind, only wind and magic were ahead!
The trunk of our Hyundai ix35 was filled up with video and camping equipment, food and bags. We even weren't able to put there bikes, so they were travelling in the car hugging with Tasha and Mila on every sharp turn.
We also had big detailed plan, huge table with ferry schedules, arrival and departure times to every point – and we didn't use it. Almost =) Because right before our trip Tasha got a gift from Moscow friends – passport of Estonian lighthouses. And this little book changed our route a lot.
Lighthouse passport – it is beautifully designed guide all around Estonian lighthouses with their pictures, geo locations and brief historical references. You can buy this passport at souvenir shop near lighthouses or tourist info desks. We found so many lighthouses we hadn't known before, that we corrected our plan before even getting to Estonian border.
It's good we had SIM-cards with Internet from GoodLine, so we immediately downloaded new routes and found all information we needed. We also learnt that lighthouse in Estonian is tuletorn.
At exactly 12 pm 25 April we crossed Estonian border in city of Narva and went to explore our first (originally not planned) lighthouse Narva-Jõesuu which was only in 15 kms from us. Thank you, passport!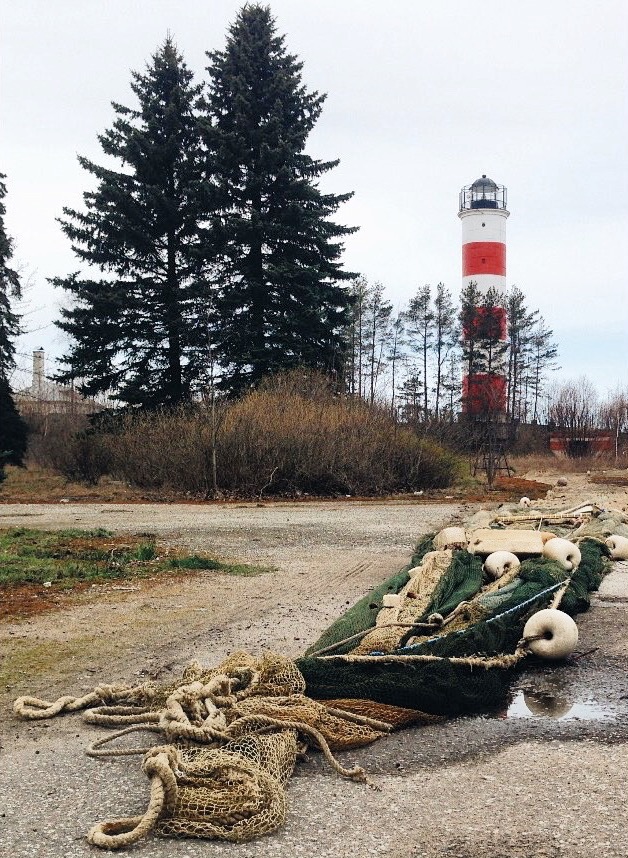 It wasn't the most impressive lighthouse in the world. It was also located in the restricted are, but "it was our the first ONE", and the territory only pretended to be restricted, so we had a pleasant walk around boat station, got on the top of the roof, smiled to the future adventures and moved forward.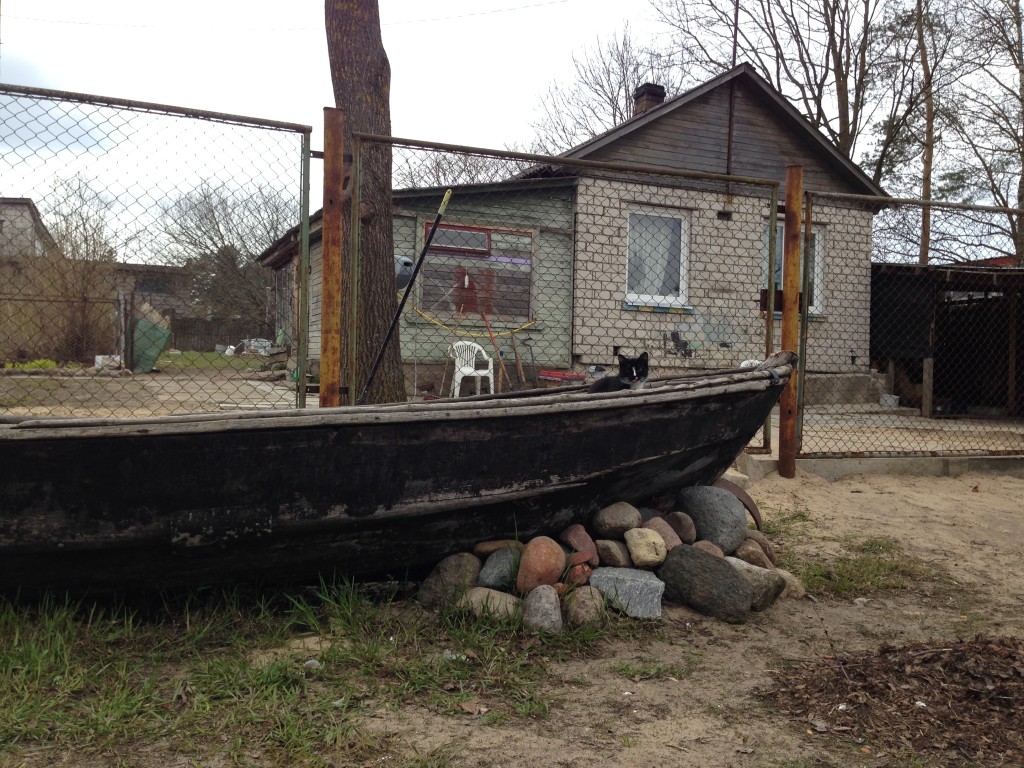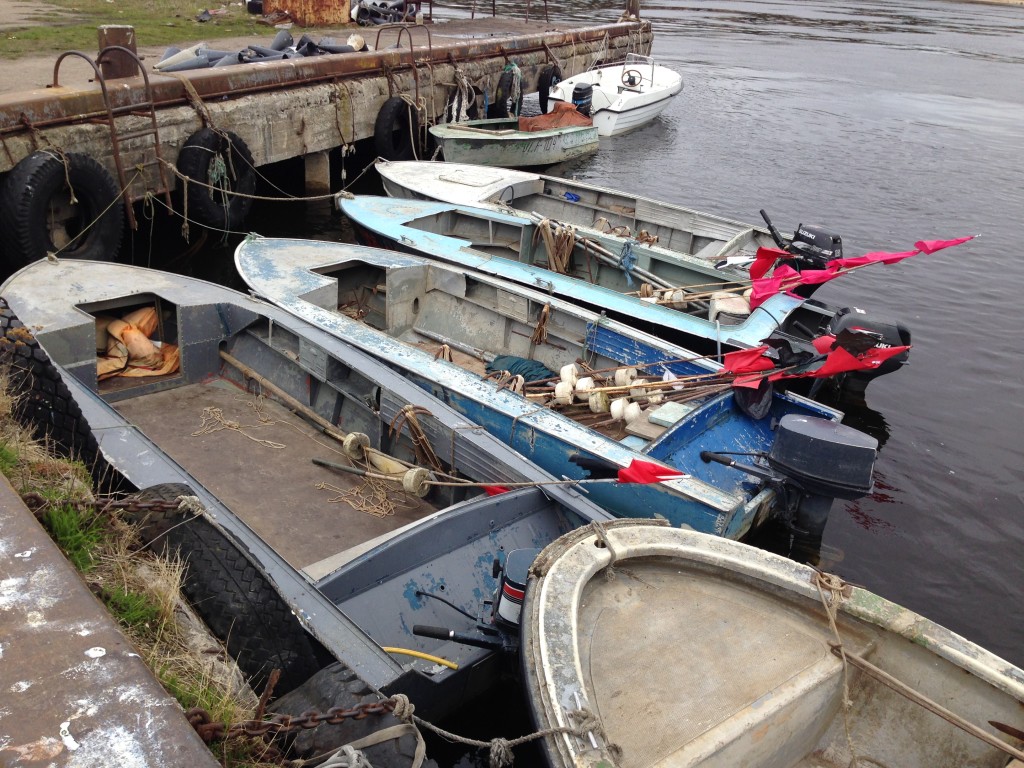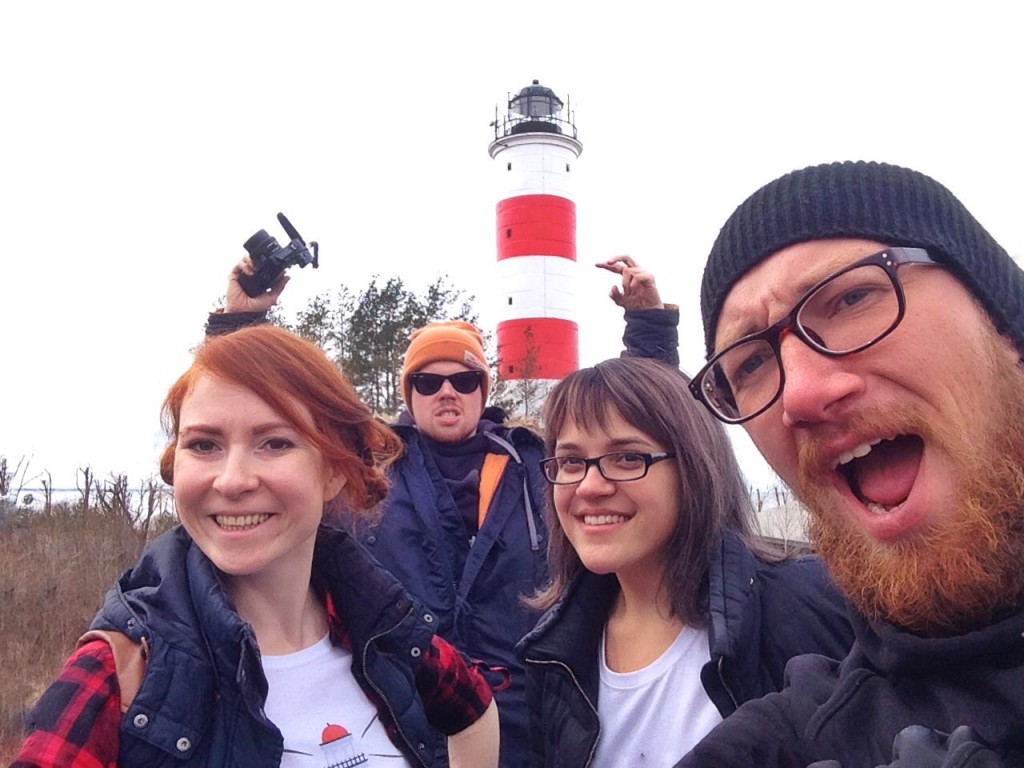 On our first day we had to cover long distances. From Saint Petersburg to Estonia and between first lighthouses. But, to our joy, our Bros didn't stay in the car: when we had a chance we let our shooting team go ahead and cycled to the lighthouses enjoying sun and crazy spring smells. The weather was great!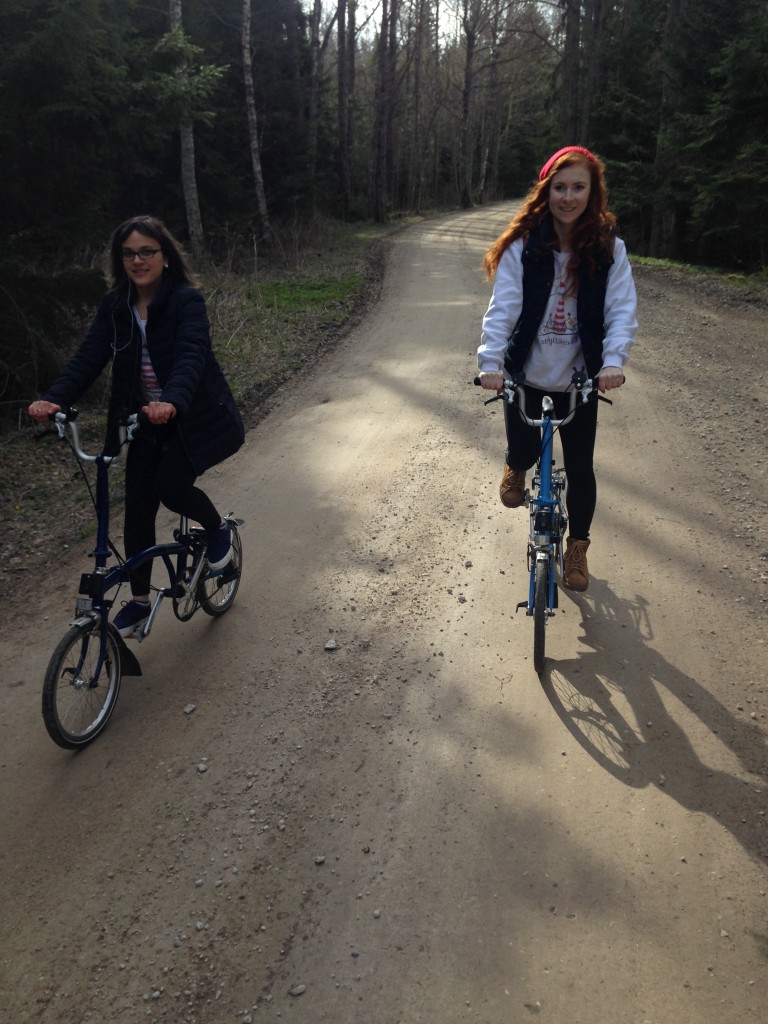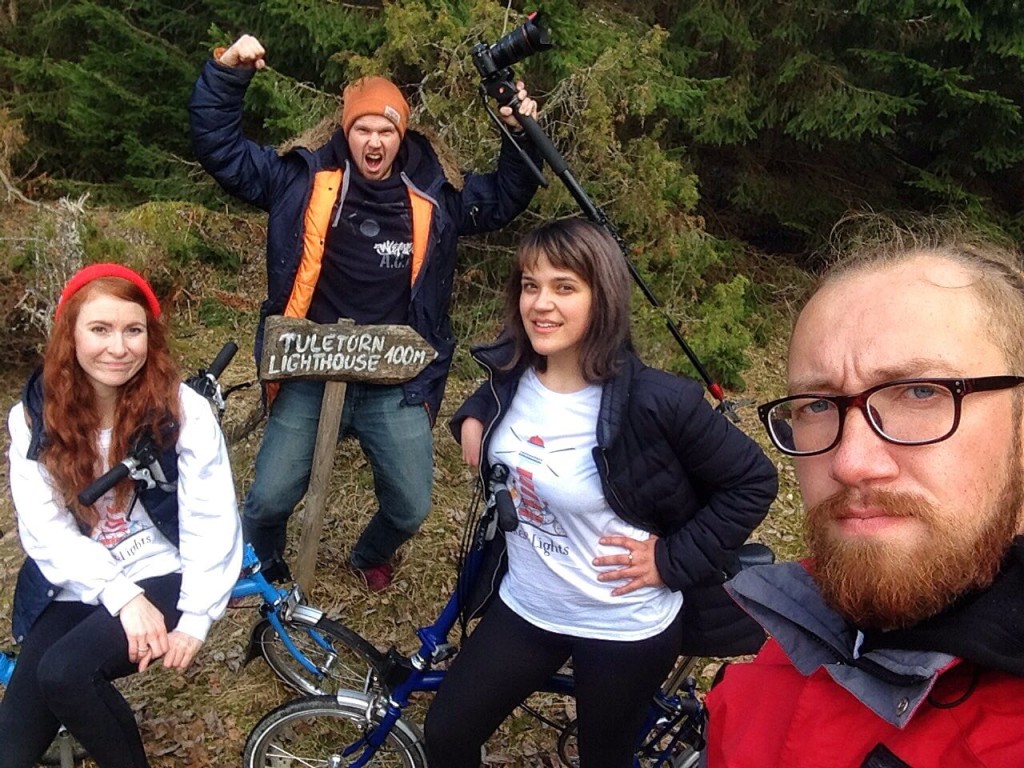 The last part of the distance to lighthouse Juminda we were cycling through magic twilight forest. It seemed that every moment we could have met elfs or hobbits.
Suddenly Juminda's red hat appeared right in the pine sea! We yelled in surprise! We expected to find it right on the coastline, but this beauty was hiding in the forest. Lighthouses do not necessarily stand near the water. They can be built in the forest if it is on the high cape.
By the way, 10 years ago Juminda's top was black, but it was harder to notice it in the pines, so the colour was changed into red. It is better colour, isn't it?
Juminda is 32 metres high unapproachable tower, you can't get on the top even during season. You can have lunch and celebrate birthday with super healthy caseine Brownie, though, at its foot. Thanks to Tasha and Meal2Goal for this unexpected B'day treatment for Mila in the fantastic place.
For the first time we made some tea and coffee using our hiking burner, blew the candles, hugged Juminda and continued the journey.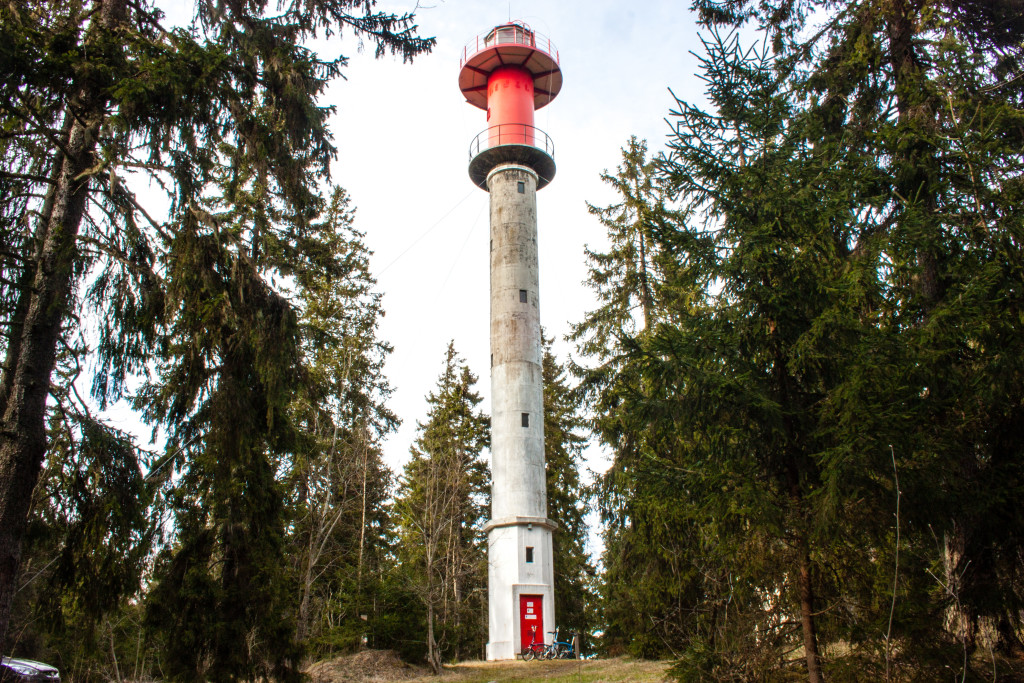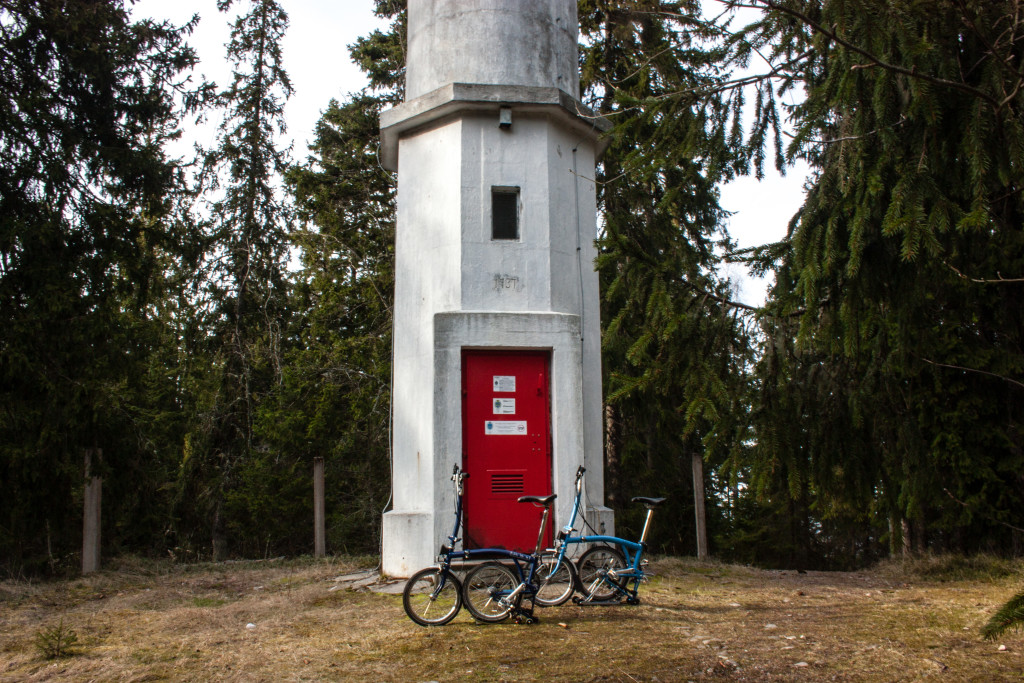 130 kms and 1 musk-ox separated us from Pakri lighthouse and crazy sunset! The musk-ox eventually turned up to be a shaggy cow. The government pays to farmers for breeding such cows so they nibble the grass and keep the coast nice and neat.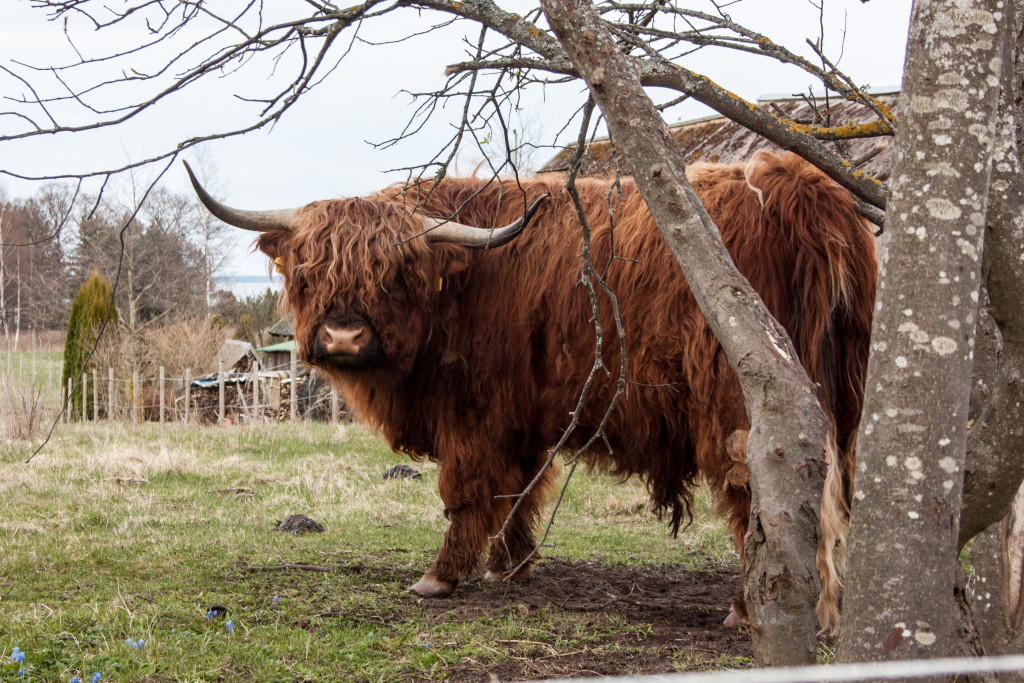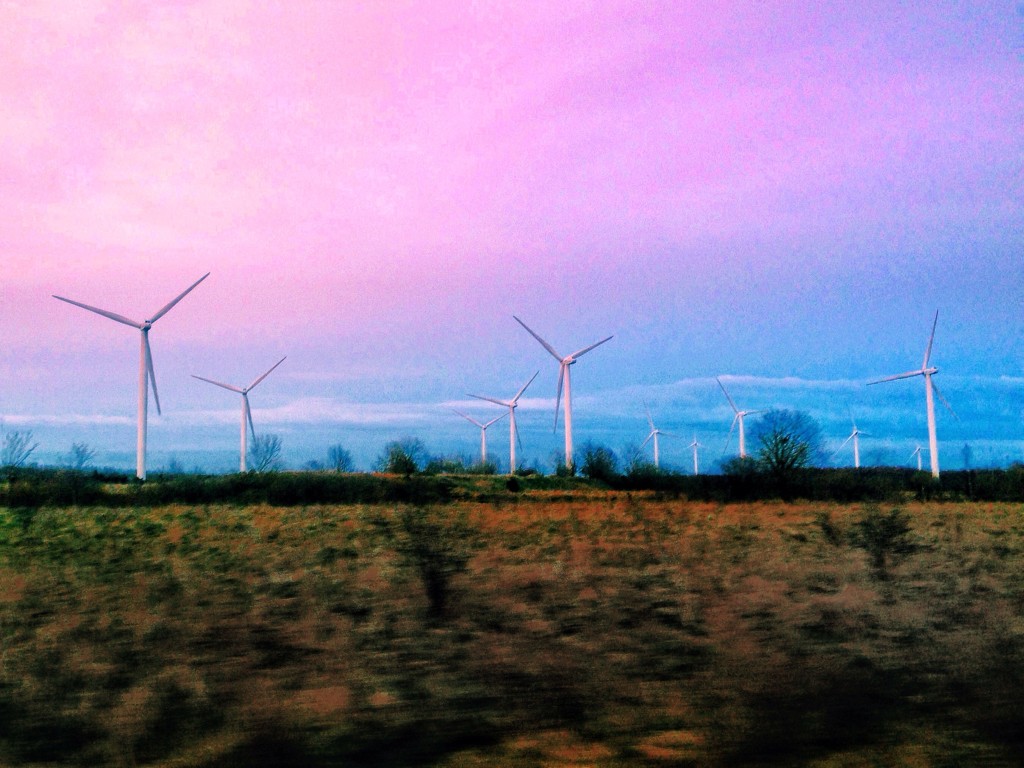 We were rushing not to miss the light. The rocks nearby Pakri tuletorn turned up to the filming set. Vadim and Vasya were choosing great spots, shooting, choosing again and shooting in turbo mode. The light was changing every minute, the lighthouse started to wink with white, Mila and Tasha were speeding to and back from Pakri for the best shot. Marvellous play of light and fantastic rocky cliff – such a great end of the day!
We didn't expect Estonia to have such tremendous rocks! They reminded English chalk cliffs and unique Moher cliffs in Ireland.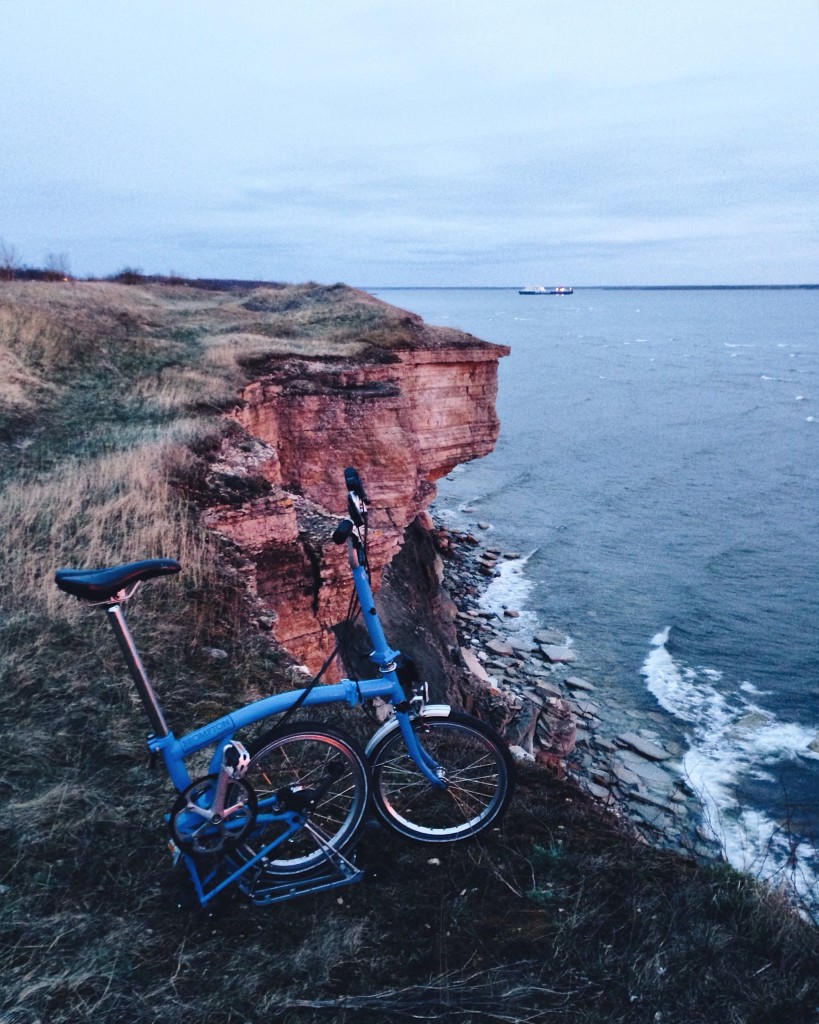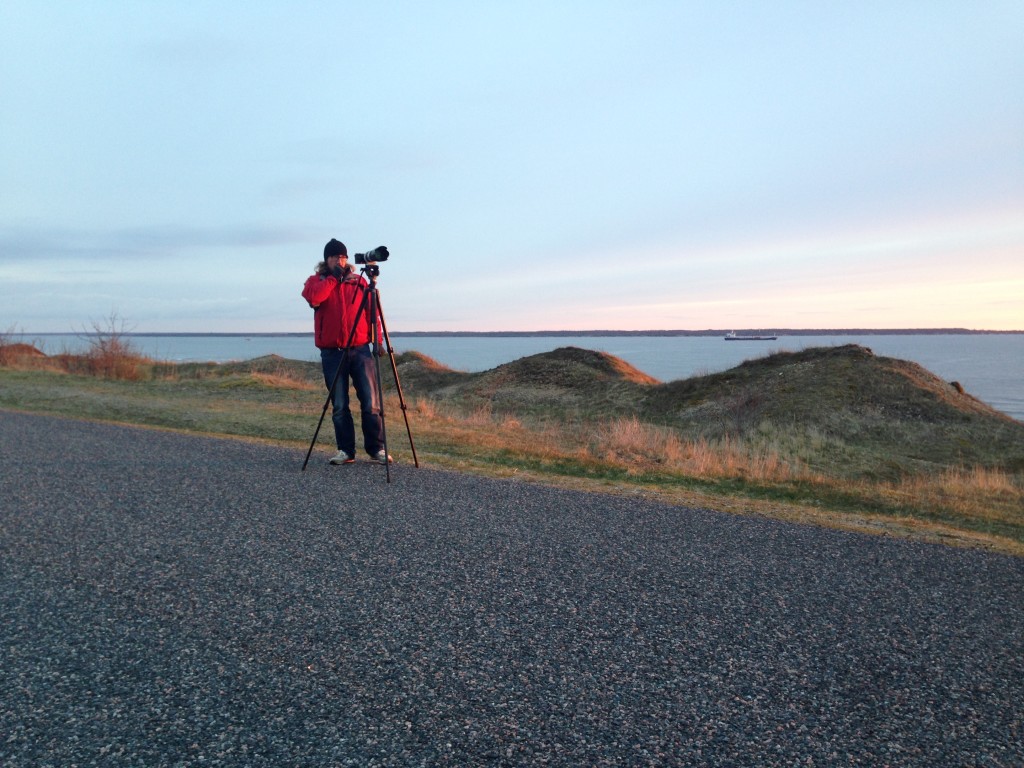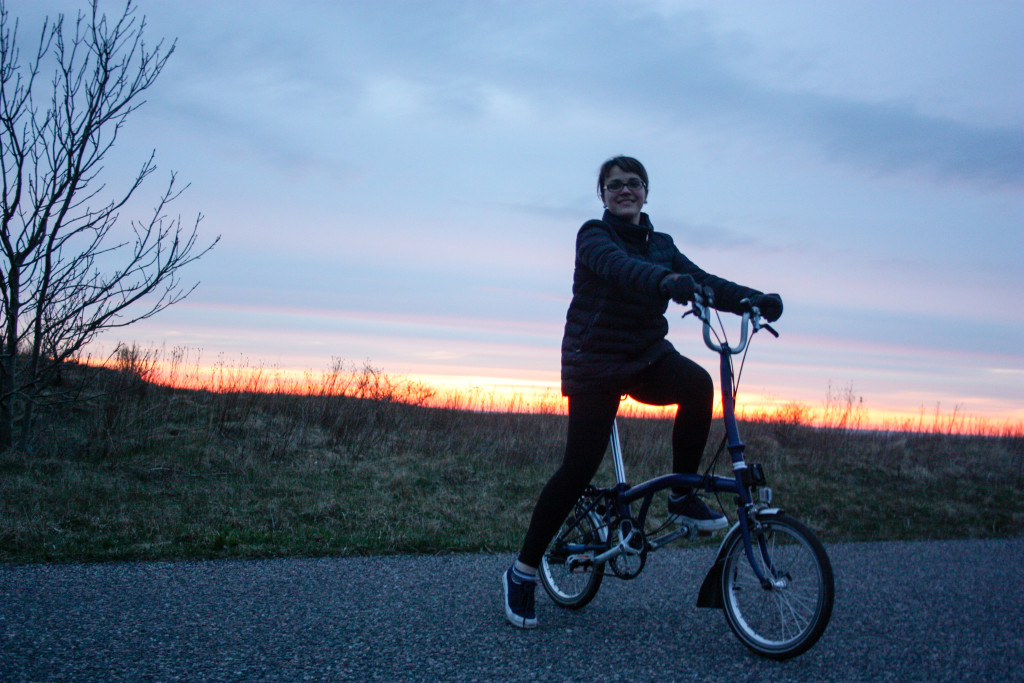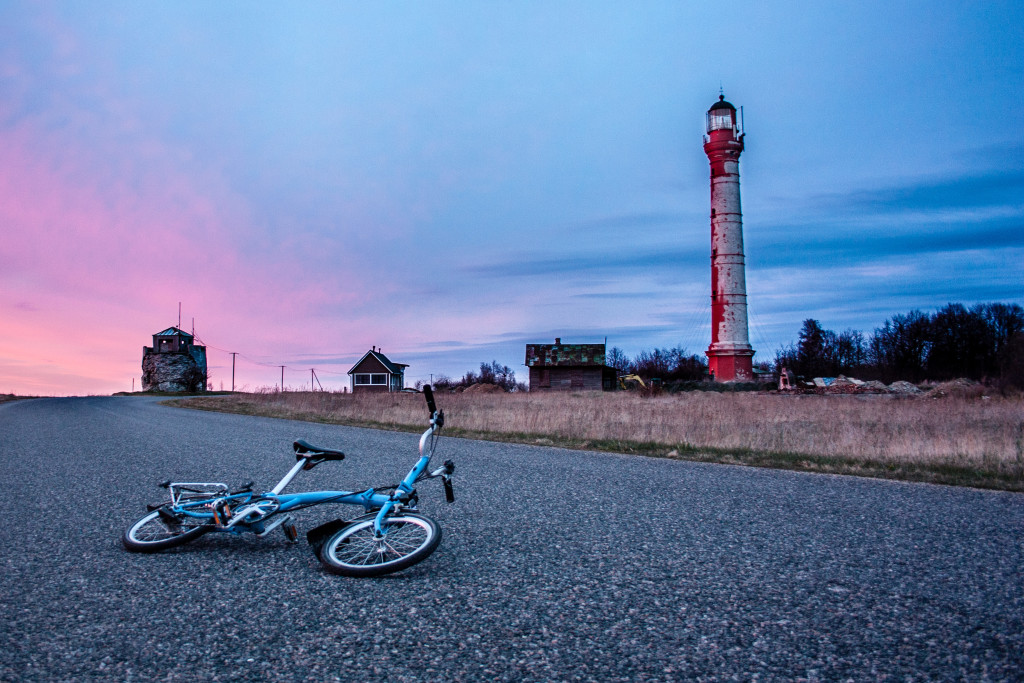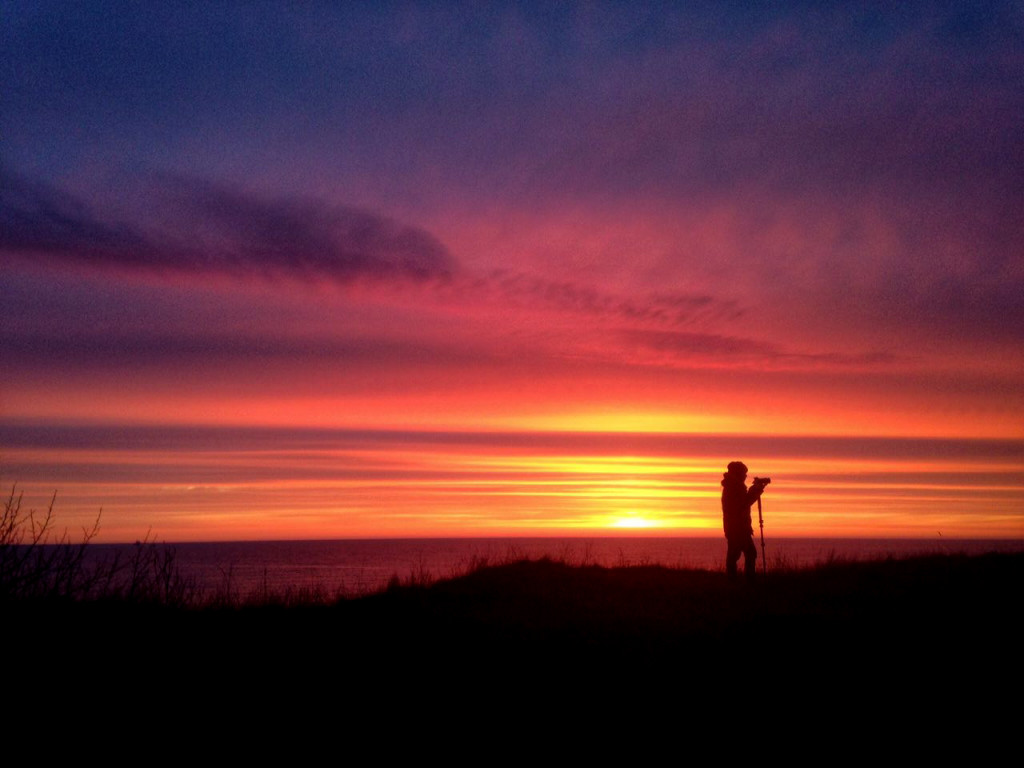 The wonders only began.
We could go to Estonia only in the end of April which is not a season. Lighthouses are only open for visitors from 1 May. Ooops! 
We definitely had known about it and even contacted all lighthouses in advance so they could let us in, but no one replied.
So we decided to believe in our luck and it helped! The lucky chance got us on top of the highest lighthouse in Estonia!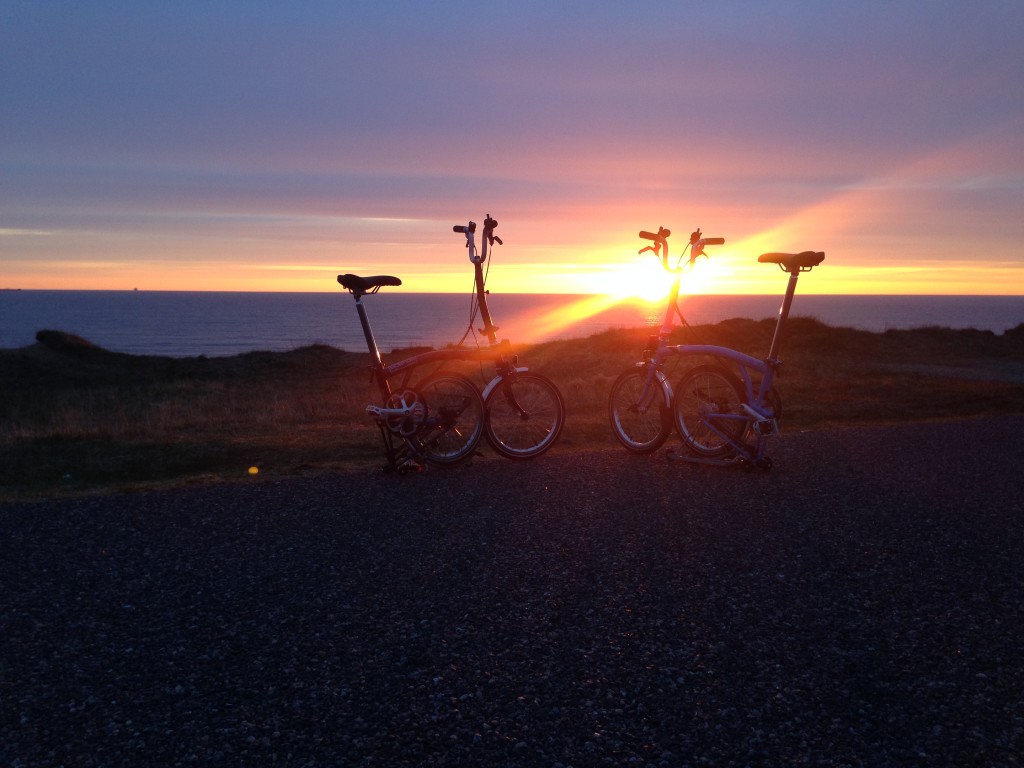 When the sun hid behind the horizon we met Andrus – the light keeper of Pakri. To be more specific – its renter. Andrus spent two years collecting necessary documents to get government permission to open the lighthouse for visitors.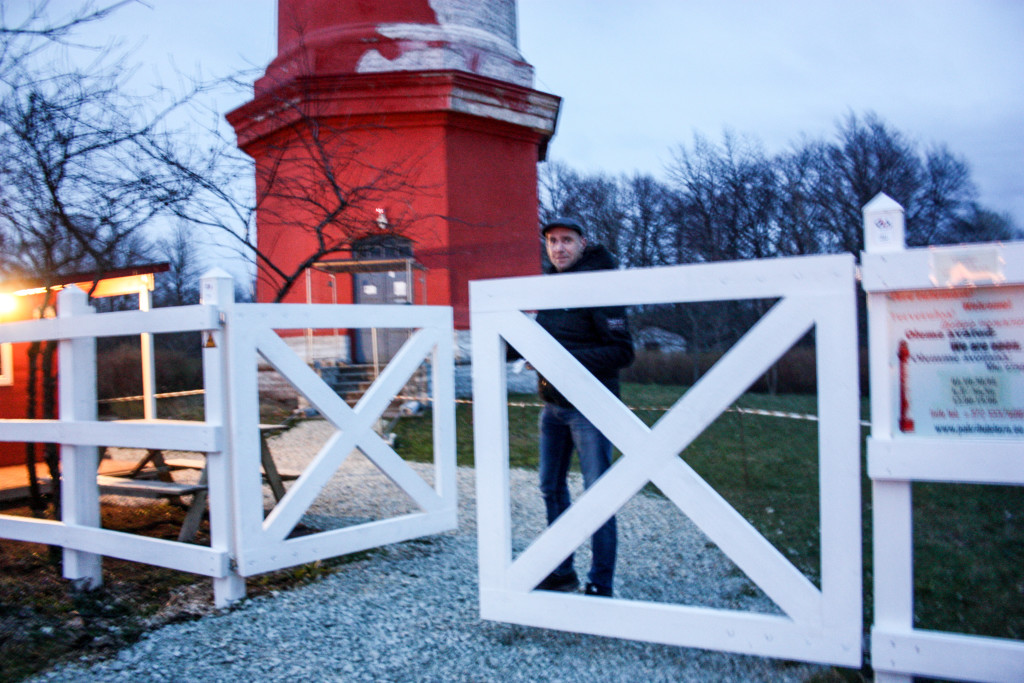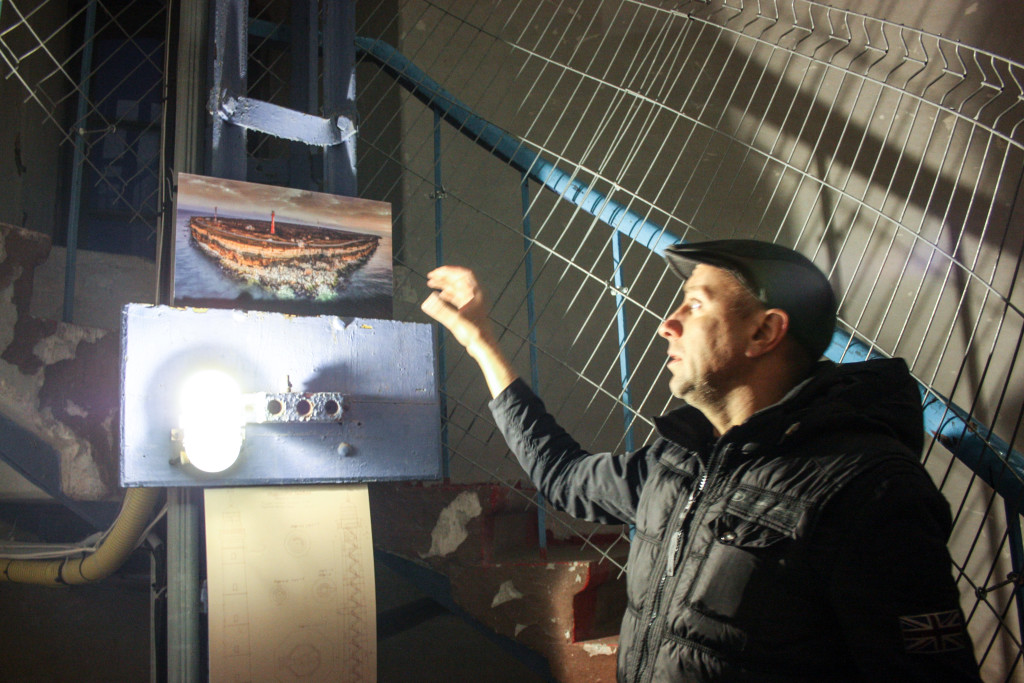 So all our team left behind 275 stairs and got on the top of the highest Pakri tuletorn (52 meters). We were accompanied by Andrus who shared with us a lot of interesting history facts. We learnt that  nearby ruins are the remains of the original lighthouse which was built in 1724. The location was picked by Peter the Great during his visit to Paldiski in 1723. Nowadays the old one is so close to the steep that it is not long until the moment it will fall into the water.
During World War II its light equipment was destroyed by bomb. It was restored and we even touched the Light – Fresnel lens.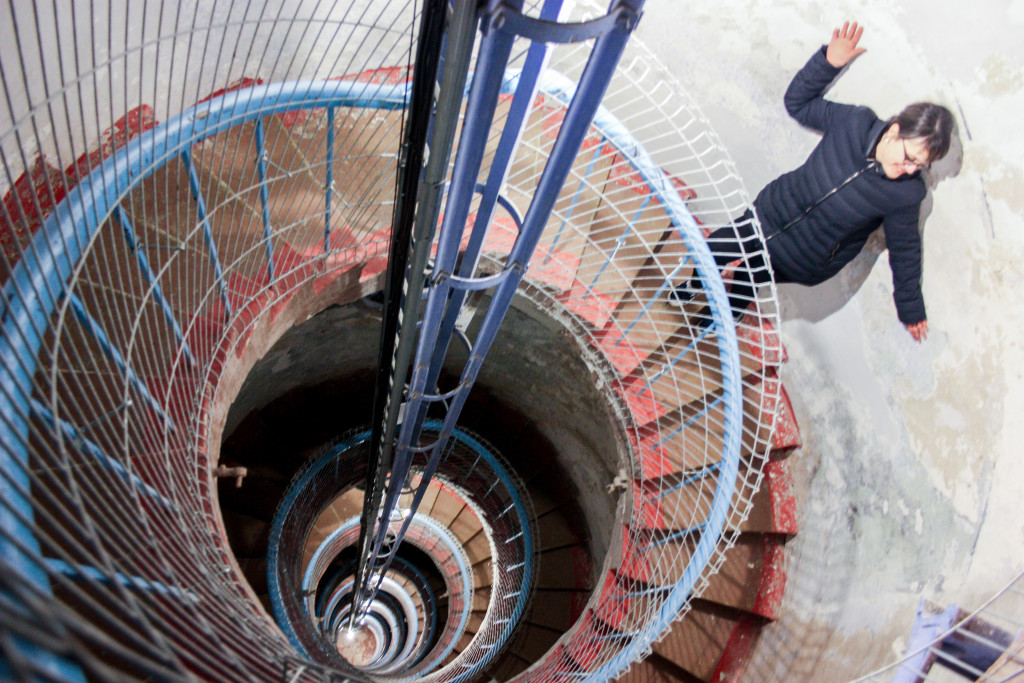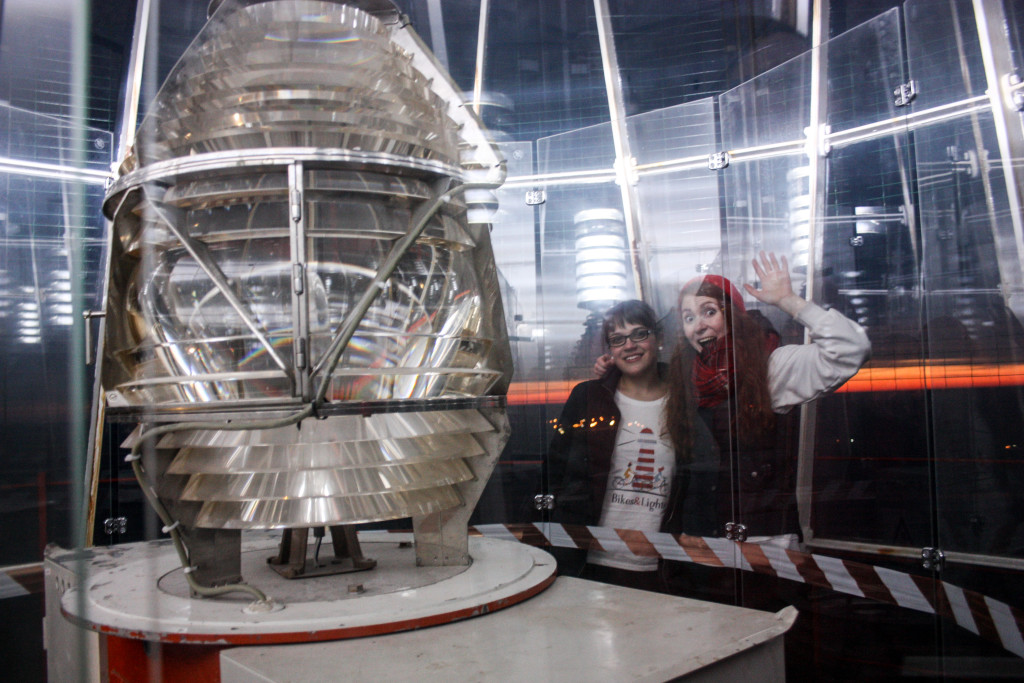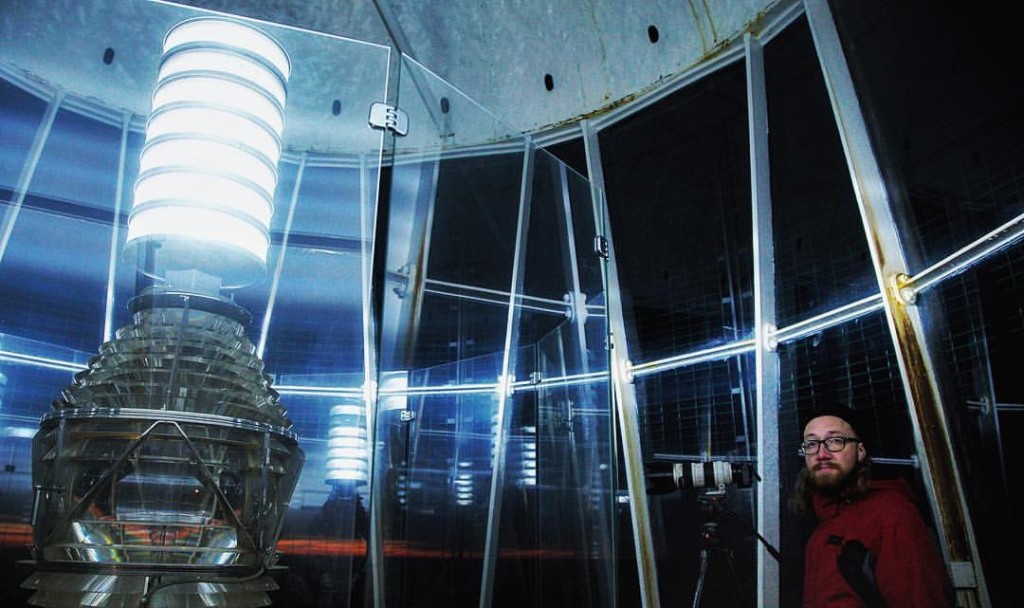 Would it be possible to get on the top at sunset during the season? Or lock up Pakri with one of two unique keys (there are only two of them in Estonia)? Hardly! So we think we didn't mistake with the dates.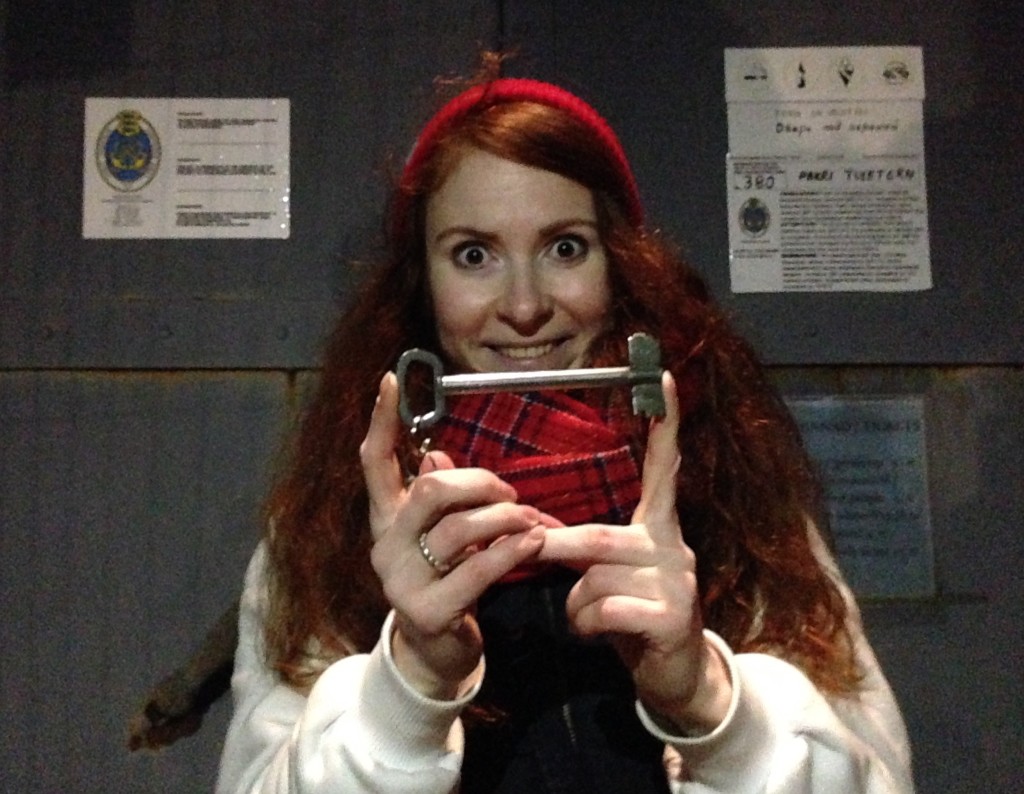 We said goodbye to friendly Andrus who gave us souvenir stickers for our passport of lighthouses, bought magnets and realized that "it's not what we planned" journey was continuing.
Tasha and Mila planned to sleep in a tent, Vasya and Vadim in a guesthouse as drivers deserved proper rest in the bed while camera batteries needed to be recharged. But we completely lost sense of time shooting the sunset and exploring Pakri. It was too late for camping which should have been located in 100 kms.
7 AM waking up the next morning only added points to the guesthouse so finally we went there all together.
Firstly, GPS led us to the small wooden house with unfriendly barking dog at the entrance. After 1 day in Estonia we weren't surprised that such tiny city can offer such guesthouses. We were wrong and from the second attempt we reached the right place with two adorable dogs in the yard and crackling fire inside. And a bunch of mice also which greeted Mila when she opened the cupboard. Ouuuch!
Exhausted, but too excited too sleep we couldn't fall asleep for a while sharing with friends pictures and thoughts about the first day. Common sense was against it though as our ferry to Hiiumaa  island left at 7.45 AM next morning. The mice didn't plan to sleep at all making Mila nervous. She spent the night in her sleeping bag to protect herself from the tiny friends. Camping equipment wasn't useless at last! As well as our swimming suits. But we will tell this story later =)
comments powered by HyperComments