We had only slept for 2 hours after an amazingnight in Dublin. Somewhere around 7:30 AM, we were already on a bus headed for the Cliffs of Moher. It's approximately 280 km (174 miles) from Dublin. We would not be able to reach the Cliffs by riding our bikes, because we only had one and a half days to tour Ireland. We hadn't planned on visiting this country, it just popped in our heads very spontaneously and we added it to our itinerary.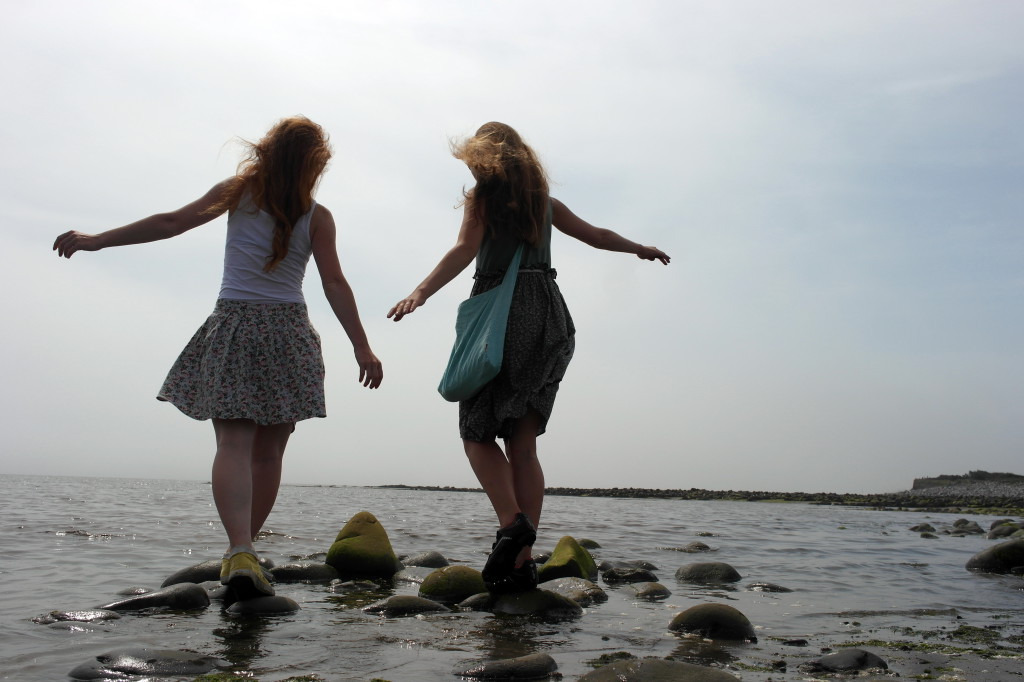 We put our Baby-Brompton's in the luggage boot and went off on the long-desired journey.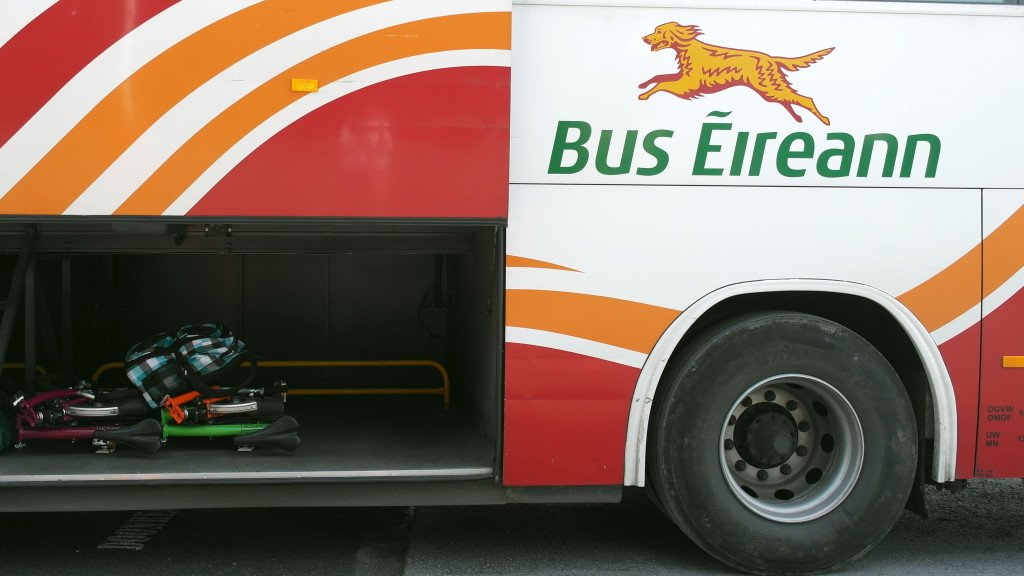 The famous white sheep, cows and donkeys appeared over and over again outside the window. The natural beauty of Ireland was really very impressive! Each piece of that amazing land is gently smoothed by the ocean winds. The fields are plain and very smart, but at the same time it seemed that it had never been touched by a single human being. It is such a natural beauty with the heath lands and bright green meadows.
If you thought you knew everything about the color green, but had never been to Ireland, then sorry, you would be wrong! Amazing green hues the like you have never seen anywhere else in the whole world.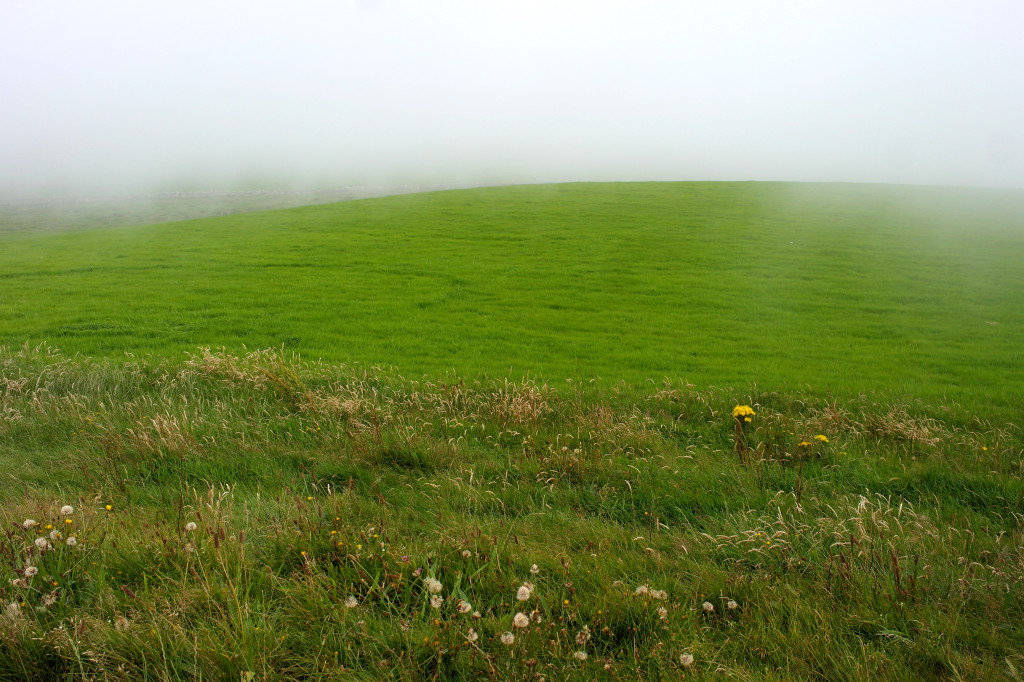 Just look at that fantastic bike lane where we were so lucky to ride! Here the field was covered by a cloud, but if you look closely, you can descry the outlines of the mountains in the mist! We were incredibly ecstatic, although we did not know that even more miraculous trails were waiting for us ahead!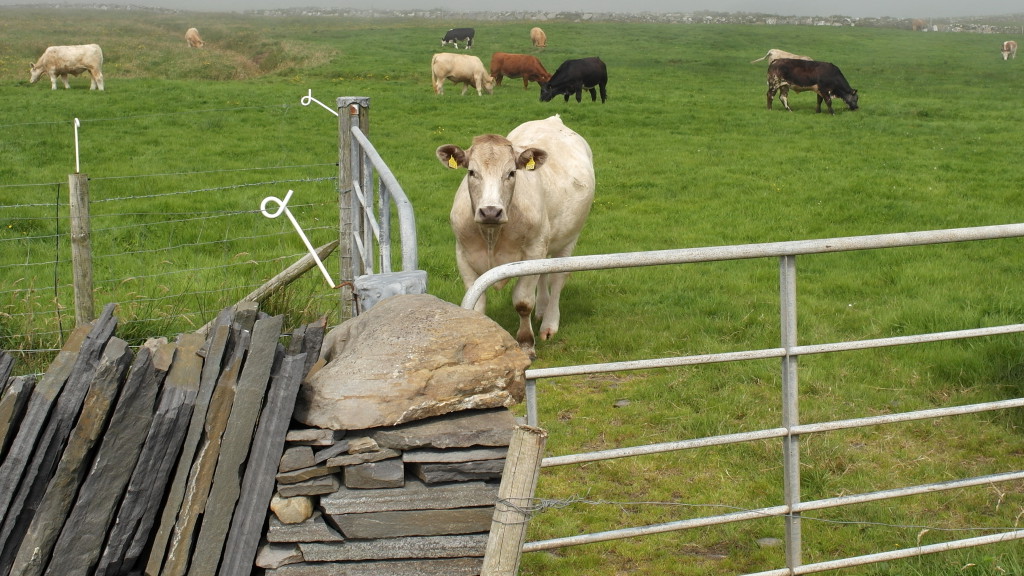 We saw a small street market at a bus stop in Ennis. We had an hour and a half layover there in order to change busses. Farmers were selling all sorts of delicious food there, but only Euros were accepted in Ireland, and we only had British Pounds and credit cards in our pockets.
We were stopped by one wonderful farmer that said his beans were very delicious. Upon which he gave us a bag full of beans for free, and wished us good luck on the road.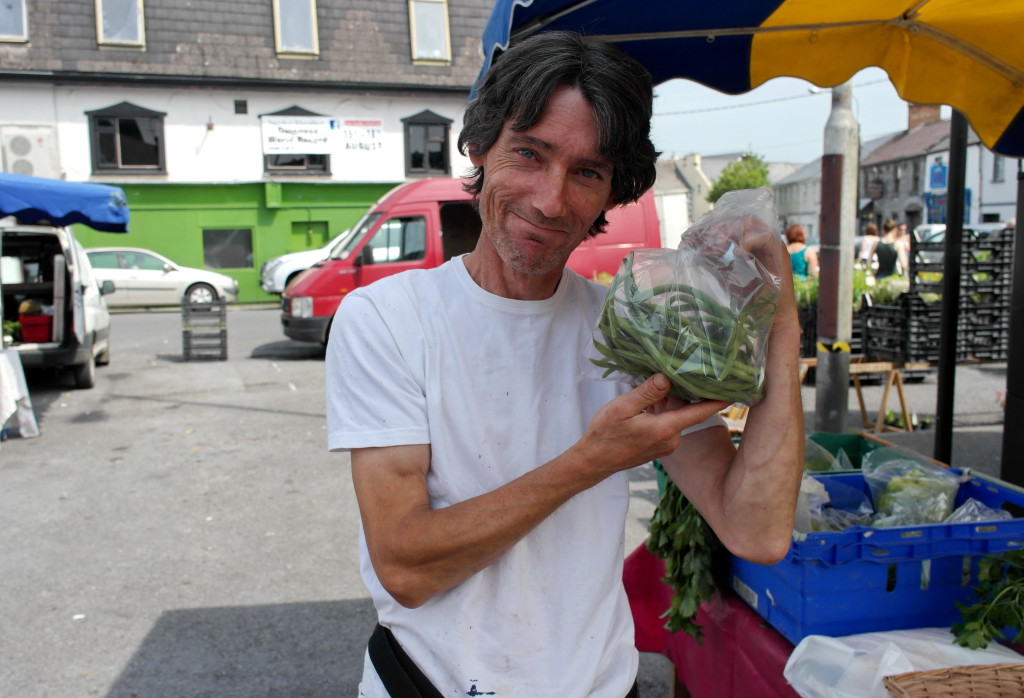 The people in Ireland are really magnificent – not only the farmer surprised us! After that meeting we were caught by the driver who drove us to Ennis! With the words "It must be yours" he gave us a brand-new map of the surrounding cycle routes!
Very racy grizzly looking man with a beard. When we got off the bus, he asked Tasha if she had a father from Ireland (it's a very frequent question – her red hair really worried the Irish people and were moved to ask about its origin).
The following dialog went something like this:
"Girls, I suppose you are here to find a good Irish man who has not less than 10 cows!"
We replied, "No! We have boyfriends in Russia!" ( Well, at least Tasha has=)).
Then he said, " So, why is he not here with you now? The Irish would never let pretty, young girls like you to go somewhere alone!"
By the way, both of us don't like to take coach tours and we usually travel by ourselves. But all the people we met in Ireland gave us advise to take an excursion tour, because the guides here are really amazing. They are soulful and killingly funny.
This guy wasn't a guide, but now we believe that all guides in Ireland are amazing. We got to Lahinch in a very good mood where we got back on our bikes and began our trek towards the Cliffs of Moher.


When we got off the bus, we immediately felt a breath of fresh air from the Atlantic Ocean. The faint aroma of salt in the air was captivating as well as alluring. The Ocean beckoned us with its appearance of infinity, and at the next opportunity we went down to try it's warm water. Yes, it turned out that it was really warm!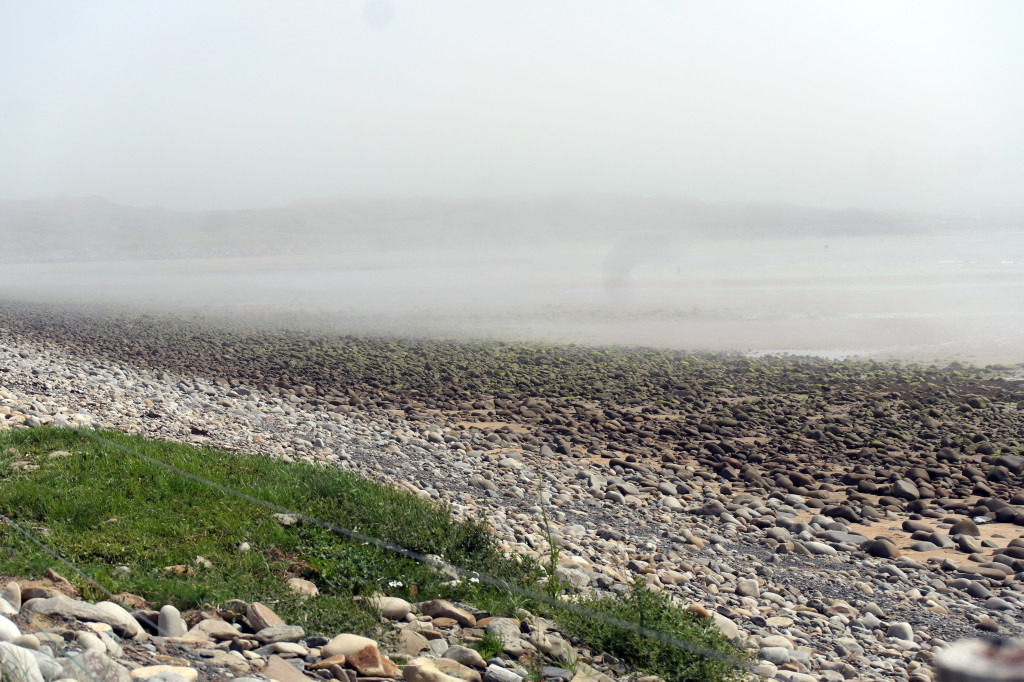 A mist hung over the silvery water, and the wistful clouds that could not decide if they should touch the ocean and let us see the wide tracts of the smooth horizon less water or stay on the cliffs and hide the horizon.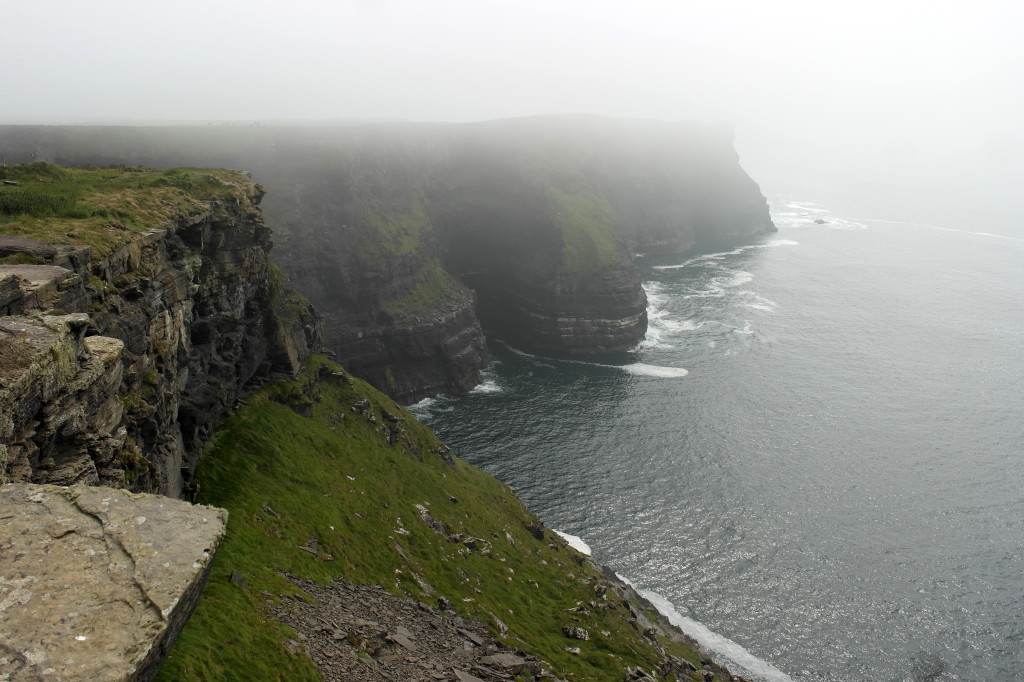 A little to the right, we saw a stone tower on the top of the cliff and knew at once we had to go there!

The only way to get to the top of the cliffs was on foot. People had to leave their cars in the special parking lot, but we were keen to take our Brompton's with us to go for a ride along the cliffs. Plus, we also wanted to leave from the other side of the park which was right at the bus stop.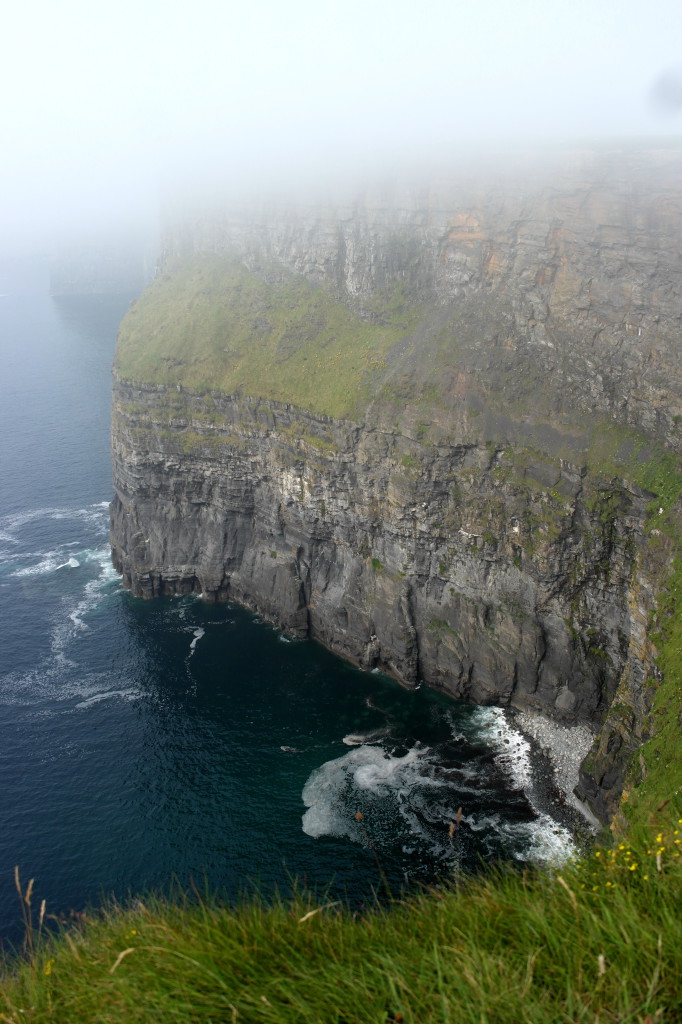 A very nice lady who looked after the parking area, flung her arms up and told us thatwe were the first Russians she had ever met there. She also told us that we could take our bicycles with us to the top, but alerted that we should be very careful, because the trails on the top are very narrow! It could be dangerous!
We were game for anything after climbing to the top of the Cliffs in Howth and riding along the brink yesterday. We daringly kept moving on to conquer the Cliffs of Moher.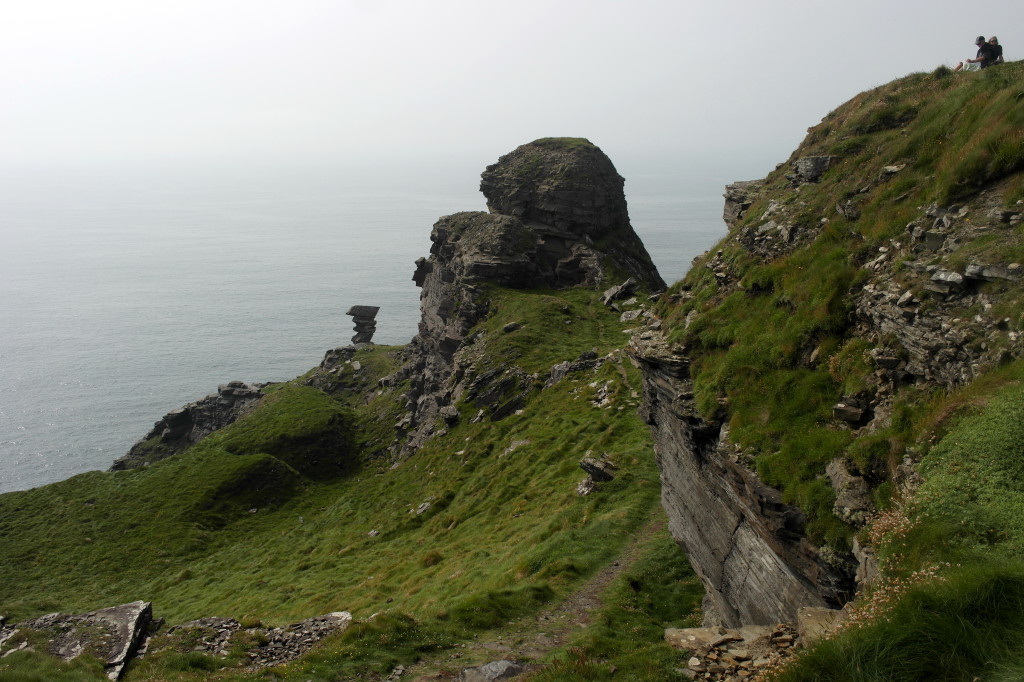 We started to scale the peak of the misty, rocky ground. Many tourists gazed at us in astonishment. Two girls with small bikes, totally laden with their stuff, mounted through the balks and sometimes got over or through closed fences, appeared from time to time.
It seemed that people were almost speechless and amazed when we came to the first tower and decided to grab a bite to eat at the edge of the cliff.
Yes! We took a meal again. It was our favorite thing to do on this trip – to find the most breath taking view, (it's very easy here), and eat something very tasty while gazing at something amazing and beautiful!
We heard the click of cameras over and over again and exclamations of  WOW!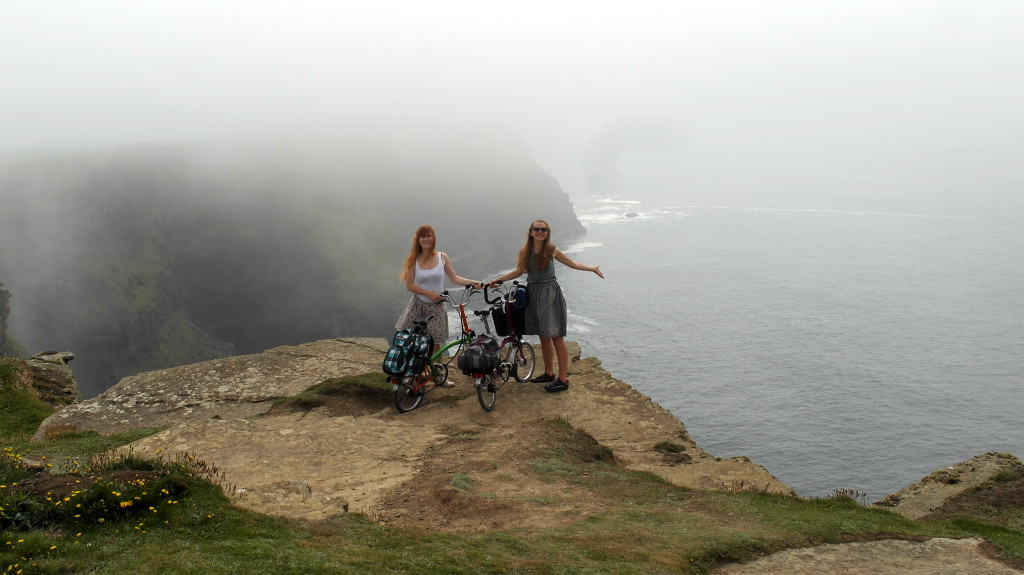 By the way, we already told you that people here are very friendly! Many of them asked us where we were from? Even when we didn't have on our t-shirts with our logo! Yep, sometimes we even changed our clothes. =) Then we would tell them about our project, they swoon over us and give us helpful advice and wished us "God speed!"
The Cliffs of Moher is really an amazing place! We went to the extreme edge of the Cliff and saw the rough ocean. Somewhere at the very bottom the birds where bawling. About 200 meters separated us from the birds. The giant wall of stone reached high above the ocean and was approximately 8 kilometers (5 miles) long.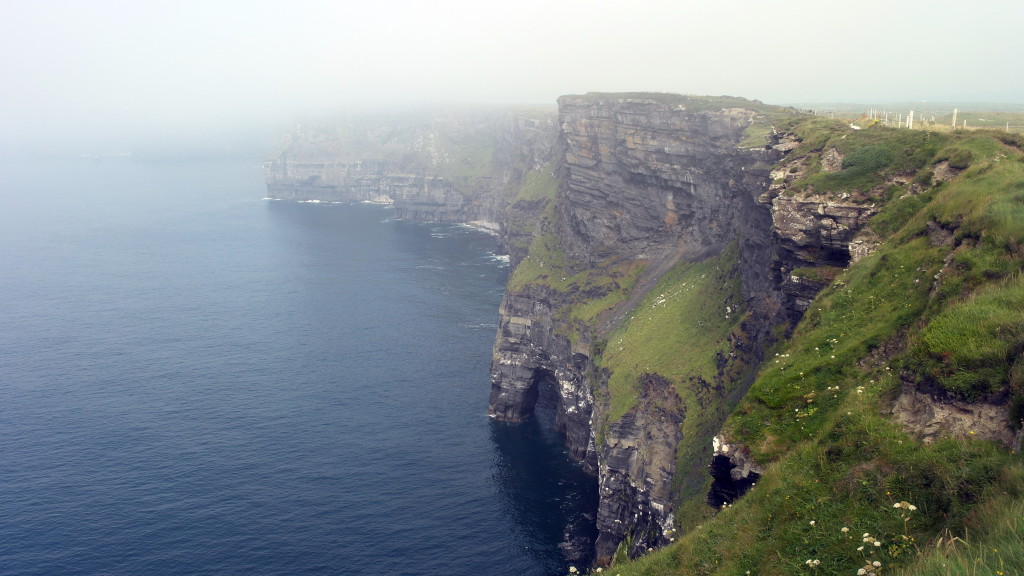 Somewhere in the middle of our way along the path, we came across a huge stone fortress, or it may have even been many small fortresses made by people from small stones.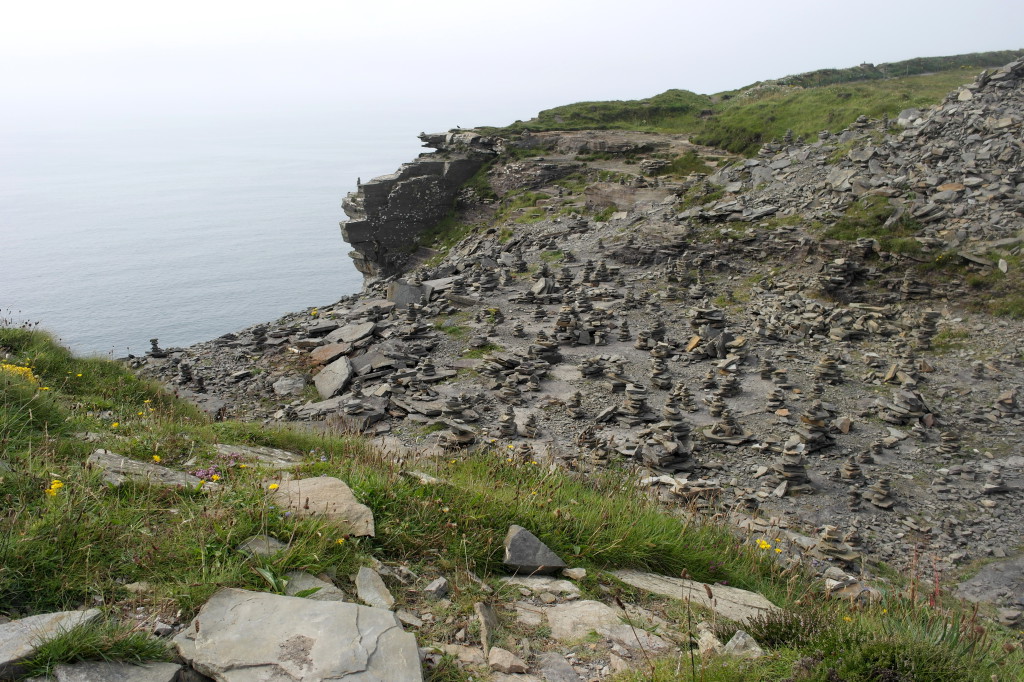 There were so many conquerors in Ireland's history that attempted to claim this land for their own. Trying to lay their hands on these rich great spaces! The Danes, Scots, English and the Normans. Ancient legends say that the proud Druids fought to the finish. If they felt that they had lost power, they preferred death than the bitterness and shame of defeat. So they jumped down from this mountain walls.
These mighty rocks surrounded by moorland and green hills, animates ancient legends and tall stories. The Irish are famous for their yarns (Yarn- To tell a story, which more or less at any given moment contains a dubious amount of exaggeration). We really believe that there very friendly trolls wandering around there nearby.
And yes, all these 30 thousand types of birds and even the biggest population of Atlantic Puffins are no strangers to these trolls.
The entrance to the territory has an admission price of 6 Euro's for adults. We were lucky and didn't pay anything. It so happened that we came not from the central entrance, from O'Brien's Tower. It was on the other side, so nobody asked us for any money, and we were not insistent on it either.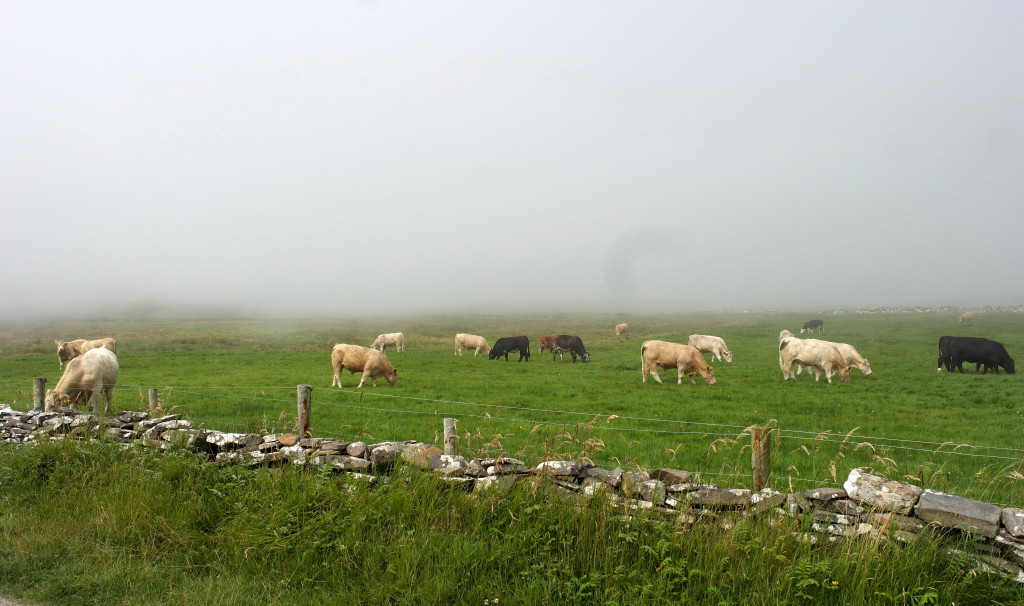 We continued riding among the edge of the cliffs with bated breath every time the wheels of our Brompton's slid way too close to the brow. The path led us to the lake which spread out on top of the cliff. It looked absolutely alien with its black volcanic sand, and the tattered clouds riding among the water, seemed like a hot geyser with wet steam, like in Iceland!


Haze flouting under the water and wind brought the cool of the evening. Then, 3 hedgehog-tourists appeared from the mist. They were young guys, and we asked them to take a picture of us with that glorious view at the top of the brink.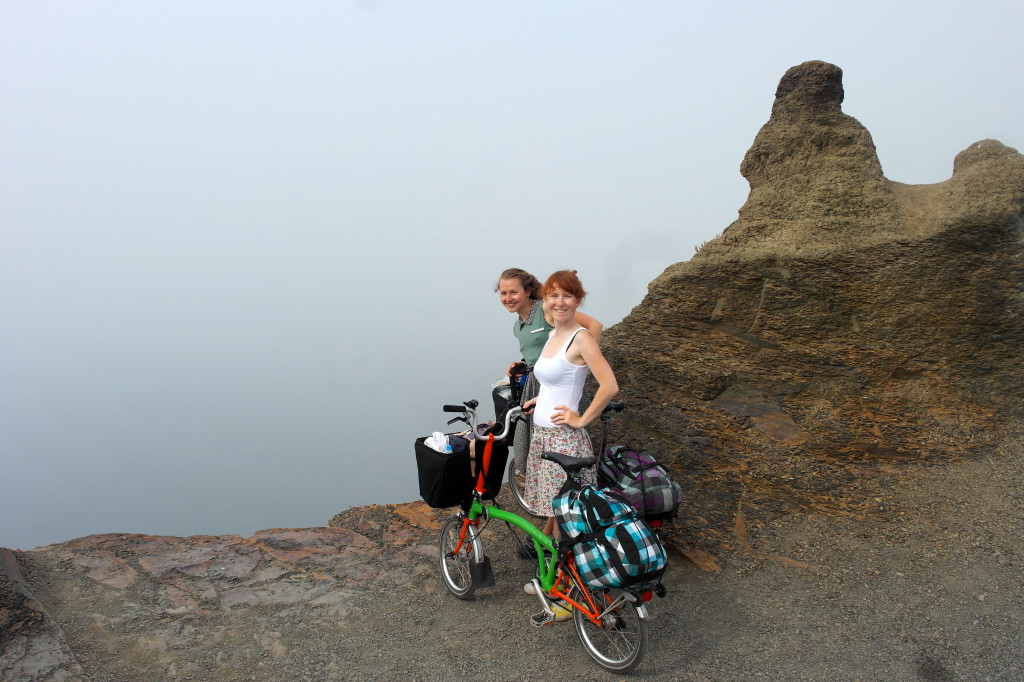 As we were leaving, our reporters continued enthusiastically snapping away with their cameras zeroed in on us. We spun around and told them: 2girls2bikes.com.
Finally we saw O'Brien's Tower on the horizon. That meant we had traveled 5 km and would be at the bus station very soon. We looked at the time and noticed our bus to Galway, where we have our next hosts, departed in 10 minutes. We realized that we were lost in contemplation and could not make it in time to catch the bus again!
Look, even the little prince on the white horse laughs at us! =)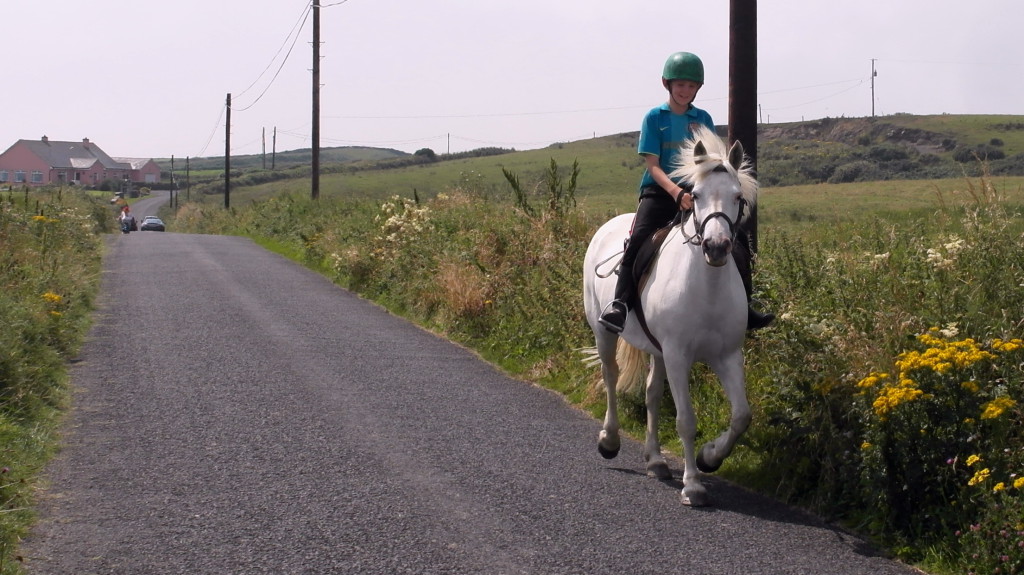 Jenya and Pol were waiting for us in Galway, which was located 85 kilometers (53 miles) away. They're our new host-friends with whom we were acquainted with thanks to our friends in Dublin. We could not be latebecause our new friends were waiting for us. We could not make it on time on our bikes. It would have taken us around 6-7 hours. Our only possible solution…hitch-hiking. We rode rather far off of the touristy places and started smiling from ear to ear. =)
In only 10 minutes, the sweetest lady who was driving to Fanor for camping, stopped and picked us up.

Her car's trunk and back seat were totally swarming with all sorts of things for camping: blankets, tent, sleeping bags, etc… It took us at least 10 minutes to put our stuff inside her car. Thanks to that amazing lady for her patience!
We sat down on top of all that stuff and started moving on. We were pick-up on a busier street where people go to Galway. We said goodbye to our new friend and started waiting for the next helper! It was just 64 more kilometers to Galway.
About 10 minutes had gone by when the next small car stopped for us. Two Americans stopped, a father and son, without any doubt took all our stuff and put it in their car and also told us that they were going to Galway!!!! You can only imagine our excitement and good fortune! We were so happy we could not stop grinning like Cheshire Cat's all the way there!

It so happened that these guys were from New York. The father, a lawyer, came to see his son, a student in Ireland. 60 kilometers slipped away in what seemed like 5 minutes. Warm-hearted conversation, discussion about cultural assumptions of our two countries and what we are doing in our life.
By the way, that car was really teeny weenie, it was a rental. That's one more plus for traveling by the cute foldable Brompton's. What other bicycle could you tamp down into a small car, add 4 backpacks in addition to 2 girls? =)


We got to Galway very fast and got out in the center of town where Jenya was waiting for us. Jenya has been living in Galway for 10 years and knew every corner there. She and her friends planned to have a party in the local pub after the end of a long, hard work week. We all went there altogether to celebrate.
The very crazy nightlife in this small city would not disgrace the famous touristic places of the country. There are many young people there at the end of July, because there is a very famous Irish music festival that takes place there.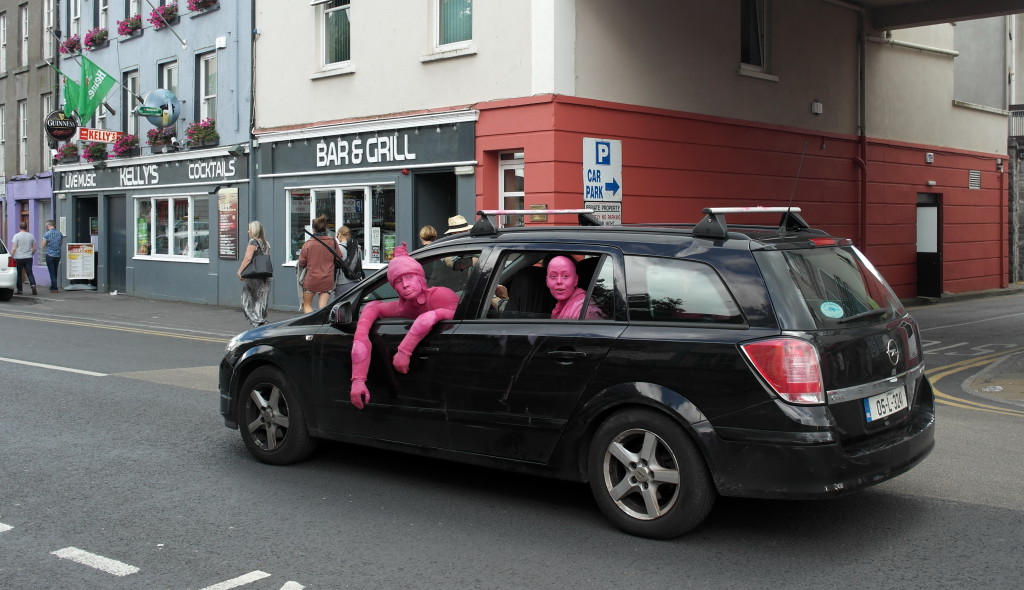 We went to a pub that is also a micro brewery where they craft their own beer, which is in fact, very good. We tried chocolate stout, red ale and flavorful light «Full Sail». That bar was located exactly beside the river. The weather absolutely was fantastic and all the locals were sitting on its bank.
Our new friends told us that they knew the owner of the pub and even the brew master, (the person who brews the beer), as well as the person who helped him brew beer. He really hates it when people call him the Assistant Brewer. It's seemed that everyone knows each other there! We were so lucky to be in a local hangout again and got more interesting stories to share.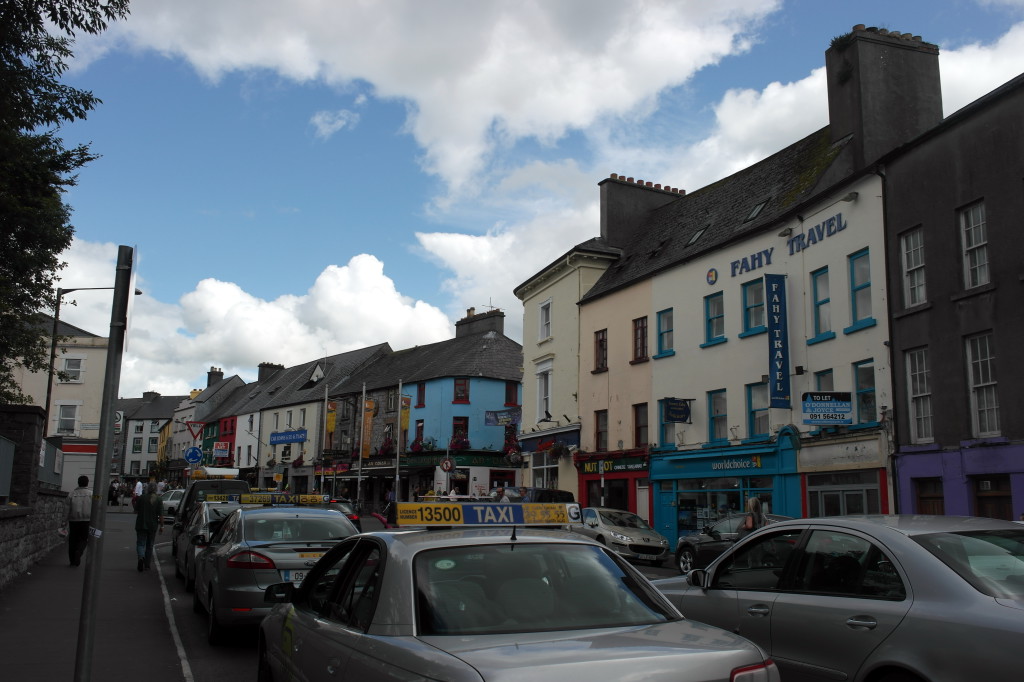 Suddenly, we heard some very loud screaming: "2girls2bikes!"
It was the 3 cheerful guys who came up to us, and we recognized our reporters from the foggy Moher! Yes, it was those guys who we met 80 km away from here! Students from Holland, also stay in Galway for the weekends! It was such an amazing coincidence! We were talking to them about traveling, special aspects of couch surfing and bicycles till 2 AM sitting on the bank.

You can see in this picture the Assistant Brewer — his finger is on this photo)
All of a sudden it started to rain. Not just any rain, but a hard down pour, a real gully washer. So, our host Jenya told us that her husband, Pol, would be there very soon and we would go to their home altogether by car.
We were drenched to the skin while waiting. All at once the cargo-and-personnel car, which delivers the alcohol for that bar where we spent the last 4 hours, stopped by us. We climbed up to the truck altogether even with our Bro's. So, the hitch-hiking day continued – we'd never ridden in the back of a truck before. =)
On the way home, Jenya told us that she had taught Pol some Russian. He playfully confirmed by saying «Privet!» («Hello or Hi» in Russian. Privet is an informal greeting for friends and family for those of you who don't know).
Our hosts were going to go camping in the morning. We couldn't buy any food and decided to have breakfast at the Galway Farmers Market.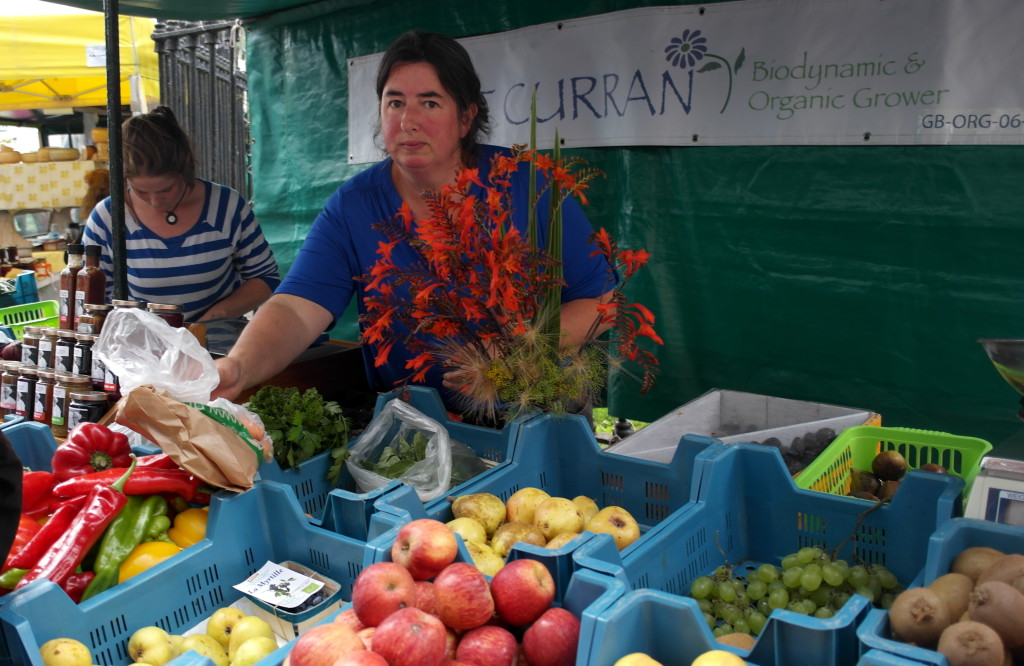 The Farmers Market is simply fabulous! Galway is crazy about organic and healthy food, (like the rest of Ireland), and farmers brought all the best for local people: very tasty and spicy curry and falafels.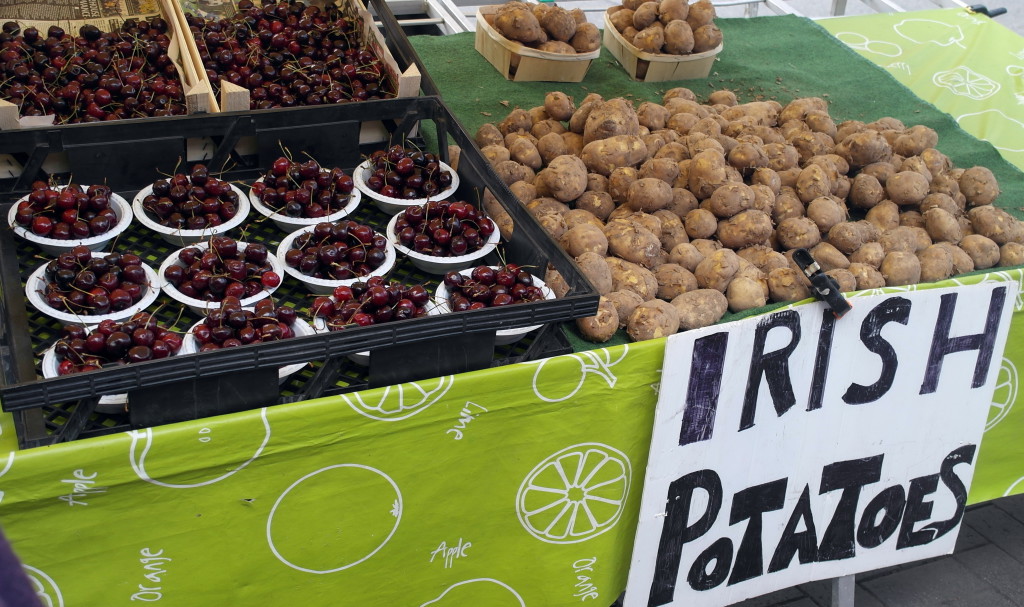 All the food is prepared according to traditional recipes. If it's pita for falafel – the seller bakes it himself, if it is chickpea – they grow it on their own plantations, if coffee – you can be sure that the beans ordered from special plantations, and they are roasted at home by this handsome "Hugh Grant".
Yulia took yummy curry, Tasha – a delicious falafel and homemade candy with whisky for 1 Euro.
Alas, the emerald green country said good-bye to us. It was a fabulous trip through Ireland. We were so glad we had added it to our trip. We met some wonderful people there and saw some amazing sights. From the independent Ireland we set our compass and head North to Northern Ireland.
comments powered by HyperComments