You have probably heard how expensive transportation in London is. A single metro ticket in Zone 2 (one of the central stations) costs 4,30 GBP. Do not lose your heart, an alternative is always there – it's a bicycle!
Two-wheeled is the cheapest means of transportation in London. Furthermore, if you use it for getting around in the city center, it can be twice as fast as a car – you just need to know cheats about using London's Bicycles.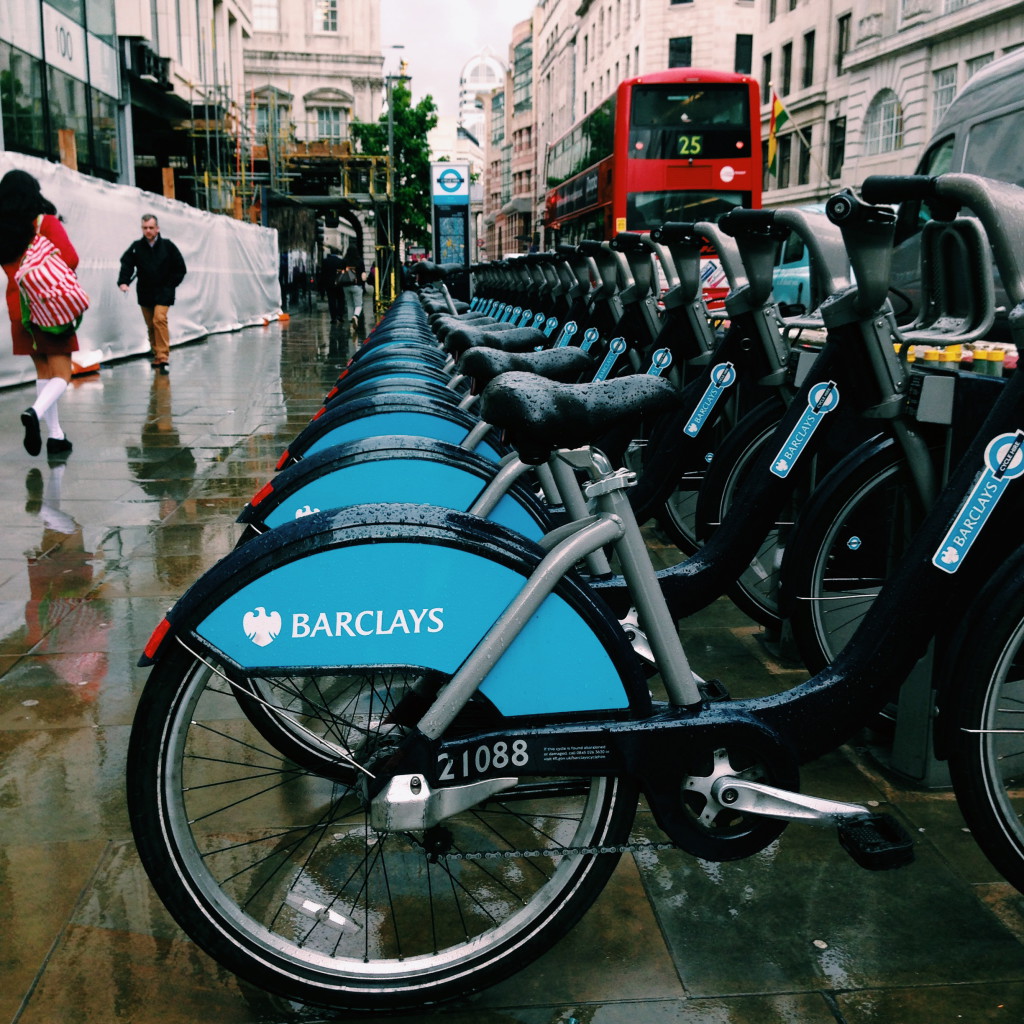 The start of the public bicycle hire scheme in the city on Thames was in 2010. The locals call it "Boris Bikes" – referring to the Mayor of London Boris Johnson, an organizer and the main inspirer of this project. You may ask, "What does Barclay's have to do with it?" Well, Barclay's Bank is the sponsor of the program. Actually, the official name is Barclay's Cycle Hire (BCH).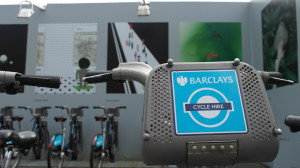 You can find Cycle Hire stations (or "docks") all over the city, every 300 meters. You can recognize Cycle Hire docks by the bright blue icons.
You surely know the famous red-and-blue icon of the London Tube (Underground), it looks similar to this, but blue! We are sure you won't mess it up with the river transport =))
How to get a bike?
Step 1
Use a debit or credit card that has at least 2 pounds on it (cash not accepted). Select the option "Hire a cycle". Next, choose the time of use of the bicycle and pay (the service is provided in  several languages, but even for a foreigner with only basic English it would be very easy to follow the instructions). The dock will give you a check which has a 5-digit code (when choosing your bike, you will need to use the release code within 10 minutes of printing it, and only at the rental station from which you printed it).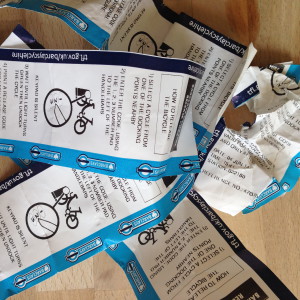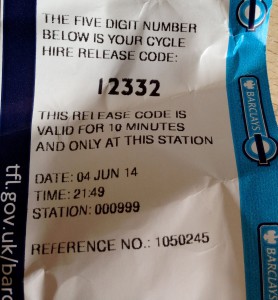 Step 2
Choose a bike that appeals to you. After that, just enter the code from the afore-mentioned paper check – the green light should flash on. Now, please, remember about your powerful arms and boldly pull your bike out of its dock! Bikes can be very heavy, it is easier to lift the rear wheel a bit and pull hard to release the bike from the docking station.
FYI: Take a minute while choosing your bike to inspect its condition. Check the integrity of the saddle and tires before entering your code, while the bike is still docked.  If you remove the bike and then notice that something is wrong, you will be allowed to change it within 10 minutes, using the same code from the check. If something is wrong, turn the saddle backwards so others will know not to use this bike.
That's it, dear friends! Just 2 simple steps – and you are ready to be engulfed  into the flow of the city, where every fiber of your being will feel the rhythm and spirit of the open road with the wind in your hair!
While riding a bicycle: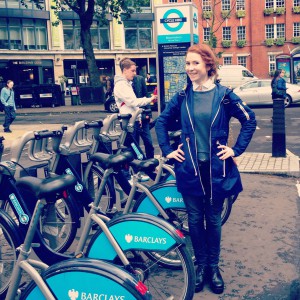 Keep in mind, that Barclays Cycle Hire is perfect for short trips. Ride for 30 minutes, then return the bike to a docking station and take a new bike for every following 30 minutes – otherwise you will be charged for the additional time.
Long trips are much more expensive (to rent a bike for the whole day is £ 50), but why pay this much, when it is so easy to stop and replace the bike?
By replacing the bike every half an hour you can ride for 24 hours paying only 2 pounds!
Don't you agree that this is a splendid alternative to expensive public transport?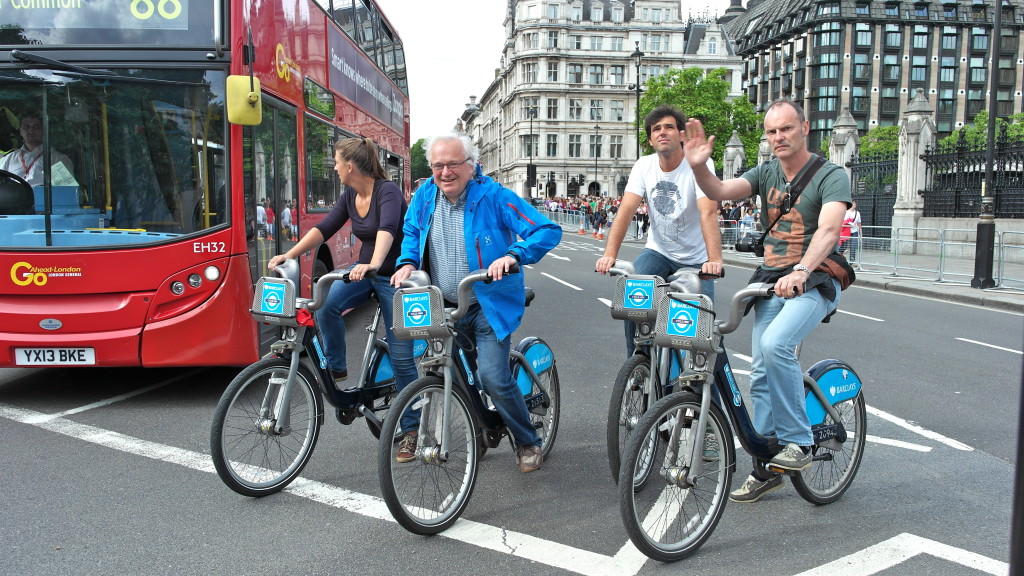 How to return your bike?
Your bike just should be put in the dock. If done correctly, you will see the green light illuminate, if you did not achieve it, just try to do it again. Otherwise the leased time will continue to flow, and together with it will disappear money from your bank card.  So, wait for the green light before you leave your bike.
Could it be that there are no available places at the dock to return the bike?
This may happen, but keep calm – in this case you do not overpay, just press the button "No docking point free" and you are given additional 15 minutes. And the dock will also show you where to find the nearest stations with available points.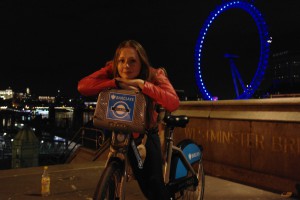 You should keep in mind:

– To buy bike access, you must be at least 18 years old, and 14 years or older to use the bike.
– If you do not return the bike within 24 hours, you will be fined £ 150 for late return.
– Bicycle locks are not provided. If you go to the store, it would be better to return your bike to the nearest station, then rent another one. During the last year only 10 bikes were stolen!
– You can hire up to four bikes at the same time.
– Bicycle tires are resistant to punctures, even the chain has a special guard to protect you   from getting your trousers caught in it.
– Do not expect too much of these bikes – they are quite heavy and clumsy. But they have been designed this way to increase safety – people don't speed on them, and it is really not easy to break them.
But still, these bikes take part in real races! For example, just last week people raced on them at the city event London Nocturne. We have visited the event – you will see our special post about it very soon!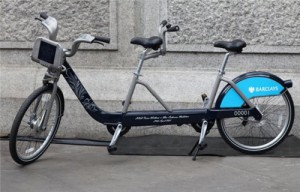 In conclusion…
In England bikes are friends both to the Mayor and to the Prince. The Mayor of London Boris Johnson gave a tandem bicycle as a wedding gift to Prince William and Kate Middleton.
And he also presented the Royal couple with a bike for little Prince George for his birthday. We hope that the future Crown Prince will love bicycles too and promote bicycling =)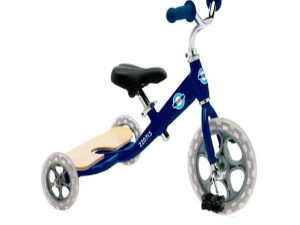 comments powered by HyperComments