The morning started veeeeery early – when you sleep outside the sun doesn't let you stay asleep for long! We finished a couple of posts right in our shelter in the yard of a tavern and were treated with fresh tea from a nice girl, who came with the first rays of sun to clean up the place.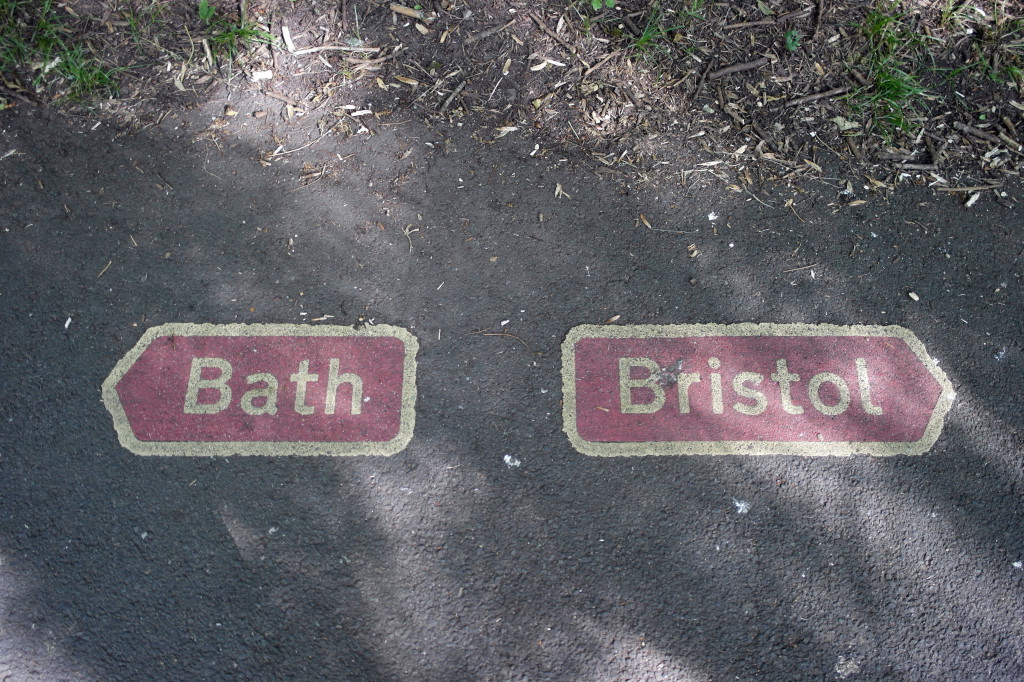 Bradford on Avon is a home of beautiful Moulton bicycles – we were very curiuos to take a look at them, but the goal to get to Bristol that day was much more important. Sleeping outside was a nice adventure, but we didn't want to repeat it! =)

We started for Bath – there were only a few miles left. And again the Canal, again sweet little houses and boats on the way, but – again! – the same bumpy road, which doesn't let you speed up and keeps bothering the bottom  part of the body.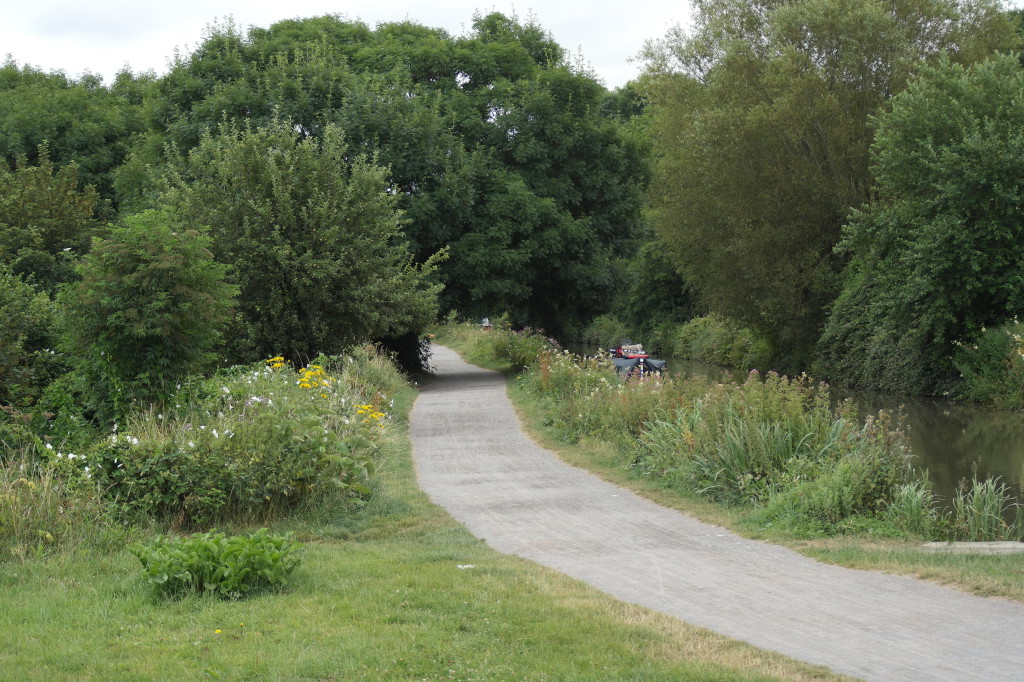 Magnificent hills covered with thick woods were looking at us from above, so, the decision to go along the Canal was a good one!
In a small town named Wadworth we came to a Wadworth Brewery – well known in the area.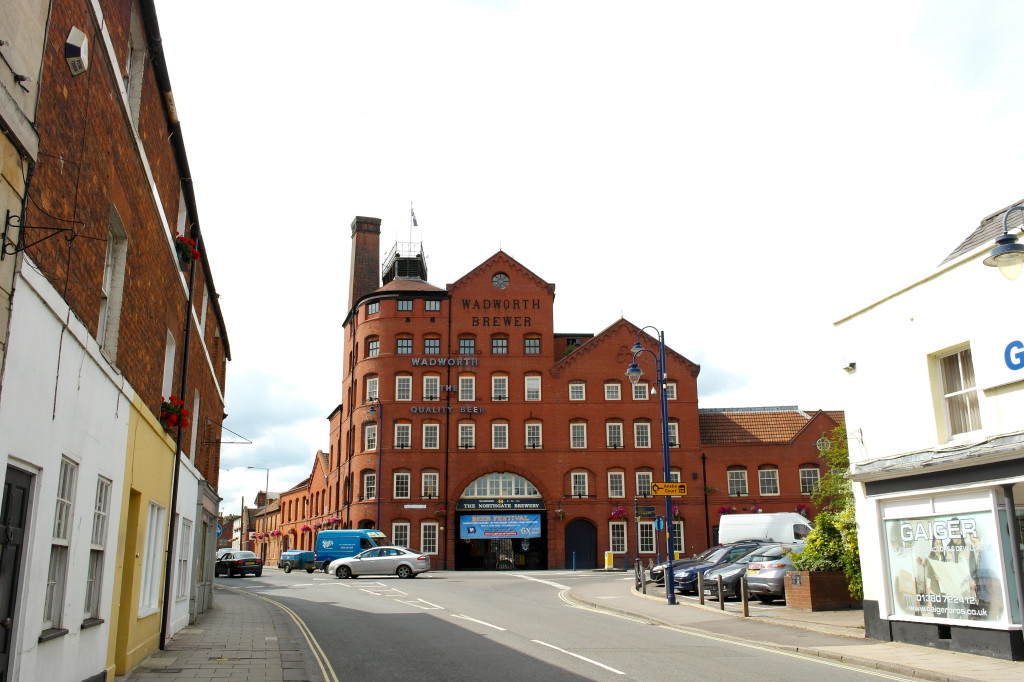 It is known for it's fantastic beers and ciders. The are so good, that Fred, a husband of Sasha from Portsmouth, ordered beer for their wedding from this place. Fred recommended us the "Cross Guns" pub right on the path. We did pass it by, but decided to avoid beer during the first part of the day =)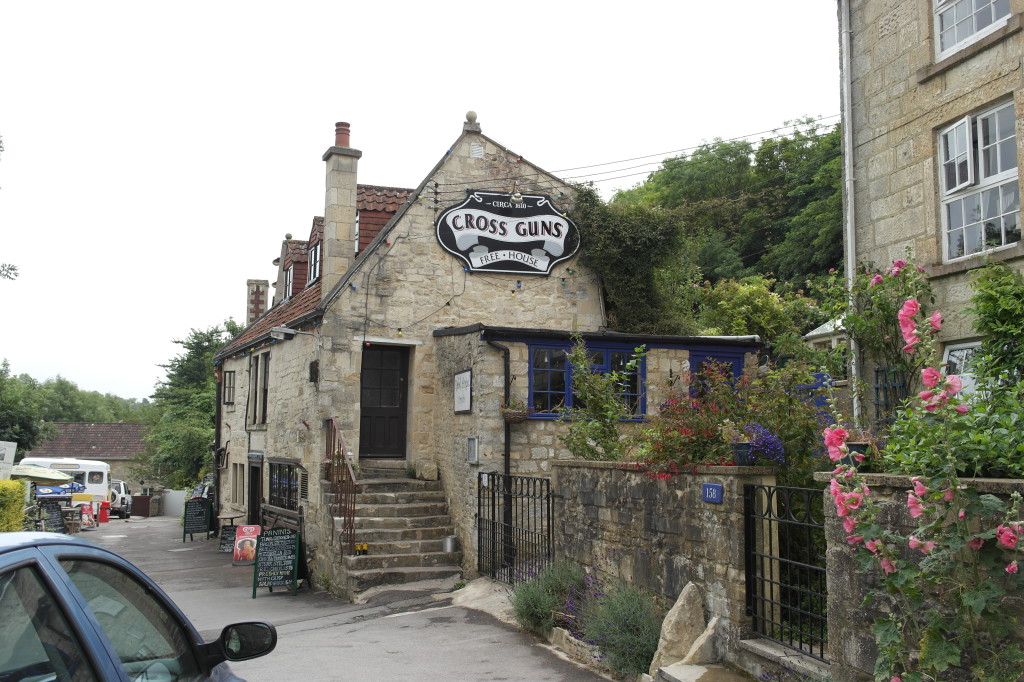 Bath is a very beautiful town in Somerseth, famous for its thermal springs. We didn't go bathing – to make it cheap, we had to have booked in advance.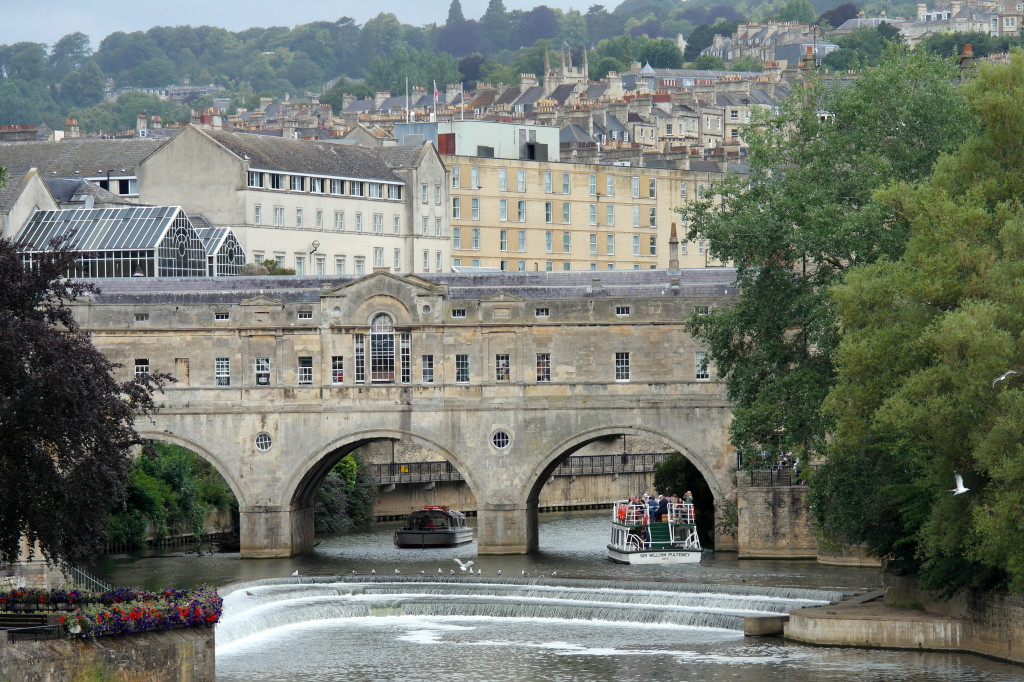 By the way, the action of 2 novels by Jane Austen – "Northanger Abbey" and "Persuasion" – takes place in Bath. And Mr. Pickwick, a well-known character of Charles Dickens, was a big fan of Bath's thermal waters.
Since June you can easily rent a bike in Bath – the new system "Bath Bike Hire" has just started working, all details are here.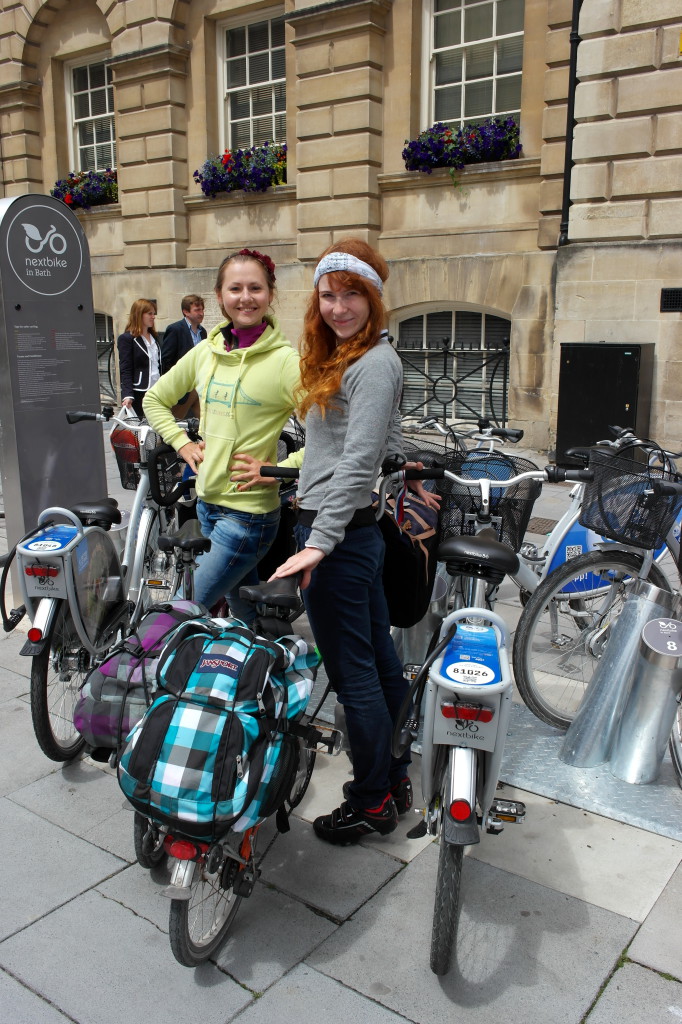 The world should know what we eat!
After the «wild» night we were longing for normal hot food, not just usual sandwiches and tea, so we decided to allow ourselves a decent restaurant. In the very center of the city we have noticed a very cute little balcony all covered with flowers. It was a Thai place «Thai Balcony». Of course, we try to eat local food in every city we visit, but after English fries we really wanted some spicy thai soup – just for a change! So we came inside and gave ourselves a feast =)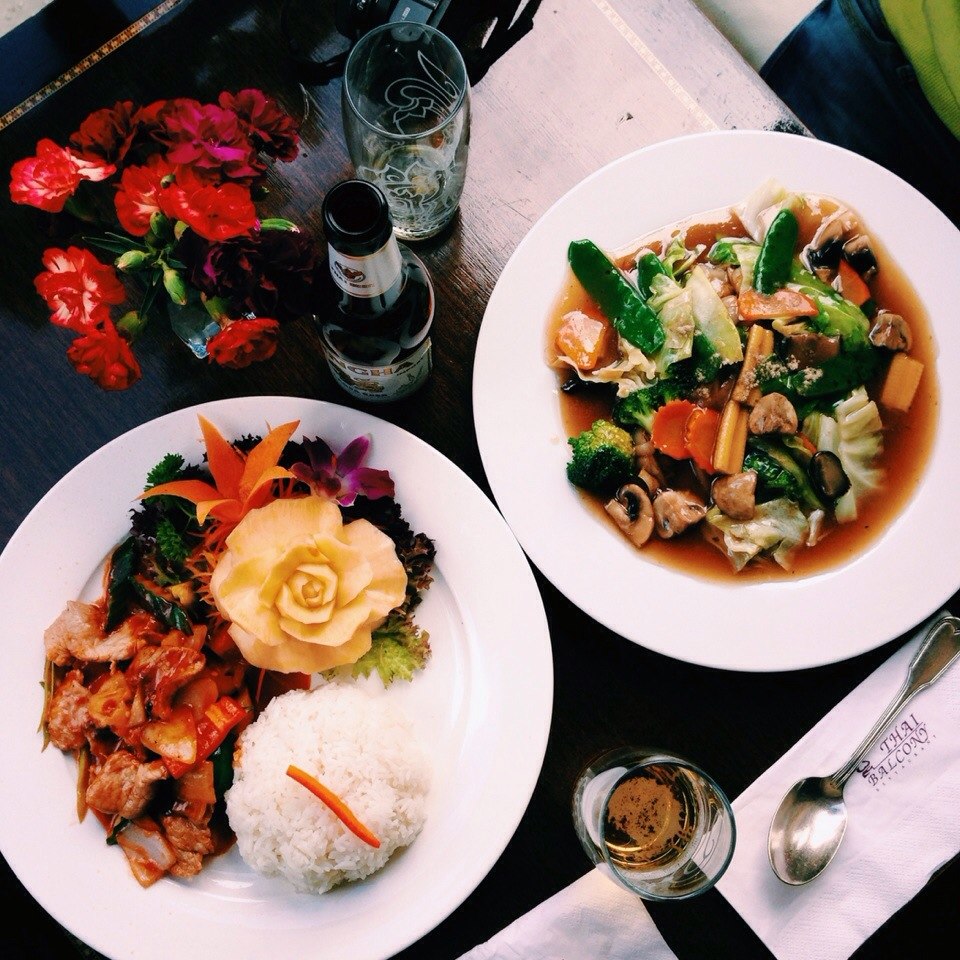 Here's the view: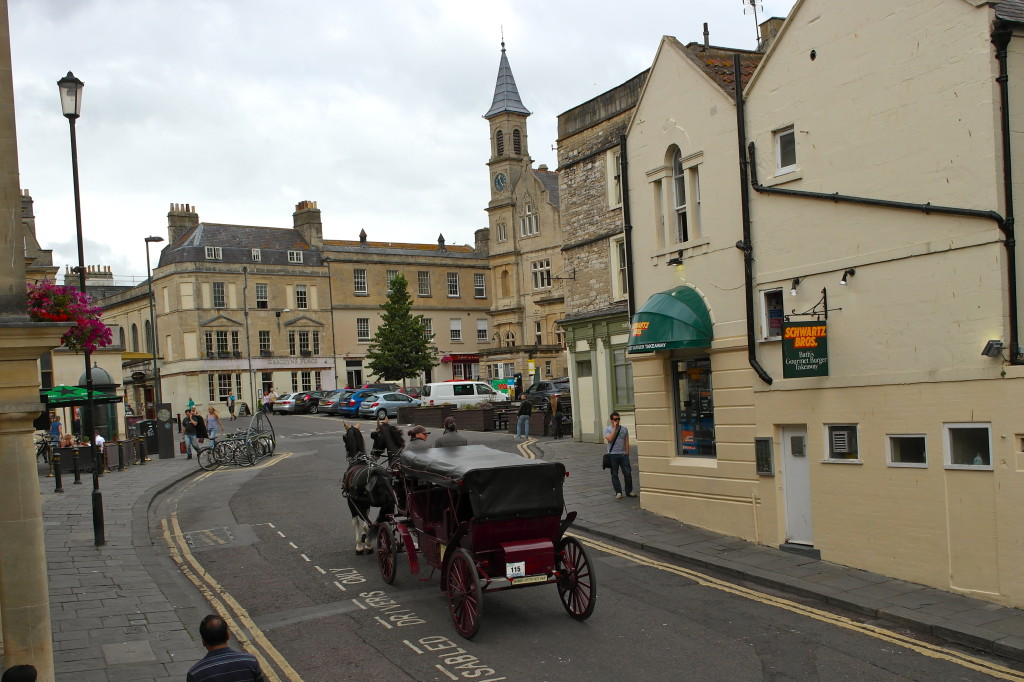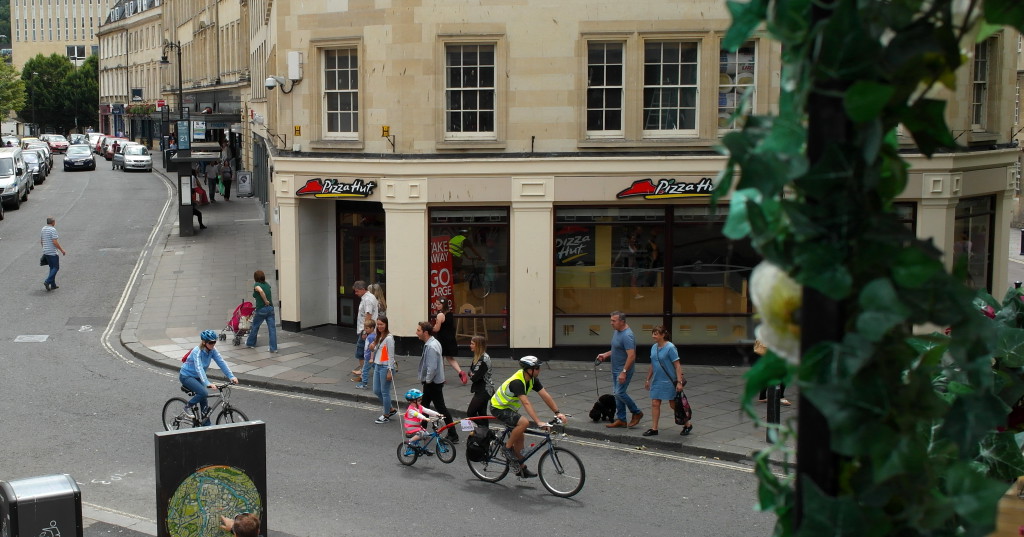 Actually, if you are interested in what we eat, normally it is simple food from supermarkets («Sainsbury's» seems to be the cheapest).
In comparison to Russia, the organic food here is very cheap: hummus, different grains, beans, vegetables, unusual for Russians (e. g. sweet potatoes), local strawberries and cherries.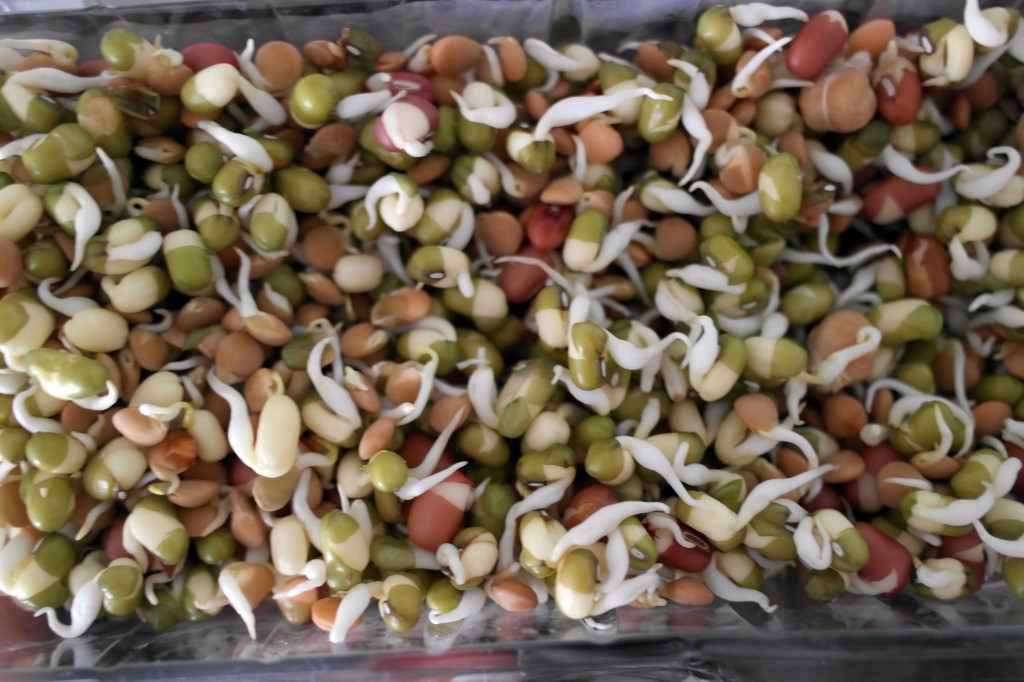 Tasha can't live without meat and usually takes a pach of sliced ham and bread or something sweet. When riding a bike, your body burns a lot of energy and blood wants sugar! So, cheescakes and eclaires are the favorites =)
And we are big fans of reduced prices =).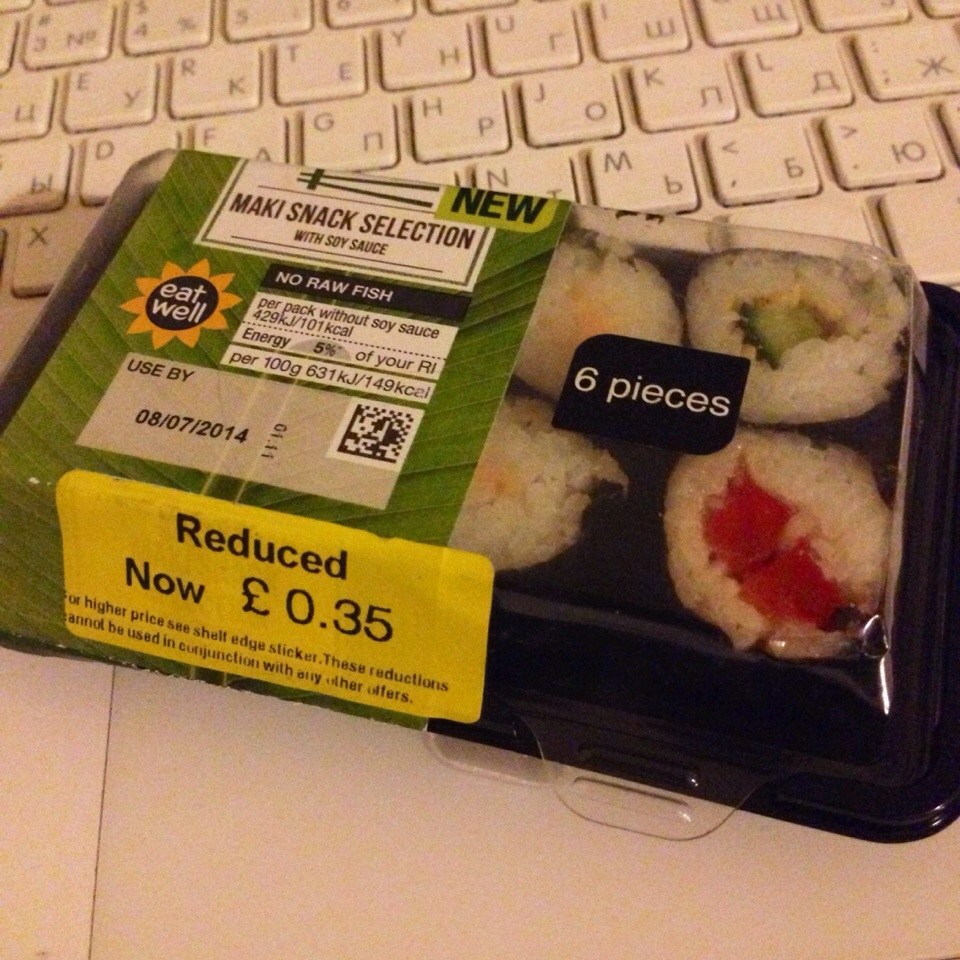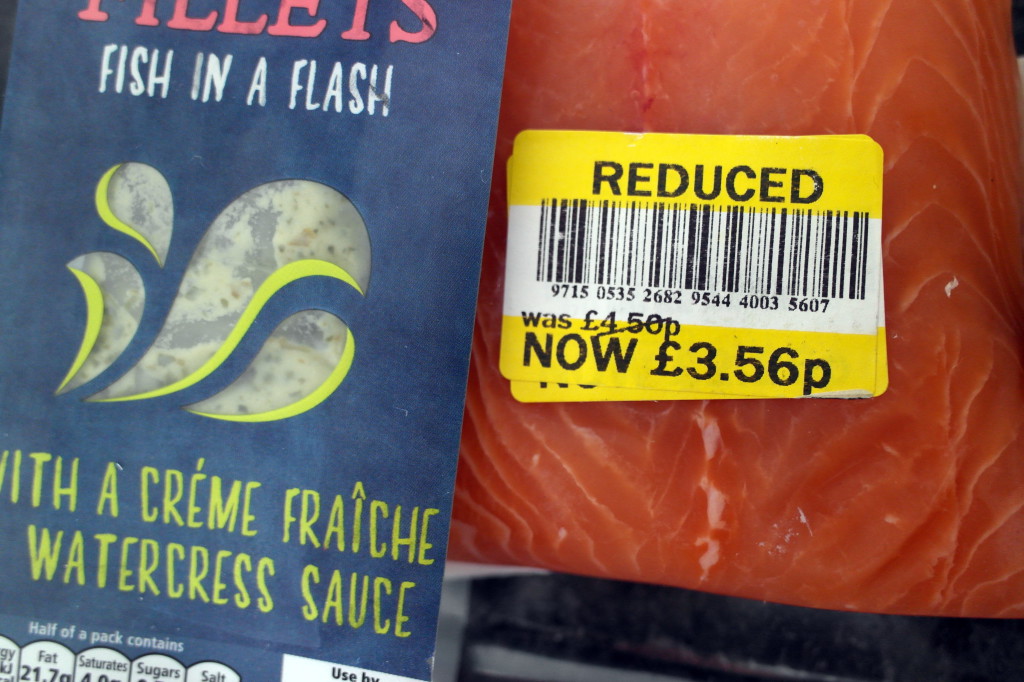 Our daily musthave is two «Innocent» smoothies with different tastes. Too bad they are not our sponsors ) These are amazingly tasty and useful drinks!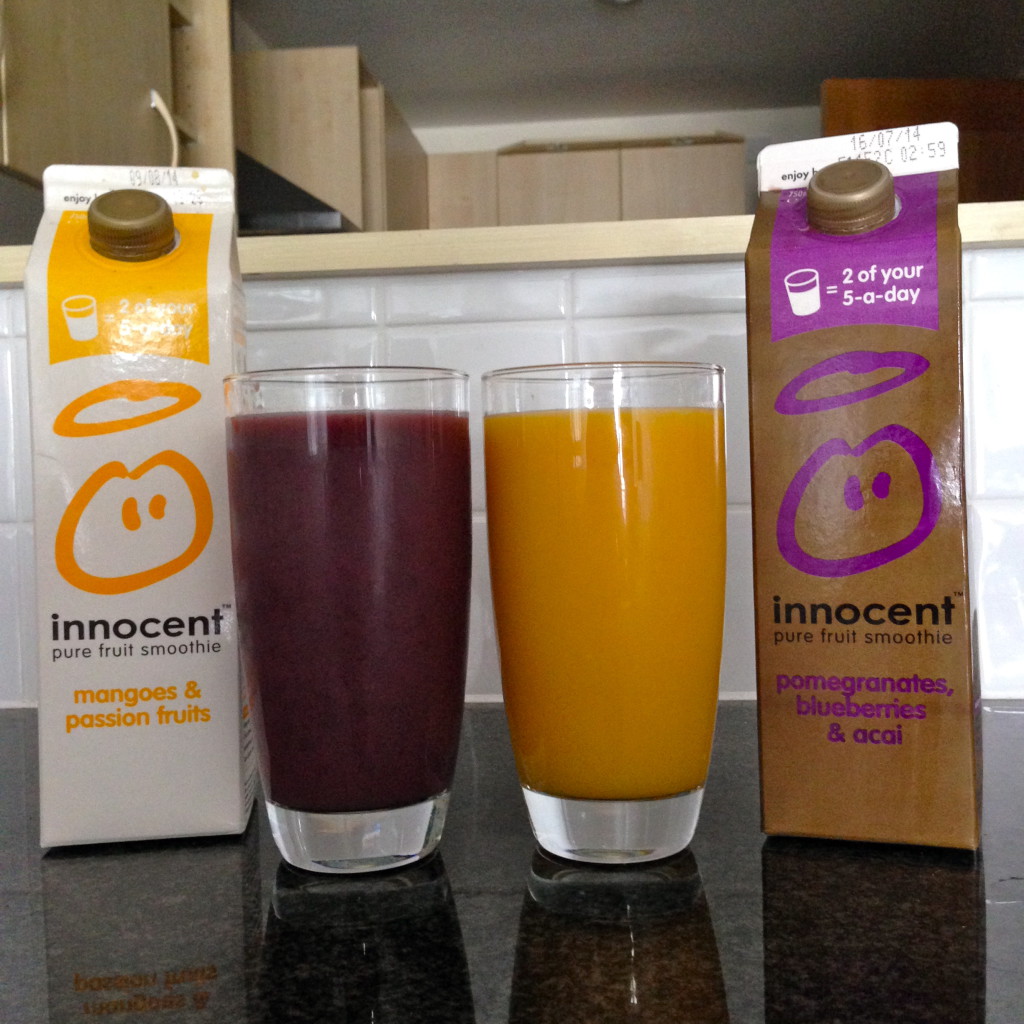 From Bath to Bristol
leads another cycling landmark – Bath-Bristol Railway Path. The path goes right on the place where the old railroad used to be! On some parts of it the rails are still there and funny little traing do their job. They produce lots of smoke! =)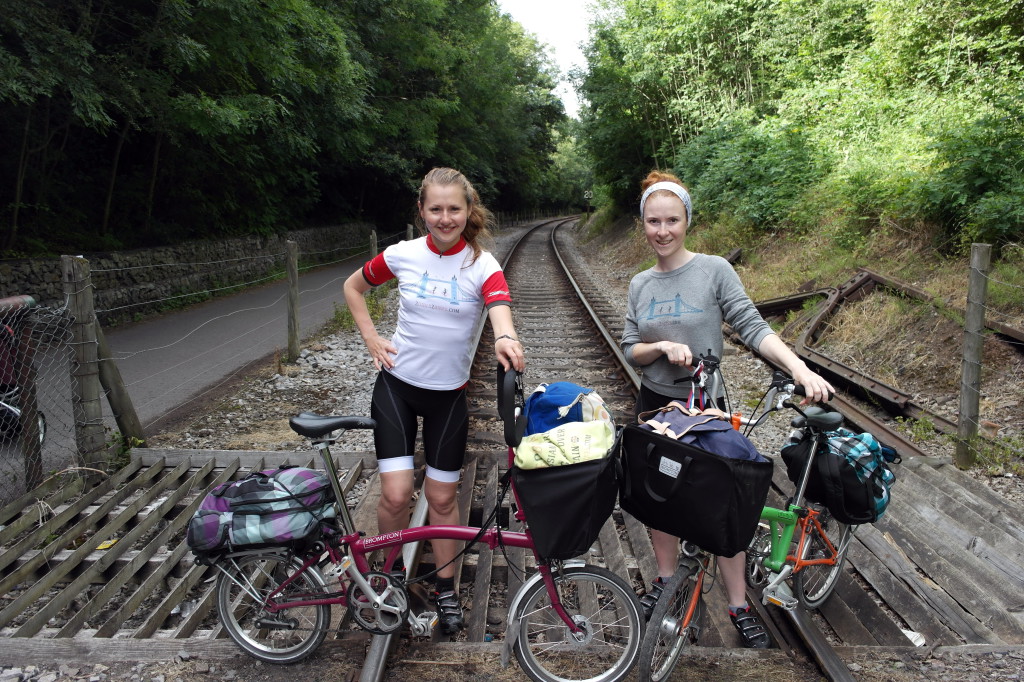 Look at our outfits: we are wearing cycling shorts and shoes. We really love the shoes: they have stiff soles and help to press pedals and get more speed. The feet don't hurt and less strain is put on your kneels and spine.
We are also wearing special shorts with a pad – they are a must when you cycle on long distances! No, we didn't get rid of our skirts ) But now if we have to go really far we put the shorts right beneath them.
In Wiggle store you may find lots of clothing for cycling and running, and also all kinds of gear and even bicycles!
Bath-Bristol Railway Path is a very popular route. People ride it with their whole families and on crossings you can meet bicycle traffic jam. =)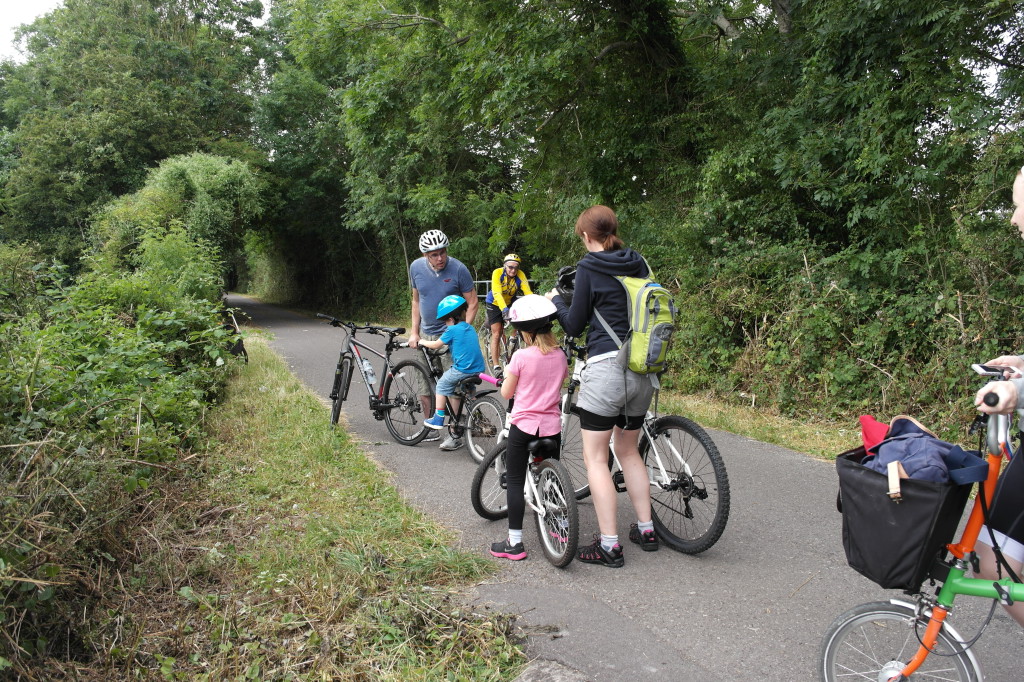 On the way there are many special places for cyclists to have rest.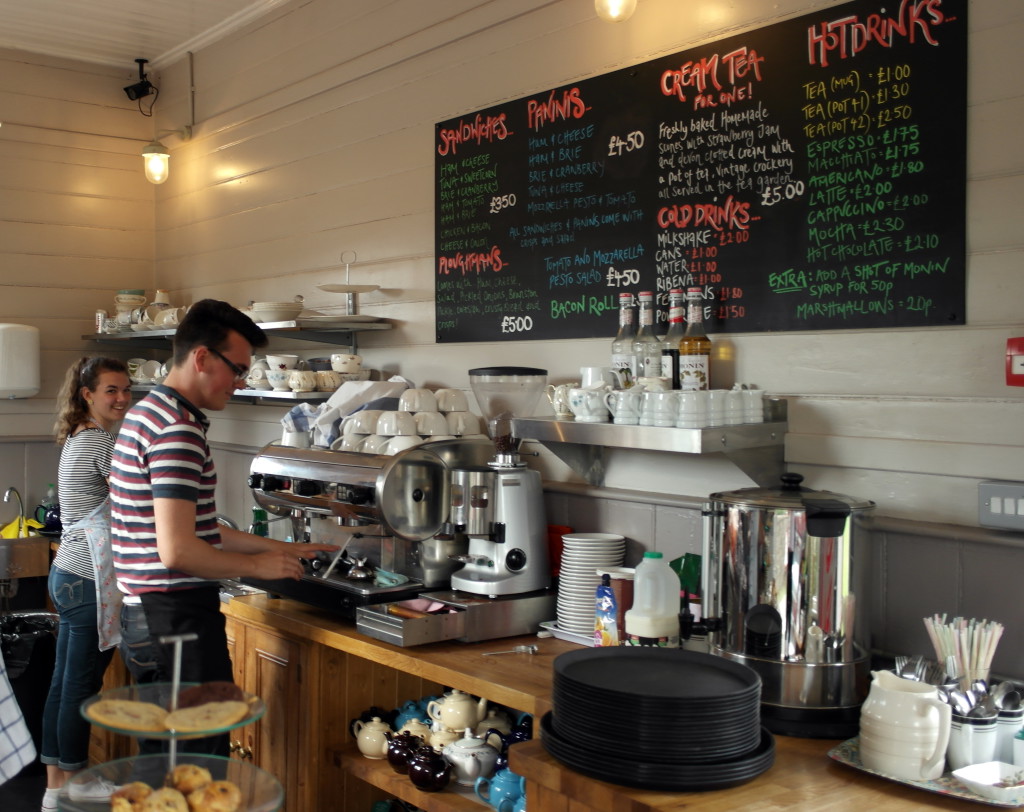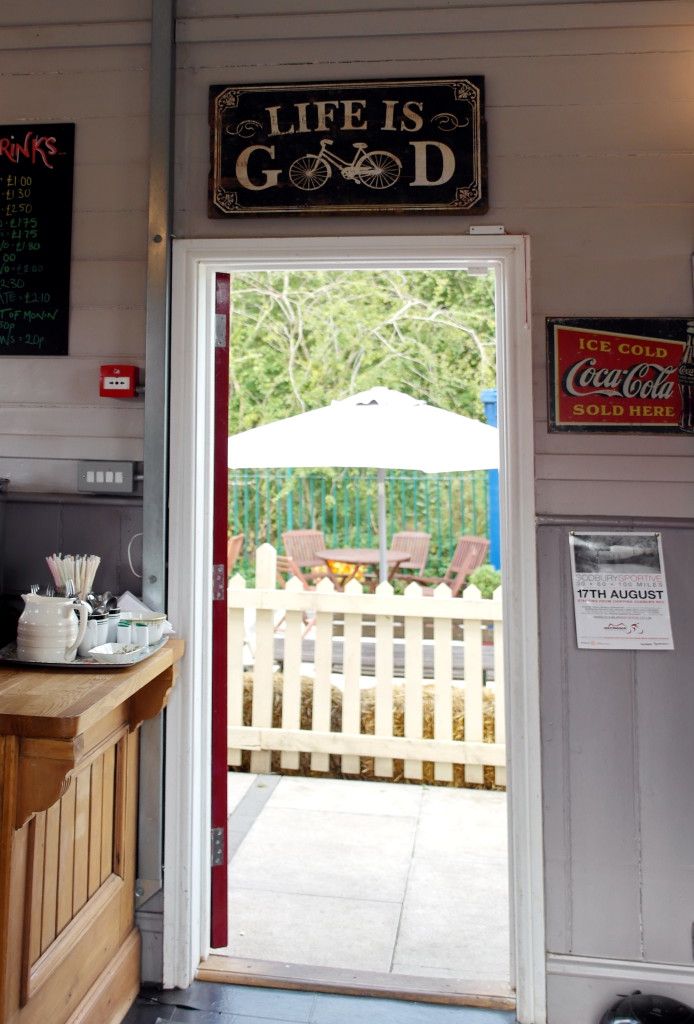 Bristol.
We were lucky to catch one more discount and to book a room in this big and expensive city for only 30 pounds. The hotel was just like a castle with its crystal chandeliers, throne-like chairs and even a real bath in our room! It was so cool to take a bath after that night in the tavern yard =)
But it happened later, first thing we did was dropping our stuff in the room and going to meet the city!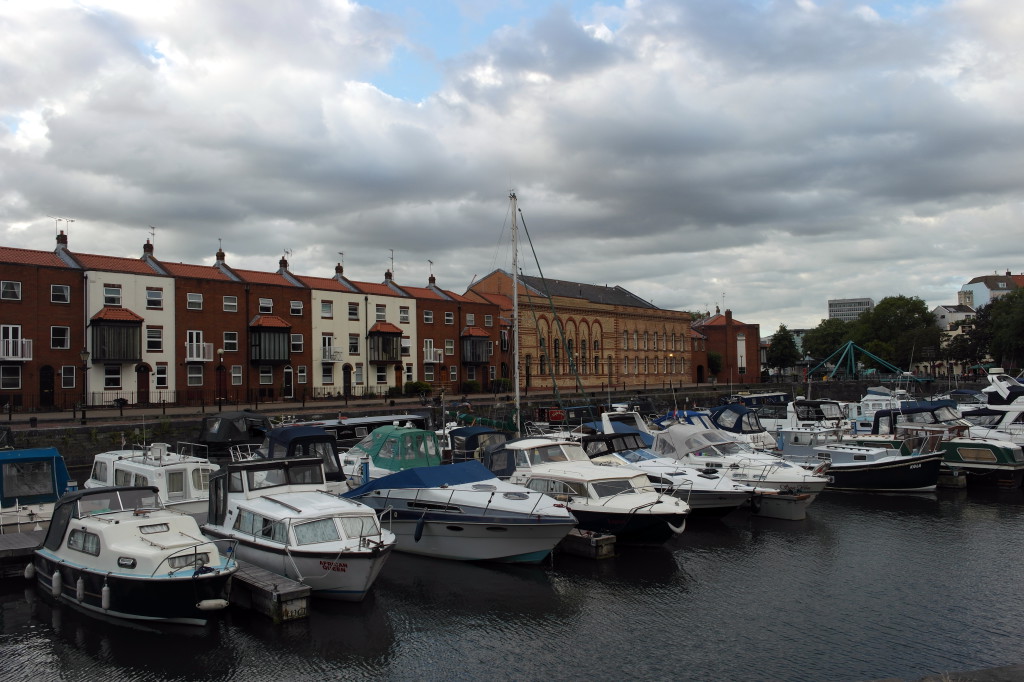 Bristol is young, fresh and trendy. You can immediately feel its rhythm once you enter it. What attracts attention first is the Harbour and the canals, many unusual architectural solutions and elements of urban design.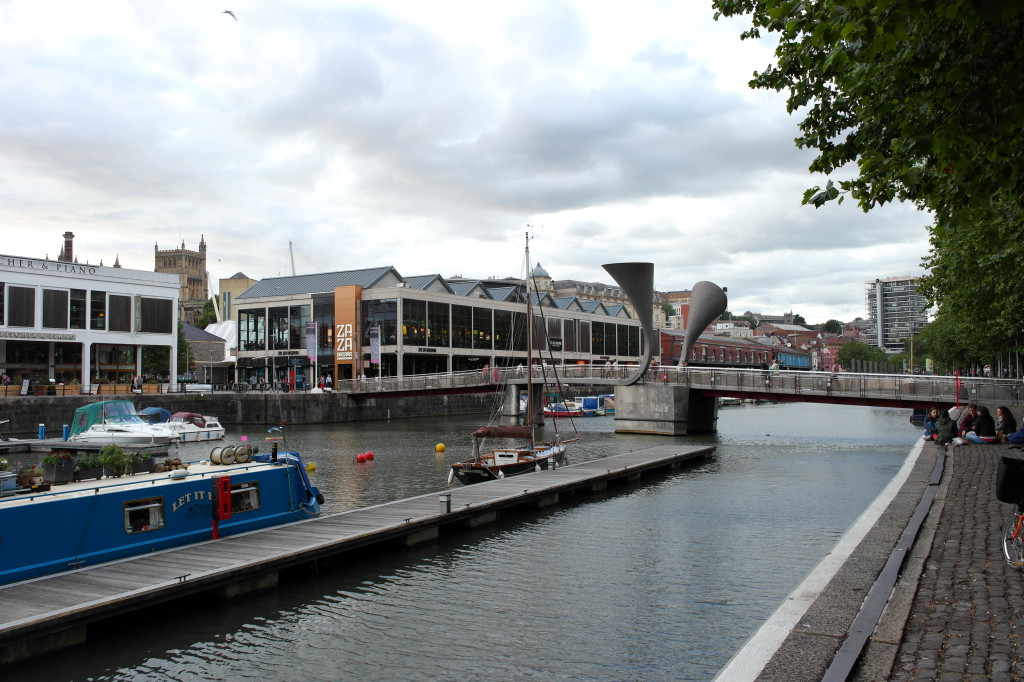 From this city many of the most known trip-hip musicians are originated: Tricky, Portishead, Massive Attack, Kosheen. In 2010 Bristol was called the most musical English city (PRS For Music research).

There's many young people here, many of them look quite picturesque.
So do Bristol houses – colorful lines of them crown the very top of the hill.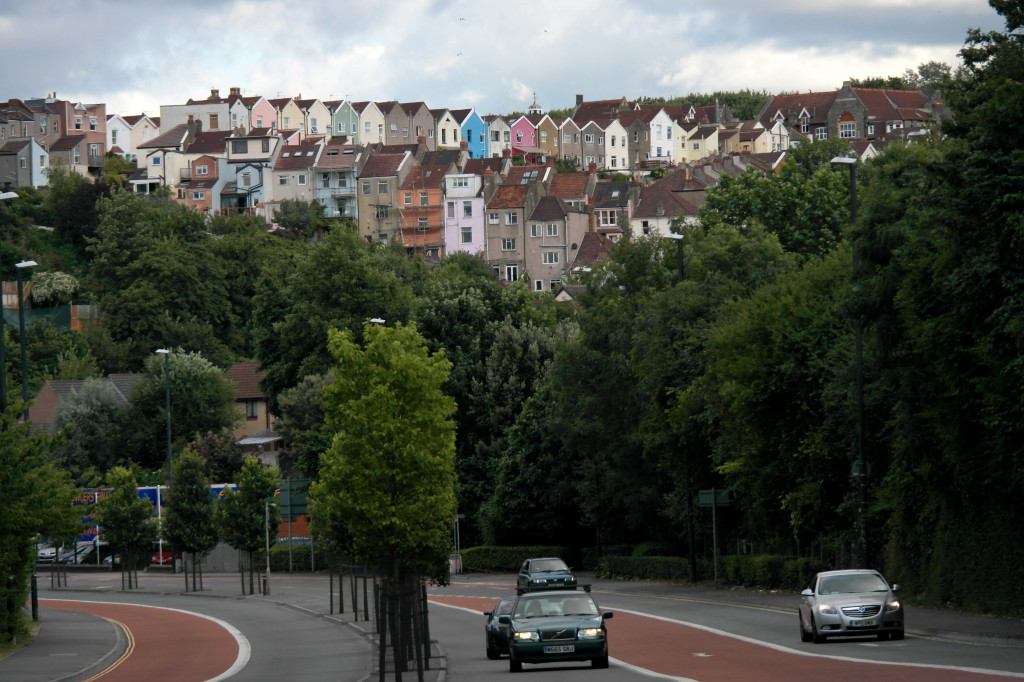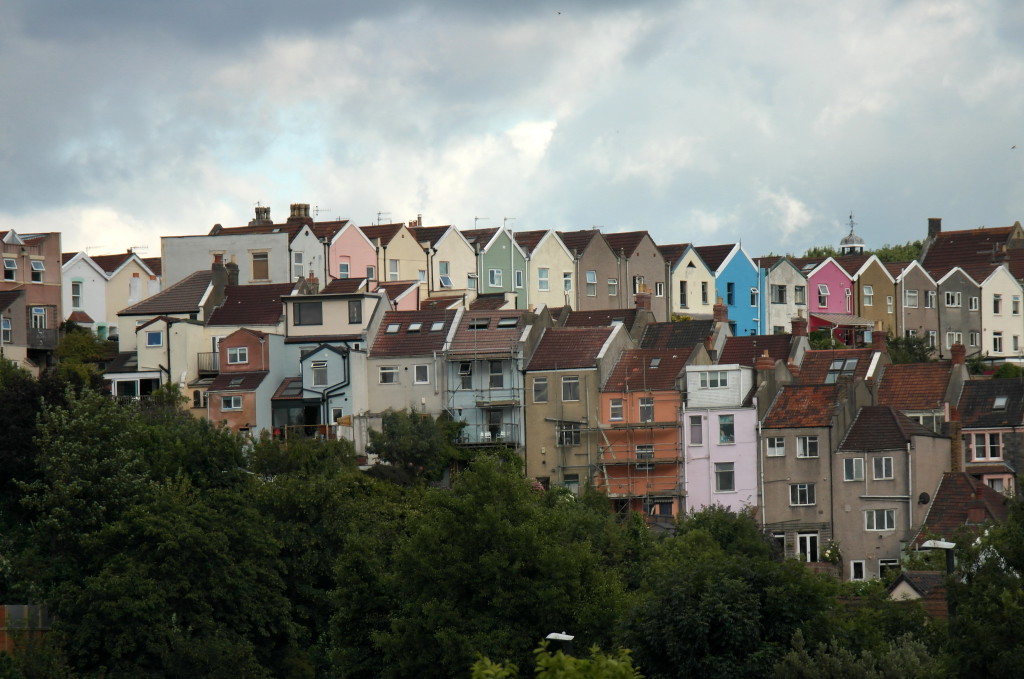 Going back to the hotel and dreaming of a hot tub we enjoyed the last rays of setting sun on the roof of  St. Mary Radcliff church.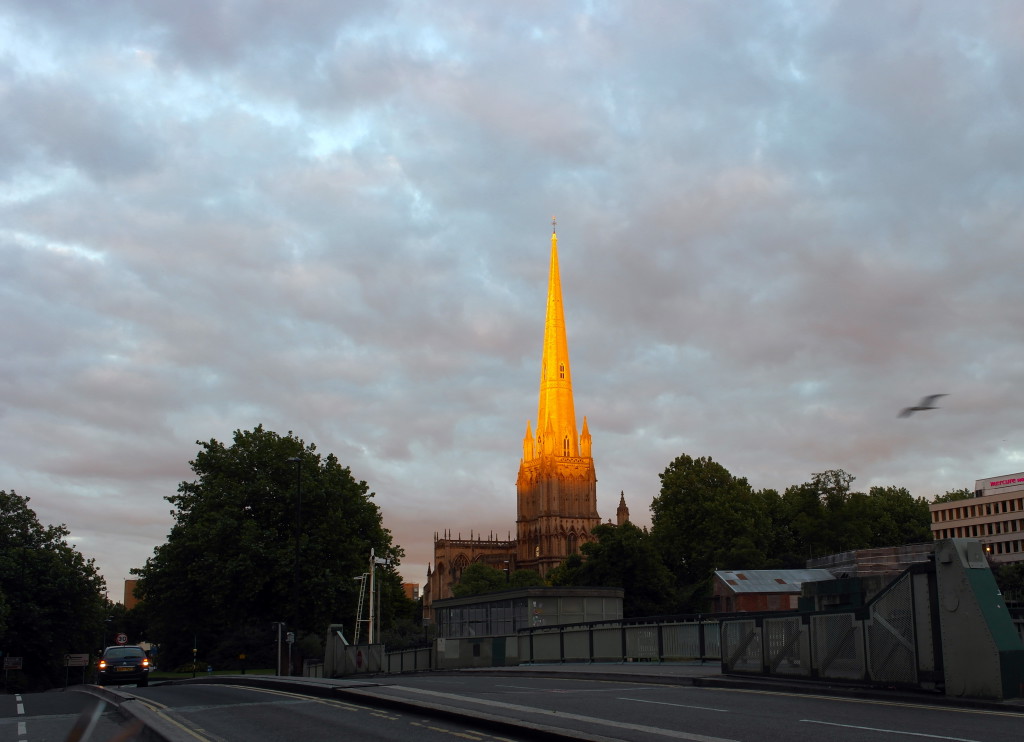 We don't put up a track of our route today, because it is just as described here: http://www.bristolbathrailwaypath.org.uk/
comments powered by HyperComments