This post is not about safety on the road, as you could decide from the header. Of course, we will write about it – mentioning all the tricks of British right-driving, but now let's talk about the importance of a bike-travellers look.
Not because we are girls heading to Vivienne Westwoods Kingdom. The right look can help you find friends, interesting sights, and sometimes even food and place to stay in a new town!
It is easy: your look should inform people about who you are and what you are doing here.
A few simple things to help you with that: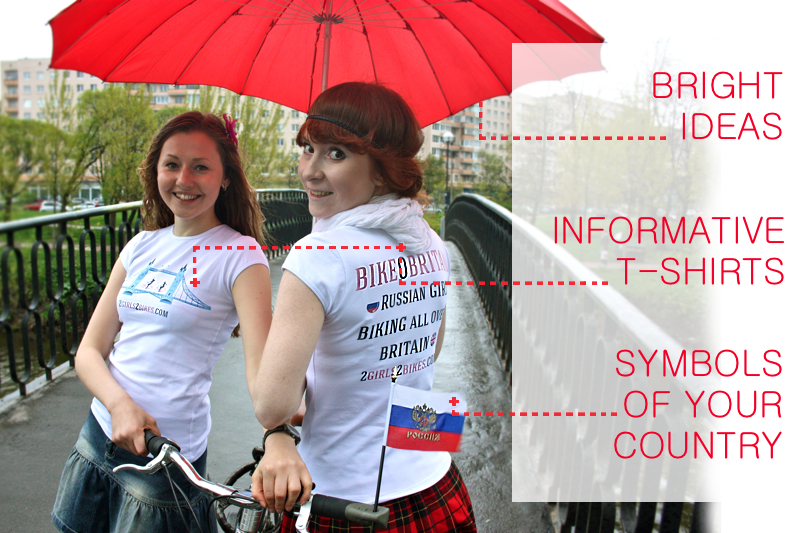 A flag of your country
Once Tasha hosted Benjamin Rodgers Wilson, an Australian cycling around the world. Benji has found a new friend the very first minute he entered the city – a photographer named Anton came up to him to say "Hi!"
Why did Anton decide to talk to Benjamin, who after a long journey looked more like a hobo, than a traveller? Because Benjamins bike had an Australian flag on it! An Australian in the center of cold early-spring Saint-Petersburg is a magnet for every curious person!
Anton helped Benji to meet Tasha and took him to several walks on St. Petersburgs rooftops.
Informative T-shirt
A story from bike-traveller Vladimir Kumov: once in one of the little European towns Vladimir and his companion didn't know where to spend the night. They had dinner in one of the local restaurants and the owners of the place noticed their T-shirts which said "From Russia to Portugal on bicycles". They came up to chat… guess where our travellers spend that night? =)
The sign on the shirt should be short, simple and IN BIG LETTERS!
To get the most attention put on you T-shirt the name of your counry, the speciality of the trip (around the world? fighting cancer? touring musical festivals?), nice picture, boobs and kitties.
And of course the link on your site or Facebook profile is necessary: even if people won't talk to you, they will google you later and share info with their friends.
This is why we take our shirts so seriously! They will help us add to this post some stories about our own BikeOBritain experience!
The cool thing is that the shirts are sewn and printed in Printlab studio in St. Petersburg. We are always happy to promote local brands!
The studio is a part of FREEDOM brand, which makes awesome designer clothes and promotes young designers and illustrators.
Other ways of attracting attention
Use everything your fantasy might lead you to: toys, garlands, talking parrots on your shoulder or singing rural hymns outloud – everything that may become a reason to talk to you! As far it is joyful not only for you, but for others, too… and lawful, of course =)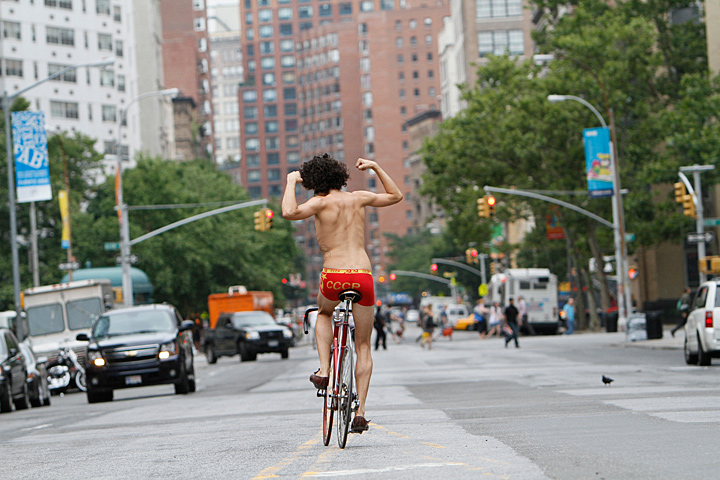 Next time we'll tell you about how to choose not only notable, but comfortable all-weather cycling clothes! Stay tuned!
comments powered by HyperComments