A journey of a thousand miles begins with a single step – or a single turn of a wheel ) But sometimes you first need to fly to that turn!
This post is about finding the cheapest tickets on the Internet and to teleport yourself to the place where your journey starts.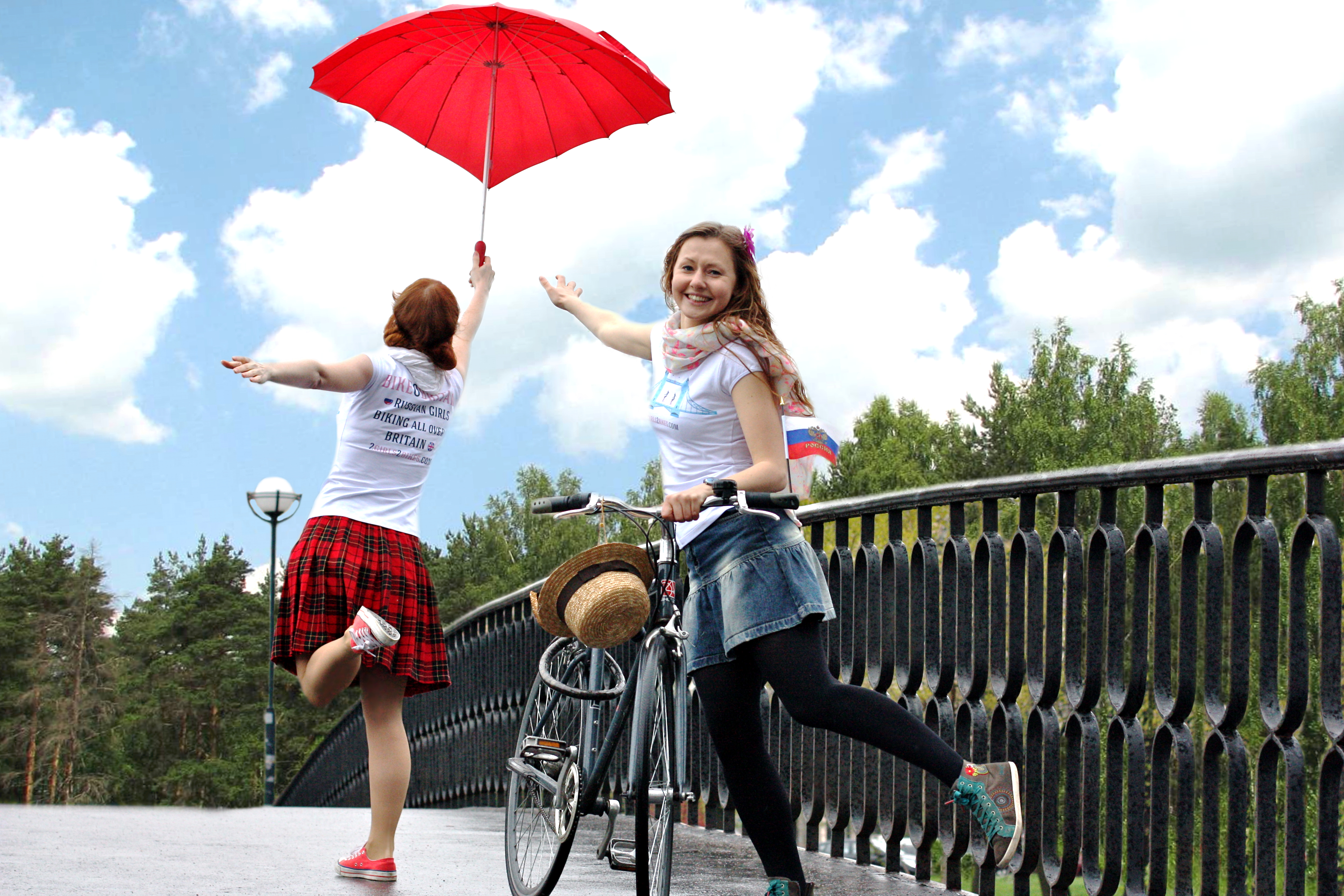 The idea of pedaling to Britain from home looked very attractive, but time-expensive. So, we decided to fly, definately! British visa is not the easiest one to get, and we decided to find the cheapest tickets – not to lose money in case of visa refusal.
Actually you don't need tickets to get a visa. But we wanded to prove our intention to come back to Russia and attached  ticket booking to our visa documents.
One more reason why we were in a hurry with tickets is known to every traveller: the earlier you book, the less you pay. But do you know, that the ticket, bought in 45-60 days before flight, is often cheaper than the one you buy in half a year?
Airlines form their prices according to the last years passenger traffic: many passengers last year – high price this year. But situation may change (riots in Egypt – people won't fly), so when booking too early to take a risk to overpay for the last years forecasts.
This was the first lifehack, the others will be marked, too, to make it easier for you to find all.
We are experienced travellers and always hunt for tickets through search sites – it is often cheaper than to buy straight from the airline. Use search engines! Besides sales, you'll get a convinient choice of dates and comparison of prices.
But still subscribe to all mailings from both engines and airlines to be aware of all special offers and ticket sales.
We subscribed to everything and started to explore prices – unfortunately, they didn't make us smile.
Even after we used all the jedi tricks: choosing Tuesdays, Wednesdays and Thursdays for the flight, looking for offers Wednesday night and playing with dates – the cheapest flight both ways was still about 12000 roubles (about 200 pounds) per person. Our expectations were at least 8000 roubles.
Unfortunately, we didn't have an option to fly from one of the nearby European countries on our favorite cheap Ryanair – Yulia had neither Shengen visa nor a chance to get it before flight. But still, always consider an opportunity to fly from a nearby city – a difference in prices may be amazing!
We got to use this lifehack and found very cheap tickets from Moscow! Almost accidentally: on one of travelling sites Tasha noticed a widget of Momond0 (like the one on our site to the right of this post).
Tasha: "I've never heard of this site, but the banner seemed nice and I put the dates and the cities in. The result was so nice, that I put the screenshot on my Facebook page saying "Friends, let's go to London, it is so cheap!!!" Momondo found cheap tickets from EasyJet – for some reason, other agencies didn't show these tickets. So the ticket from Moscow to London and back costed about 4000 roubles (50 pounds)!"
What if we repeat the search now, trying to keep the same conditions? Let's compare Momondo and 2 other sites.
Anywayanyday offer the cheapest flight for 12538 roubles with unconvinient stopovers: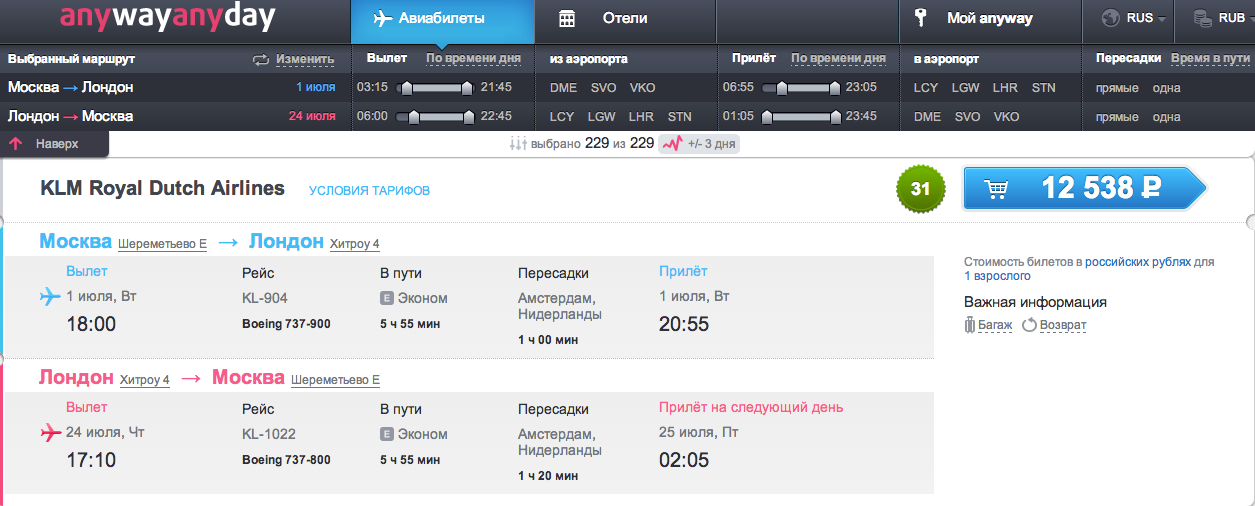 Aviasales – 10945 roubles, also with stopovers: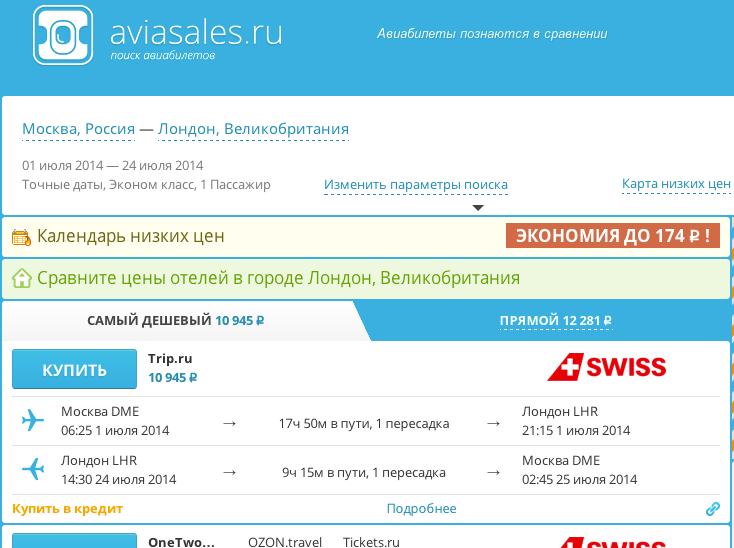 Momondo: a direct (!!!) flight for 9543 roubles. And even the second offer is still better that the cheapest one from Aviasales!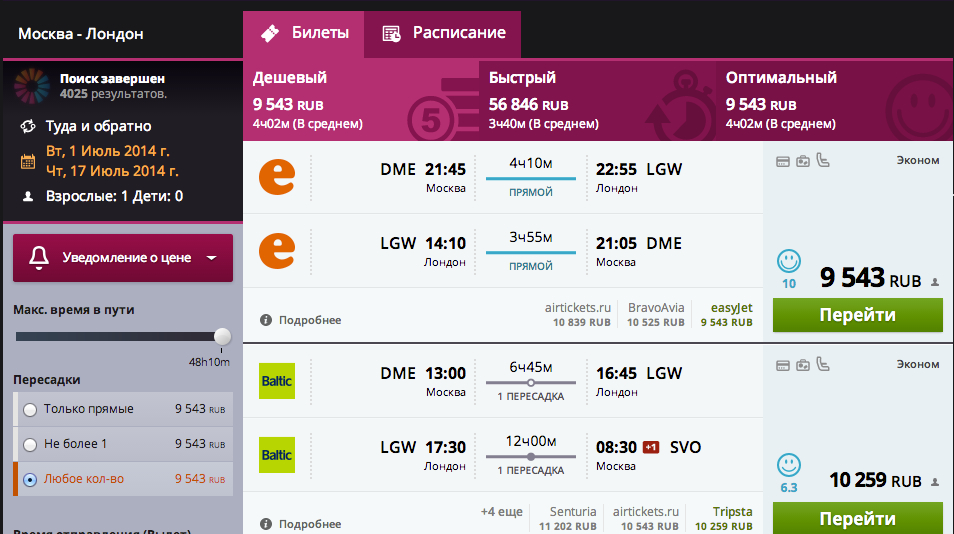 Of course, EasyJet is a lowcoster: you can't take luggage, choose a seat and change your ticket without additional payments. Low price assumes some unconviniencies. But still, to fly lowcosters or not – is a personal choice, and all search engines provide it!
You noticed that the flight in July is twice more expencive that the one in June – cuz it's the middle of summer. One more lifehack: fly in low season. Many cities on popular "beach" directions  (Greece, Spain, Portugal) are beautiful in spring, when the sea is still cold, but sunny streets are enjoyale (especially on bike =)).
But don't lose your mind: don't go swimming in Turkey in January or skiing in Bulgaria in summer.
We did't have a planned route when we bought tickets. But we knew we want to see all the 4 countries of the Kingdom. And we still think that we may fly home not from London and even not on the day we chose! We bought a return ticket for 2 reasons: 1. To prove our intention to go back to our country; 2. A return flight is always cheaper! Sometimes a one-way ticket costs as much as 2 tickets both ways.
The last lifehack, that we, honestly, didn't try yet. But experienced ticket hunters advise to use IT-tricks: look for tickets in incognito mode of your browser – 1, don't look – from Apple devices – 2, use proxi of another country (the poorest one) – 3.
Did Momondo take part in making of this post?
Tasha:
"I've been working in advertising long enough to get disappointed, and then love it again, but with new credo: never to promote anything, that I don't personally use and like. This is why all our partners on this site are here, because we really believe, that they deserve your attention!
First I wrote this post – everything about how and where I chose tickets. And then I thought: I am going to tell the world about this awesome company – maybe, they can do something for me?
And I wrote to Momondo. Not to 10 different companies sayng "give us money – we will praise you" – but to the very same company, that helped me find tickets. And they wrote back the next day! Thanks to Momondo we can leave Britain any day, from any city, straight home to Saint-Petersburg without hopping on train in Moscow. After a long journey it means a lot! And we can bring home huge suitcases with dresses and gifts! And even bicycles – if we decide to!" 
Next time we'll tell you about how to transport bicycles on a plane!
comments powered by HyperComments